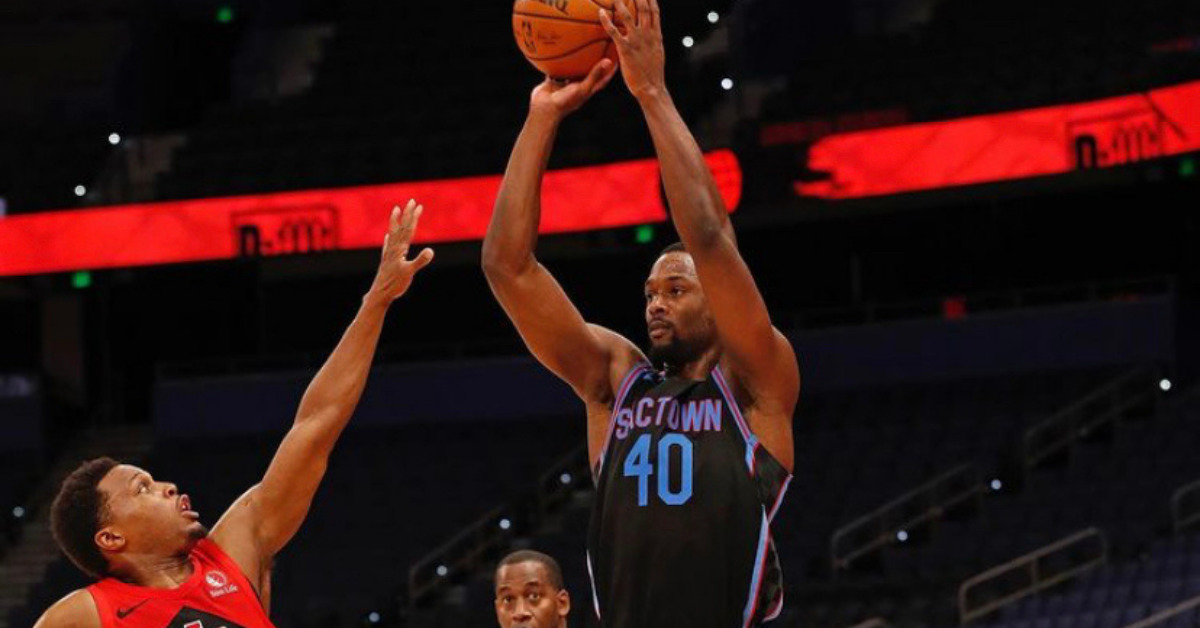 There was optimism surrounding the Sacramento Kings defense heading into the matchup against the Toronto Raptors, but it was the offense that won the game with some unexpected contributions.
A quick glance at the starting lineup and it was obvious that Harrison Barnes had a mismatch from the jump being guarded by Terrence Davis. Sacramento wasted no time capitalizing on the size advantage and Barnes was his usual patient self profiting off the second-year player's blunders.
All of Sacramento's roster was on fire in the opening quarter, where they converted seven of their twelve attempts from beyond the arc. Barnes himself scored a third of the team's 36 points in the first including two big threes in the closing minutes.
With Glenn Robinson practically cut out of the rotation, the bench trio has been trimmed to the always stellar Tyrese Haliburton, ginormous Hassan Whiteside, and Canadian Cory Joseph. They wasted no time putting their stamp on the offensive end of this game and would continue to do so throughout its entirety.
The Toronto Raptors are very intentional in slowing down opposing stars, even if it means overhelping. If De'Aaron Fox, or anyone else, beat their man of the dribble, they were quick to be stopped by two or three red jerseys.
Matt Thomas was overly concerned about Buddy Hield and overhelped off Joseph, who was only one pass away. With no hesitation, the former-Raptor attacked off the catch and ended up finishing his second and-one of the night.
Once again, the Kings took advantage of a recovering Matt Thomas. Despite the struggles and frustrations that have surrounded Cory Joseph this season, there is no denying his basketball IQ and it's on full display here.
Poor Toronto defenders being taken advantage of is going to be a common theme here. While I am not an advocate for running the offense through Hassan Whiteside, when his defenders are three inches and at roughly 50 pounders lighter, it's hard to ignore.
Chris Boucher stood no chance against the biggest man on the floor.
Whiteside ended the game with 16 points on 6/7 shooting and nine rebounds. For a player labeled as a defensive anchor, his presence was felt on the other end of the floor whenever Aron Baynes was sidelined.
Yet, on defense, he struggled just as every other Kings player did. Fred VanVleet was able to get downhill off screens and take advantage of Whiteside being flat-footed. In the second half, Pascal Siakam realized he could isolate any of Whiteside, Richaun Holmes, or Marvin Bagley whenever he pleased.
While some of the calls were inconsistent and questionable, this led to Sacramento's one true positive center in the rotation, Holmes, finding himself in foul trouble and eventually tallying all six.
Nick Nurse smartly moved away from their poor defenders of Boucher, Thomas, and Davis in the final quarter of play and relied more on the likes of Yuta Wantanabe, DeAndre' Bembry, and Stanley Johnson.
Smart rotations and physical pressure on the ball frustrated the Kings into nine fourth-quarter turnovers. The stocky Kyle Lowry was assigned to Harrison Barnes, Watanabe was placed on Haliburton, and Bembry on Fox.
Using the clock to their advantage, the gameplan was to not throw anything up until late in the shot clock. This led to unideal looks, attempts to bait a whistle, and an underwhelming total of 11 shot attempts compared to the Raptors 26.
With late-game heroics needed, Tyrese Haliburton played savior once again.
After a comical missed dunk from Whiteside, he managed to secure his own miss and swing it to the wide-open rookie who is shooting an absurd 42 percent from deep on the year. Even Nick Nurse knew this one was going down before it came out of Haliburton's hands.
In his continued campaign for Rookie of the Year, Haliburton ended the night with a career-high 11 assists, 10 points, six rebounds, and added a steal and block for good measure. He played all but a minute and a half of the final quarter and regularly took advantage of Toronto's aggressive weakside help defense.
The defense may not be much improved, but the offensive firepower that this Sacramento Kings roster possesses is enough to win them some basketball games.
We will see if that is enough to knot their fourth win in a row headed into tonight's matchup against the shorthanded Miami Heat.
Other Notes
De'Aaron Fox continued to display confidence in his three-point shot and finished the night with 24 points, four assists, and seven turnovers
Fox played the entire fourth quarter and bumped knees with Stanley Johnson at one point, which left him sluggish but he remained in no matter
Buddy Hield is back into the swing of things and is converting 52 percent of his threes over the last five games
Marvin Bagley saw just under 20 minutes of playing time, but accepted the challenge of covering Siakam from the jump
Tyrese Haliburton with the poster?!