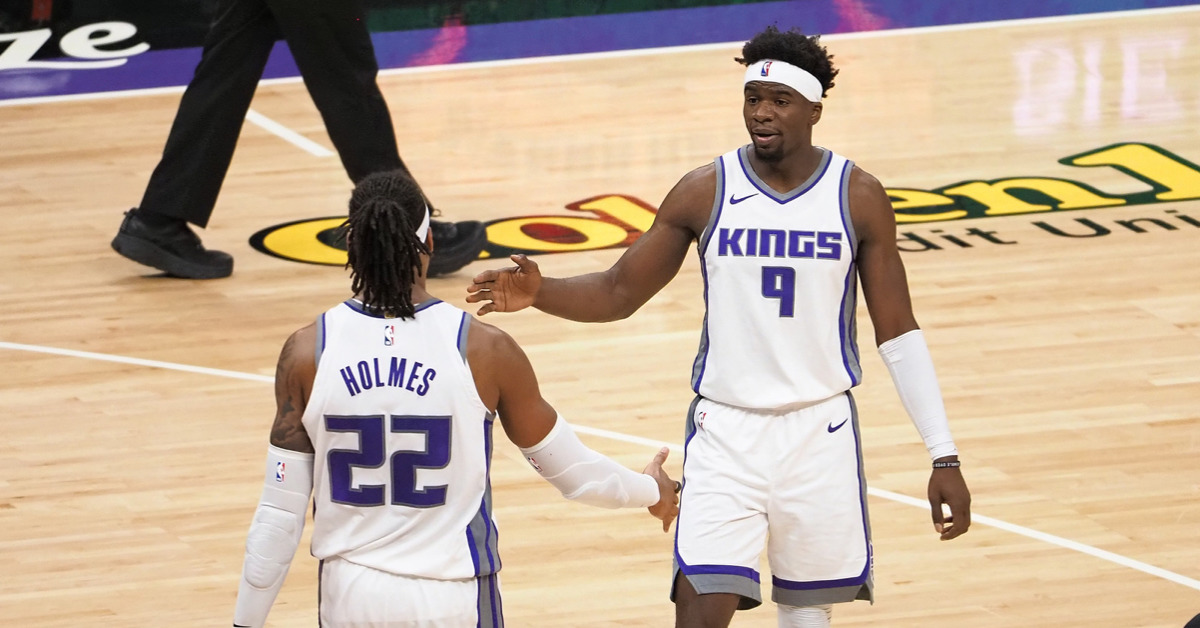 Welcome back, my fellow hopeful idiots! Those two short days of semi-meaningful Kings basketball were fun while they lasted. At least we are back to knowing where this team stands - back in basketball purgatory, right next to tonight's opponent, the Oklahoma City Thunder. After a nail-biting win against the Thunder in their first matchup, the Kings looked to make all the mamas out there proud again tonight. Let's see how they did:
Quick Stats
Outcome: Kings win, 126-98
Sacramento Kings: 126 PTS, 52.9% FG, 44.4% 3 PT, 83.3% FT, 29 AST, 14 TO
Oklahoma City Thunder: 98 PTS, 39.1% FG, 29.7% 3 PT, 65.5% FT, 23 AST, 14 TO
Those numbers tell most of the story. The Kings scored a lot and made a high percentage of their shots and the Thunder didn't. A silver lining for Will: Aleksej Pokusevski finished with 13 points and five assists. However, all five of the Kings' starters finished in double digits, along with Damian Jones, Terence Davis, and Chimezie Metu. Sorry, Will, Poku didn't stand a chance.
The Good, The Bad, & The Ugly
The Good:
Energy & Effort: Without their stars, the one thing this squad has consistently brought every night is effort. And against weaker teams, like the Oklahoma City Thunder, this can be enough. Tonight, the Kings outworked the Thunder on both ends of the floor, swiftly cleaning up the defensive glass and crashing the offensive one for easy put back points. The Kings forced the Thunder into 14 turnovers with their defensive pressure and provided effective help side defensive coverage to contest deep drives. Their usual weakness of getting beat on the second pass after the help side arrives wasn't exposed tonight, and the Kings' effort and handsy coverage was enough to hold the Thunder off throughout the entire game.
Offensive Flow: By the third quarter, the Kings had built up a 30+-point lead as their offense found a smooth flow. Bodies were moving off the ball, extra passes were made, and easy buckets were had. The Kings were able to connect on 29 assists tonight, with Buddy Hield leading with seven. It was nice to see Buddy looking to distribute more rather than prioritizing his own looks, and it worked out for the Kings.
Mo' Moe, Mo' Flow: It's always fun to trace back to who starts things off for the Kings. In prior games it has been Delon Wright or Terence Davis off the bench, and other times it has been Marvin Bagley III finding early success that gets the Kings going. Tonight it was Moe Harkless, who tied with Terence Davis for leading scorer, with 18 points. Moe poured in 12 of his points in the first quarter and gave the Kings the spark they needed to get the Thunder on their heels. Though it got him into foul trouble, Moe kept his hands active and in passing lanes and caused disruption on the defensive end which he then translated into offensive points.
The Bad:
Moses Brown Town: The Kings only allowed 10 offensive rebounds tonight. A few could be accounted for from long shots that got away from them, but four of them were snagged by Moses Brown who fought all night long to build his own city underneath his team's basket. Brown earned his way to the line seven times tonight after grabbing these boards, highlighting instances where the Kings fell asleep on their box out duties.
The Ugly:
Thunder Tank: Like the Kings, the Thunder have been without their star point guard in Shai Gilgeous-Alexander. Since losing SGA, the Thunder have now lost 24 of their last 26 games. I haven't watched the Thunder enough to know if this is a well-executed tank job, or if they are just really bad, but whatever their intentions are, they weren't able to put together a very pretty game of basketball tonight. The Kings were able to build a comfortable 20-point lead by the end of the half and the Thunder showed little resistance throughout the entire night. On multiple occasions, the Kings were able to walk and cut their way into the paint for easy looks. The comfortable lead allowed the Kings to give some minutes to young players Jahmi'us Ramsey and Louis King, which are always welcomed.
The King of Kings
In celebration of Mother's Day, tonight's King of Kings crown goes to the Sacramento Kings team mom, Dr. Lydecia Holmes. Mother to our beloved Richaun Holmes, who dropped 15 points on 7-9 from the field tonight, Dr. Holmes has been a consistent bright light for this team. This season she has started one of the greatest Kings Twitter trends where she celebrates every win with a "we won" chanting video. Here's her video from tonight:
Happy Mother's Day! We won!! pic.twitter.com/y5ZRODPFNw

— Dr. Lydecia Holmes (@DrLydecia) May 10, 2021
For your infectious spirit, genuine fandom, and the unwavering support that only a mother can provide - Happy Mother's Day, Dr. Lydecia Holmes! And Happy Mother's Day to all TKH moms!
Up Next
Tuesday May 11th vs. Oklahoma City Thunder - 7:00 P.M. (PT)