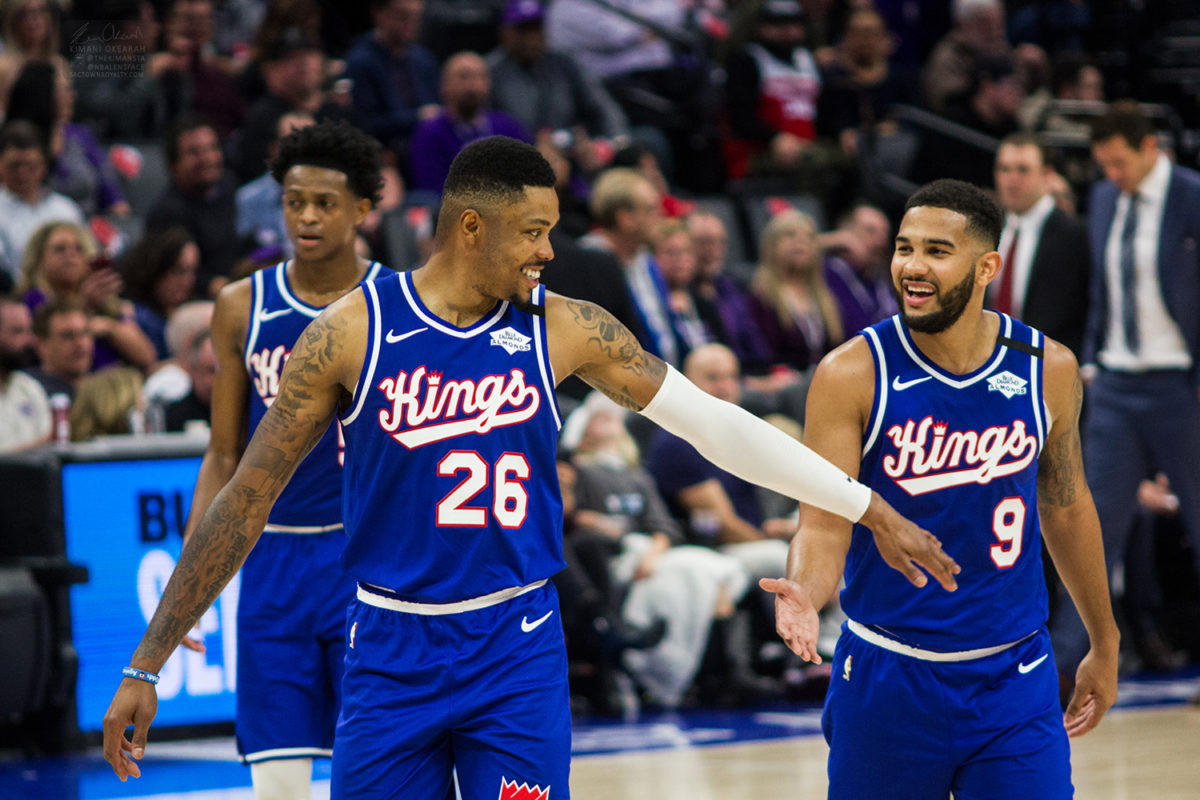 The personal and professional transition involved in a player entering the NBA is something the casual fan who is rooting for their team to win doesn't always think about. While a player's athleticism, shooting ability, court vision, defensive prowess, etc. are reasons why they made the NBA, the shift from college to a multi-billion-dollar industry with the cameras always on and the physical toll of playing 82 games (or more) a year, can be a lot.
Like everything in life, some NBA players handle transition and change better than others. Succeeding in the NBA takes many things €" skill, work ethic, a desire to learn, being grounded, having the right people around you and more. The league has a program in place to help players going through this transition that focuses on career development, interacting with media, social media usage and financial assistance. There are some things, however, they just have to learn on the job.
Kent Bazemore, Cory Joseph and Yogi Ferrell of the Sacramento Kings may not have had the immediate pressure placed on them that guys drafted in the NBA lottery have, but that doesn't mean they didn't have to adjust to the change. The transition helped mold these three and taught them lessons they still carry with them today.
Bazemore entered the league undrafted in the 2012 season, but would go on to sign with the Golden State Warriors over that summer. As a graduate from Old Dominion University, Bazemore had more life experience than many players entering the NBA. A strong believer in the €œart of paying your dues,€ he stepped into a locker room full of veterans like Jarrett Jack, David Lee, Andrew Bogut and Richard Jefferson who helped guide him. Bazemore had a great deal of respect for all of these guys and eventually wanted to get to a point where he was an established player in the league like them.
€œThis game has a way of humbling you, and life too. You get too far ahead of yourself and it finds a way to kind of pull you back and make you realize that you aren't bigger than life,€ Bazemore said.
Bazemore eventually did establish himself in the league, and when he arrived in Sacramento midway through this season he was one of those veterans. According to a recent report by James Ham, Bazemore put together a team meeting when he arrived in true veteran leadership fashion. When I spoke to Bazemore shortly after he was traded to the Kings he said that with some teams that are playing poorly you can feel tension or guys tend to quit, but he didn't see that when he showed up in Sacramento.
Cory Joseph, who was drafted 29th overall in the 2011 NBA Draft, showed up as a rookie in a San Antonio locker room full of guys that have league-wide respect. Tim Duncan, Tony Parker, Manu Ginóbili and Gregg Popovich made the transition for Joseph as smooth as it could be for a rookie.
€œSome opportunities are different than others,€ Joseph said of his positive rookie year experience with the Spurs. €œSome people go to certain organizations that fit their game and some people are late bloomers.€
Joseph's rookie season was the lockout year so not only was it all new for him, there was just one week of training camp before he was thrown into the fire. His lessons came both on and off the court.
€œNow, you're the front and center of your whole family, and you've got to do a lot of things that you've never done before, and you've got to answer a lot of questions that you've never had to answer before. And you're still young, you're 19, 20, whatever it is, 21, and you've got to make grown-up decisions and you just got into your adulthood,€ Joseph said. €œIt puts you in a position where you have to grow up quickly off the court.€
And growing up quickly doesn't just apply to off the court. The guys in the NBA are bigger, stronger and faster than any competition they have ever faced.
€œYou're playing against grown men. In college, even if you're a freshman, you kind of have a range, they could be four years older, but still around your age. Here, you might be 19, 20, 21 playing against a 33, 34-year-old guy that's been through everything,€ Joseph said.
Most would agree that it's important for players to have a strong support system around them as the physical and emotional aspect of the game can catch up to guys. Growing up in Kelford, North Carolina, Bazemore was raised by his parents and by also several others in his circle, saying he was €œraised by a village.€ This helped him remain humble even during his success in college. He learned how valuable a support system is when you enter the league.
€œIt's everything. You don't want to have any €˜yes men,' you want guys that are going to look out for you,€ Bazemore said. €œYou're young, you get all this money, you get all this free time, the world is your oyster. So, it's easy to kind of get out of wack and do crazy things, but when you have people that understand you can't burn both ends of the candle and be great in this league around you €¦ that's when you start to see the fruits of your labor.€
Yogi Ferrell, who like Bazemore went undrafted, also knows how important that support system is.
€œA support system is key I feel like. When you have someone in your ear every day that'll be your backbone no matter whether you are succeeding or failing, it's great. It's going to keep your spirits high, whether you go in a slump or not,€ Ferrell said. €œIn this league, a lot of guys want people to succeed, whichever team that they're on. A lot of guys don't want guys to fail, especially, so I think even the league itself does a great job of supporting guys.€
He says this mentality is pretty unique, and considering there is a lot of money at stake in the NBA, it is.
€œYou've got everybody on the team rooting for you and not wanting you to fail, even guys in your spot, because I feel like it all comes full circle, whether you are in there or not. If you're cheering for that guy, he may go to another team and be cheering for you. It's all about
perspective,€ he said.
Ferrell had to fight for his spot on an NBA roster. Coming out of a solid tenure at Indiana University, he said it was tough to try to show the league that he belonged.
€œI accepted that as a challenge, I didn't even get invited to the combine and I didn't get drafted. So, in my eyes, I felt like I belonged. I play hard, play with intensity. So I think the biggest thing is if you can show effort and show you are coachable someone will pick you up,€ he said.
Ferrell spent 2016 bouncing back and forth between the Brooklyn Nets and its G League affiliate, the Long Island Nets. He was later waived. In 2017, however, he knew the NBA opportunity was coming when he got a call from the Dallas Mavericks for a 10-day contract. He proved he belonged throughout 2017. His 2017 campaign, in which he was named to the NBA All-Rookie Second Team, led to him earning a two-year, $6.2 million contract with the Kings in July 2018.
€œI felt like I had nothing to lose, I wasn't drafted, they don't even think I'm supposed to be here so in my eyes I felt like I could do nothing wrong so I just go out there with a chip on my shoulder,€ Ferrell said.
His fight to make it in the league has given him an outlook on the game that the 26-year-old point guard tries to pass on to younger guys in the league.
€œNothing is given to you, even if you are a top-5 pick, obviously you see guys be busts, multiple guys, so nothing is given to you, you definitely have to go out there and earn it and give it your all. Don't think that you are better than anyone else because anybody in the league can score and get you 15, 20 points. So, don't be too cocky, be coachable and try to learn every day,€ Ferrell said.
The NBA game is as much mental as it is physical. The entry into the league is a big test of both. Who knows what the future holds for all of these players in terms of their future on the Kings roster, but their lessons are hopefully something the young core pieces of the franchise soaked up.