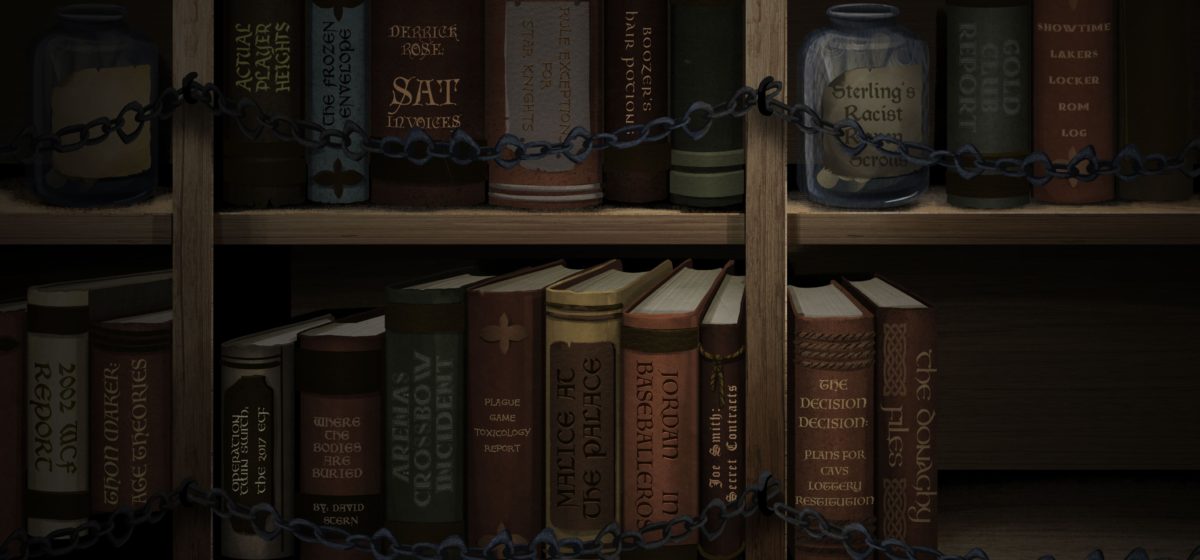 Bleacher Report dropped a new episode of Game of Zones on Thursday that included a subtle nod to the NBA's notorious screwing of the Sacramento Kings in the 2002 Western Conference Finals.
If you're not familiar with Game of Zones, it's a wonderfully produced and animated Game of Thrones NBA parody series. If your interests include GoT and the NBA, it's the perfect collaboration for you.
The Game of Zones season 7 premiere followed Dwyane Wade's transition from a professional basketball player to a member of the national media. Part of his training included a visit to €˜The Mediadel' where all of the NBA's darkest secrets are stored and documented.
Wade enters The Mediadel's library and catches a glimpse into the €˜Restricted Section' that includes books on The Malice At The Palace, Thon Maker: Age Theories, Boozer's Hair Potions, and the infamous €œ2002 WCF Report€.
Game of Zones co-creator Craig Malamut talked about all of the detail and hard work they put into animating the library scene in a thread on Twitter. If you watched the episode, it shows.
Here's a closer look at the Mediadel library's "Restricted Section," wherein lay the deepest, darkest secrets of the Realm... pic.twitter.com/mR3gocfpxn

€" Craig Malamut (@mutsackcraig) April 30, 2020
Just want to note that bookshelves filled with book titles are just about the most tedious thing you can ask a background artist to do, but @Tsoul23, @RichardSilvius and Elliott Byrne did an incredible job with backgrounds in this episode. pic.twitter.com/Jh5SZdTnaY

€" Craig Malamut (@mutsackcraig) April 30, 2020
And here's a closer look at the NSFW @celtics Porn Section of the Mediadel Library 🍀😳🍀 pic.twitter.com/MOyHka1RpP

€" Craig Malamut (@mutsackcraig) April 30, 2020
On one hand, I appreciate that the Game of Zones people threw us a bone here. On the other hand, goddammit.