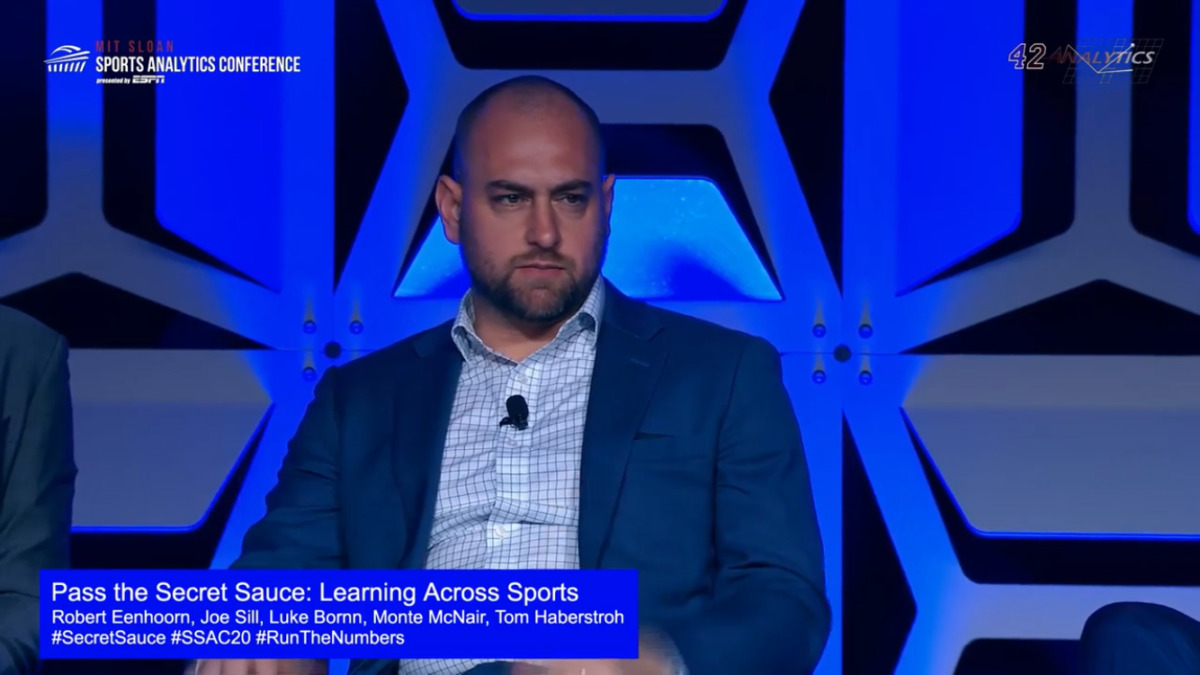 Most sports fans are aware of "Moneyball" the famed story about how the Oakland A's and general manager Billy Beane introduced the usage of data to build a competitive team on a low payroll. As a result, the A's and Major League Baseball are largely credited with helping push analytics into professional sports.
The Houston Rockets, behind general manager Daryl Morey, have relied on data to build a formula that goes against the grain in the NBA. Sometimes referred to as "Moreyball," it is largely based on taking only three-point shots, layups and dunks because the data behind the method suggests it makes more sense mathematically to do so from an efficiency standpoint.
Both Moneyball and Moreyball have given rise to the debate in front offices across different leagues about analytics v. traditional strategies to building teams. The Rockets, on the back of James Harden, have had a fair share of success over the last decade – eight straight playoff appearances, two Western Conference Finals appearances, but no Finals appearances. As a result of the playing style, the team also has set records for the most threes made.
Morey's right-hand man in Houston since 2018 is now the general manager of the Sacramento Kings.
Monte McNair is a graduate of Princeton University with a degree in computer science and began his career as a sports programmer. He spent 13 years with the Rockets, holding a variety of positions. In 2007, he joined the franchise as a Basketball Operations Senior Analyst, moving up from there to Director of Basketball Operations and Vice President of Basketball Operations, before being named Assistant General Manager in 2018.
Based on McNair's Rockets tenure it could be assumed that Vivek Ranadive and the Kings are going to put more of an emphasis on analytics and using data to find a competitive advantage moving forward. This isn't new to Ranadive, of course. After all, he has a background that includes being credited with digitizing Wall Street in the 1980s. And he joined the NBA as a majority owner just as analytics were becoming more prevalent in the league. The year that Ranadive took over the Kings, the league installed SportVU player tracking capabilities to deliver more data to teams. He has always been driven by disruption and innovation, and some of his reported ideas have raised questioning eyebrows – there's the reports of wanting try playing 4-on-5 on defense and the test experiments with the Reno Bighorns/Stockton Kings.
The Kings hired analytics legend Dean Oliver in 2014, but Oliver was let go in 2015 as former general manger Vlade Divac reportedly expressed opposition to utilizing analytics for player evaluations.
Now, Ranadive may have more of a partner in out-of-the-box thinking. Due to his background in analytics with the Rockets, McNair has been featured as a panelist a few times at the MIT Sloan Sports Analytics Conference. In 2016, he appeared in a panel on coaching with Mike Brown, Vinny Del Negro, Scott Brooks and Brian Scalabrine as the moderator.
McNair was asked about the challenges of trying to get an NBA coach to buy into analytics.
"I think the initial kind of thrust to try to get them to buy in is tough, but once you get a few wins and they see that what you are doing helps them and works it just makes it easier to keep going down that path. I think the other thing is getting over the initial kind of us verse them mentality, which especially there was when I was upstairs and they're downstairs. So being around the coaches more, them knowing that we're on the same team trying to do the same thing allows them to at least get straight to the merits of what I'm trying to tell them instead of them trying to think, well does he have some other agenda here he's trying to push?"
He was also asked if coaches should change their game plans based on analytics.
"Certain things they're [analytics] going to be more helpful on. So, I don't think you're ever going to change your entire scheme or use just that. It's a tool. For instance, a guy's three point percentage is probably a little more useful from the analytics perspective, whereas something like how a team does against pick-and-roll coverage, I might be able to, actually J.B. [Bickerstaff] and I just had this conversation the other day, I said there's nothing conclusive here, but here's where it leads and here's some video to go watch. So it might point to a direction on other things, but it's not going to change big-picture stuff."
Earlier this year, McNair returned to the Sloan Conference in a panel with Robert Eenhoorn, Joe Sill, Luke Bornn (who coincidentally is the Kings vice president of strategy and analytics) and Tom Haberstroh about learning across different sports.
McNair discussed how the Rockets front office has visited with outside non-sports organizations that are doing interesting things, such as hedge funds.
"The hedge funds are looking for the black swan to avoid it, and we're looking for it to get it. We need that variance and so it's like let's just apply what you do, but instead we're just going to take the opposite."
McNair and the Rockets, therefore, sought the outliers despite the risks as way to gain a competitive advantage. McNair also was posed a question about NFL teams going for it more on fourth down as a way to gain an advantage, but how coaches may be hesitant to do that because of job security.
"Obviously, credit to coach [Mike] D'Antoni who has been innovating for decades at this point. But yeah, organizationally it helps to have that philosophy that hey, we're going to try stuff until it works and I think you can look across other sports and see what they've done to innovate. The [Philadelphia] Eagles had two huge fourth down conversions in their Super Bowl victory, and to see teams that have done that and reap success, it just gives you a little more confidence to kind of go for it."
But what about the small sample size there is when you are choosing methods that aren't common?
"Somebody has got to be the first mover. But yeah, again, that's why maybe you are going to have to be the first mover in your sport, but if you've seen somebody else in another sport do it, you know that you at least have a little bit of, like Luke [Bornn] said, you get a little bit of cover there."
Bornn followed McNair's comment up with:
"There's also another lesson there, which is that if your objective function is championship and that's all you want, you should be chasing volatility. If you follow the traditional path to try and get there, with actually more constrictive resources because if you are good consecutively, you don't get good draft picks all that kind of stuff. The way to get there is to sort of add randomness and hope it works. And if it doesn't you quickly pivot, but you have to sort of do things to try to continue to leapfrog."
McNair also discussed how the amount of data available in basketball has increased and the infrastructure you need in place just to manage it.
"We used to get 200 events per game in the play by play, and now we're getting thousands of events per second. The data is just enormous and you simply need the infrastructure, and that's another one where we've learned from other sports who have had more data or even other industries like retail, or finance where they have tons of data and how do we actually get this in a form that we can pull it out and give it to our analysts. Then you've got people who have worked with imaging and more spatial areas as opposed to a lot of the regressions that we've kind of started with. We had a physics major with us at one point and doing some shot arc stuff and things you would never have to do before. … You need people with different skills and it's great, it's another place to find an advantage."
The NBA has certainly become more data driven and the Rockets have proven to be successful over an extended period of time. Granted they have Harden and haven't won a title, but consistent winning is a success in its own right, and Morey has given McNair a great deal of credit for that success. Based on comments from Morey, McNair assisted the Rockets with everything from free agency, the draft, trades and player evaluation. So it would seem he is more than just a data guy. It is good to hear he believes in having strong relationships with coaches as well.
The Kings have analytics people already and Ranadive obviously believes in it, but up until now it has been a little unclear how dedicated basketball operations has been to it, at least during Divac's tenure. McNair could be the person that believes in fully adopting it with more of a strategic plan.
The Kings will introduce McNair during an introductory press conference on Wednesday at 11:30 am.