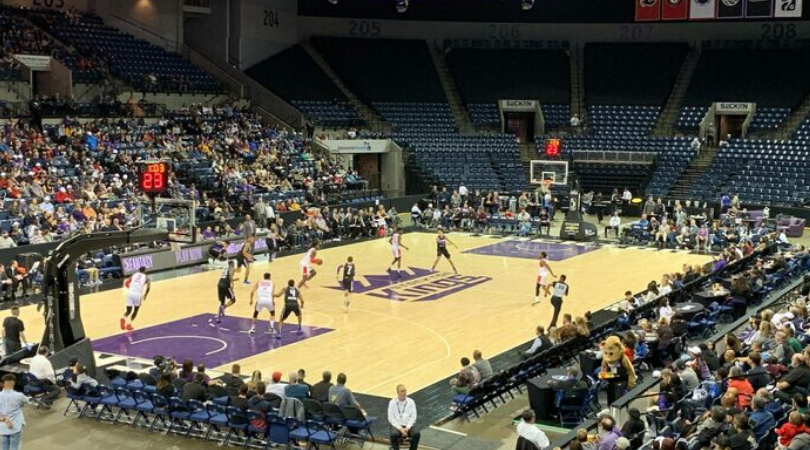 The Stockton Kings finished the season with a 24-19 record, placing first in the Pacific Division and fourth in the Western Conference, led by a collective group of players.
Rookie Kyle Guy and DaQuan Jeffries get the majority of the attention because of their two-way deals with Sacramento, but there were plenty of players that deserve credit as well. 
Gabe Vincent
The 6'3" guard absolutely lit it up in Stockton prior to his call-up with Miami. Vincent played 20 games in Stockton, where he took an incredible leap in production in many areas of his game. In 31.8 minutes a game, the UC Santa Barbara prospect averaged 23.4 points, 3.8 rebounds, 2.5 assists and 1.3 steals while shooting 46.9% from the field and a whopping 42.1% from three on 10.5 attempts. 
That ridiculous volume itself is deserving of a look from an NBA team and Vincent received that opportunity from Miami, despite dropping in production with Sioux Falls. 
Eric Mika
Stockton didn't have many big men with good size on their roster. There was a span of games where Jalen Reynolds played in Stockton when Eric Mika went to China, but Reynolds left when Mika returned to the Kings.

The 6'10" big man from BYU played 23 games in Stockton where he averaged 18.8 points, 12 rebounds, 2.2 assists and 0.8 blocks on 60.3% shooting. Mika became one of the more dominant big men in the G-League and he played a huge role in the success of Stockton with his ability to score in the paint, defend down low and set good screens. 
Mika's play eventually saw him get a call-up with Sacramento when the Kings desperately needed big men. Mika played in one game against the Los Angeles Lakers where he scored six points and grabbed seven rebounds in 19 minutes.
Isaiah Canaan
The former NBA guard bounced around multiple NBA teams since being drafted by the Houston Rockets in 2013. Stockton traded to acquire the rights to Canaan in December of 2019 where he became one of prominent scorers on the team, especially after Vincent left in January. 
Canaan played 30 games in Stockton, averaging 31.3 minutes a game. He also put up 21.4 points, 3.8 rebounds, 6.1 assists (led the team) and 1.1 steals on 43.6% shooting overall and 41.5% shooting from deep on 8.8 attempts. He essentially filled in the production that Vincent left behind, but with better passing and bringing a veteran presence to the squad.
Robert Franks
Franks arrived in Stockton in February as the Kings acquired him in a trade with the Greensboro Swarm, the G-League affiliate of the Charlotte Hornets. The 6'7" forward saw a plethora of minutes at the four and provided the ability to stretch the floor at a high rate.
Franks only appeared in 14 games because he came to the team late, but in 32.6 minutes a game, he would average 15.6 points, 7.7 rebounds, one steal and 0.8 blocks on 50.3% shooting and a clip of 39.8% from deep on 6.6 attempts. Franks could be an interesting player to watch moving forward as his size and versatility on both ends could be sought after by many teams. 
Cody Demps
The local prospect from Sacramento State has played in Stockton for the last two seasons in which he earned a call-up late last season with Sacramento. Demps also has a season in Reno under his belt.
Demps' minutes have increased every season and thus, his game has improved on many levels, especially from beyond the arc. In his first season in Reno, the 26-year-old guard shot 35.2% from deep on just two attempts a game. That clip fell to 31.5% last season on 2.6 attempts, which wasn't a positive sign for his development. However, he jumped up to 37.2% on 3.8 attempts in 2019 and added to the deep threats that Stockton already possessed. 
In 34.3 minutes a game, Demps averaged 14.4 points (career high), 5.4 rebounds, three assists and 1.1 steals on 44.3% from the field on 11.6 attempts. Stockton head coach Ty Ellis has regarded Demps as the heart of the organization and a player that could succeed long-term in Europe if he chose to play there. 
Stockton has housed some solid young talent as of late and have built a foundation where players looking for a place to grow can succeed with great coaching. Keep your eyes on Stockton's roster for next season.