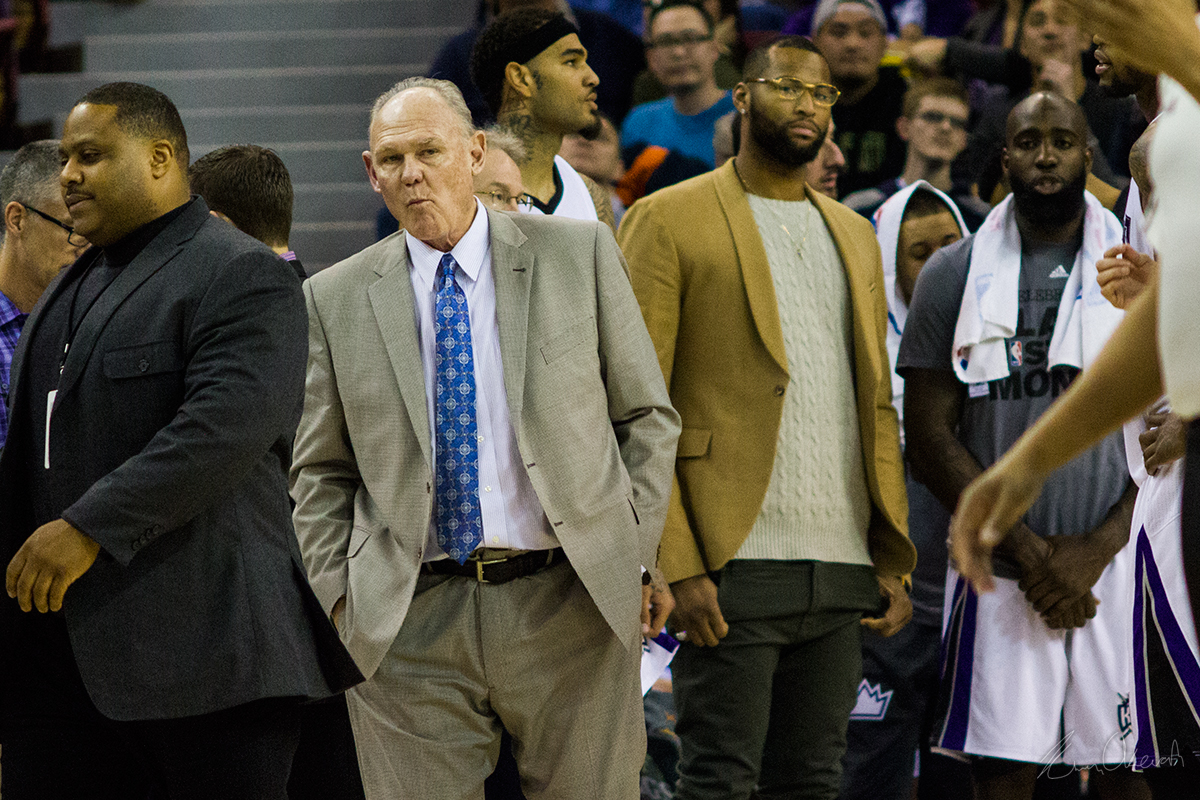 Former Sacramento Kings head coach George Karl has a new podcast, and in the latest episode he went into great detail discussing his time with the Sacramento Kings. Vance Walberg, who served as an assistant under Karl in Sacramento, was a guest on the show as well. I'll be discussing some key moments, but the whole thing was a really fascinating listen (outside the podcast host, who is useful in guiding the conversation but way too effusive with his praise of Karl and Walberg every step of the way).
It is also worth noting that all stories are from the perspective of Karl and Walberg. Karl certainly doesn't paint himself as perfect -- he says it was a mistake to say no player is untradeable -- but he tends to put the blame on everyone but himself -- he says it was a mistake to say no player is untradeable because his team wasn't mature enough to handle that.
Carmichael Dave shared some snippets of the podcast on Twitter, and I'll share those hear so you can hear some of the more relevant parts of the show.
On Vlade's hiring:
In this clip, Karl talks about the first sign of trouble in Sacramento.

According to him, he had no clue Vlade was hired, and neither did Pete D'Allesandro.

In fact he says he yelled at Pete when he found out. pic.twitter.com/WhzWojmi6F

— Davie McCarmichael (@CarmichaelDave) May 28, 2020
This is perhaps the most believable anecdote, where Karl and Pete D'Alessandro were blindsided by the hiring of Vlade Divac to oversee them.
On why he wasn't fired at the All-Star break:
In this clip, Karl talks about being a lame duck coach, the financial reason he thought he was kept around for, and the firing of his assistant coach. pic.twitter.com/KrB0s82fAr

— Davie McCarmichael (@CarmichaelDave) May 28, 2020
This was rather surprising to hear. Karl says that he'd always heard that the other owners basically said that Vivek would need to pay Karl's salary if Karl was fired early.
In this clip Vance Walberg discusses his firing:
Vance Wahlberg was the assistant coach fired under George Karl.

Here he talks about that meeting, and asks why it wasn't Nancy Lieberman. pic.twitter.com/aiSC6BeySO

— Davie McCarmichael (@CarmichaelDave) May 28, 2020
It seems clear that Nancy Lieberman was a hiring that had been directed by Vivek, and that the other coaches didn't view her as part of core group of coaches. Vivek's meddling is a running theme throughout the show.
Walberg shared his version of the confrontation between George Karl and DeMarcus Cousins:
Former Kings assistant Vance Wahlberg relays what he saw during the infamous Cousins-Karl locker room confrontation after a loss in San Antonio, and the front office's reaction (or lack thereof): pic.twitter.com/S4y19VD2EV

— Davie McCarmichael (@CarmichaelDave) May 28, 2020
Karl shares his version of events on the podcast as well. After this segment Karl and Walberg discuss how they felt the organization did not back them up in holding Cousins accountable for the outburst.
Finally, Karl and Walberg were asked if Vivek is the biggest problem for the Kings:
Final shot from the George Karl podcast. When asked if owner Vivek Ranadive is the problem in Sacramento, both he and former assistant Vance Wahlberg say.....yes: pic.twitter.com/VUhMMDBeKP

— Davie McCarmichael (@CarmichaelDave) May 28, 2020
One other aspect of the podcast I found interesting that Dave didn't capture was a section where Karl talked about roster building. He talked about how outside of Cousins and Rudy Gay there wasn't much talent to work with. He says that's where the idea of trading Cousins came from in the first place, was the idea of getting multiple players back similar to how Denver did when they traded Carmelo Anthony. He also talked about how he felt they needed a top 15-20 point guard. No mention of how his buddy Pete D'Alessandro had let Isaiah Thomas go the summer before.
It's a fascinating listen, but again you absolutely need to take Karl with a grain of salt. I have no idea how accurate his statements are, but there are certainly parts of it that ring true from what I recall of the team at that time.
One nice theme throughout the podcast was that poth Karl and Walberg spoke glowingly about the city of Sacramento and about Sacramento Kings fans. Both had nothing but positive things to say, and said they hope the Kings organization can be successful because the fans deserve it.