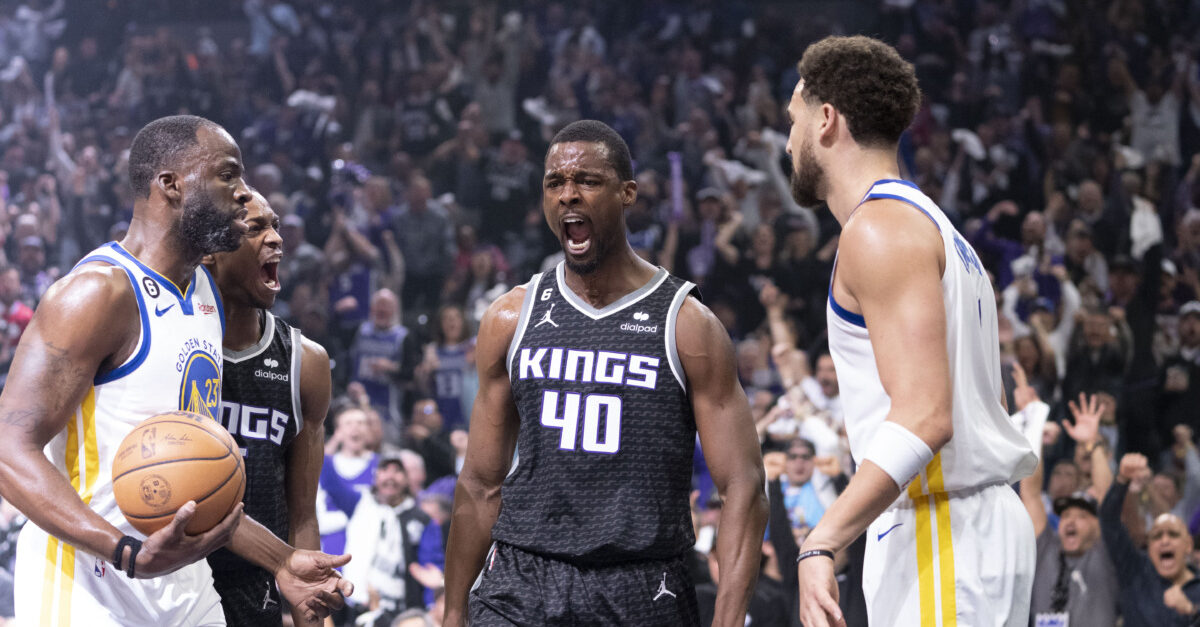 Coming into the series against the Golden State Warriors, Mike Brown preached about how the Sacramento Kings need to be physical. This meant being physical on defense and offense, and not letting the Warriors push them out of their game.
In Monday's 114-106 win, the Kings won the offensive rebounding battle (again) 12-9; they had 11 steals to the Warriors 6; they had 5 blocks to the Warriors 2; they had 54 points in the paint to the Warriors 40; they had 17 fast break points to the Warriors 12.
That my friends, is being physical and putting extreme pressure on the opponent.
Following the game, Steve Kerr complimented the Kings on this.
"They did a great job defensively of pressuring us, and then we didn't handle it well enough to win a playoff game on the road," he said. "They played better than we did down the stretch. I thought they were more physical tonight. It was an incredibly physical game. Really a lot of physicality and not much movement, not much freedom of movement out there. So, they were the aggressors and I thought they benefitted from being the aggressors."
The Kings maintained success this season by relying on their scoring. Yet, the threes aren't falling – they finished 23 percent from three Monday and their usual shooters – Harrison Barnes, Kevin Huerter and Keegan Murray only made 1 three combined in Game 1. But it is the aggressiveness and sense of urgency that is making up for that.
"The physicality that both teams brought tonight was unbelievable. I thought our guys did a heck of a job tonight," Brown said. "Our ability to offensive rebound in Game 1 and tonight was big."
On offense, Brown said the Kings were "strong with the ball" without turning it over. While the Kings had 12 turnovers in the first half, they only had 2 in the second half.
Davion Mitchell is making Curry work. Malik Monk is constantly going downhill on them. De'Aaron Fox is shifting gears like a sports car. Harrison Barnes is crashing the boards with no remorse. Domantas Sabonis is going Incredible Hulk in the paint, withstanding the Draymond stomp and that busted thumb he's dealt with for most of the season on his way to 24 points, 9 rebounds and 4 assists in 40 minutes.
"His [Sabonis] motor is unbelievable, his mental toughness in unbelievable, and his physical toughness is unbelievable, and it was all on display tonight," Brown said.
This is a tough, tough team both physically and mentally. As we wait to see how the league is going to respond to Green's antics in last night's game, what stands out the most is that the team that hasn't been to the playoffs since 2006 is the one keeping its composure while the champions are getting pushed around and resorting to dirty plays.
Kerr almost seemed glad to have a chance in this game: "It's a tie game with 4 minutes left or whatever it was. … We kept Steph [Curry] and Klay [Thompson] out there for most of the [fourth] quarter. I think Steph played the whole quarter because we had to have those guys to give us a shot, and so they got us there. They gave us a shot and like I said, getting to that point even with everything going on I thought was really impressive, but just didn't have quite enough."
The Kings physicality is also yet another line item on a long list of examples of how good Brown is coaching this team. He told them to be physical with these Warriors and they are doing it. They aren't backing down one bit and not afraid of the moment. And this is a big moment - the first playoff appearance in nearly two decades against a dynasty. This is no small spotlight.
Good teams adopt the personality of the coach.
This is Mike Brown's team, and they are a problem.