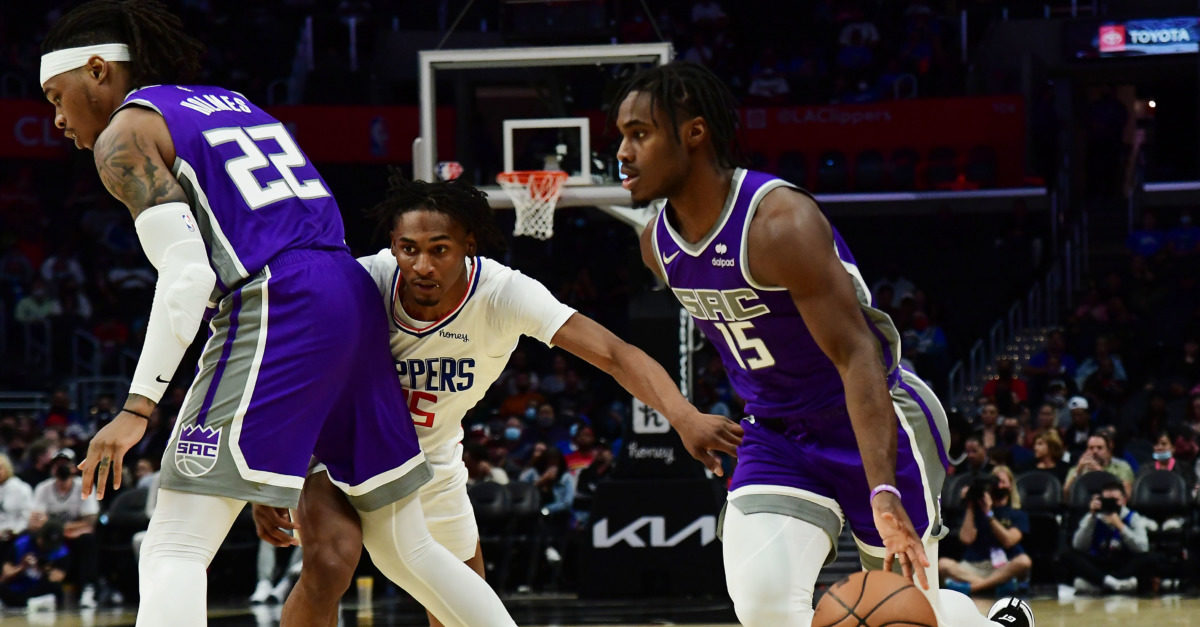 Even though we are only two preseason games in, De'Aaron Fox has already seen enough of Davion Mitchell to make this announcement: The rookie is one of the top 5 on-ball defenders in the NBA.
"It's great. When he's locked in on the ball it's crazy to watch the way that he's able to stop and go. Shit hurts my legs watching him, but he's such a great on-ball defender. In the league right now, he's top 5, I'd say, on-ball defenders in the league right now. When you watch him it's just amazing – he does stuff on the ball that you just can't teach. I mean that's what's making him great," Fox said following the Kings win over the Clippers Wednesday night.

"The things he does defensively, that's a gift. Obviously, some things can be taught, kind of like an off-ball defender can be taught a few things and obviously on the ball you can work at it, but what he does like, just the detail, if you watch him play defense and the detail that he has, and the way his feet, and his knees, and his hips are just moving, like that's stuff you can't teach. Like there's not many defenders that can - him, Marcus Smart, Pat Bev, Jrue Holiday, not many guys can pretty much do that."
The play that garnered a lot of attention was this isolation play against Paul George.
Paul George v. Davion Mitchell pic.twitter.com/MsXFKDNie1

— The Kings Herald (@thekingsherald) October 7, 2021
He also almost forced George into a jump ball also before George managed to get away and make a fadeaway.
Tristan Thompson commented on Mitchell's defense following the game:
"That's how you find your niche in this league. If you can be a guy that can play on both ends, but be willing to get your nose dirty and pick up guys and make guys uncomfortable - you don't necessarily have to get steals or charges. I think if you just pick guys up and make them take 4 or 5 extra dribbles or exert that much more energy it could tire them out in the fourth quarter, they might not have their legs so those shots might be short. So, I love what he's bringing every day to the table. I love that he's on our side of the basketball," he said.
And it isn't just defense with Mitchell as he is showing that the shot might translate pretty well. Fox thinks he will be able to perform on both sides of the ball well.
"On the other end I tell him go out there and do what you do. You're going to be out there to make plays for us, make it easier on guys, score the ball. I think he's going to do everything at a high level, especially once he gets used at playing at an NBA level, but defensively it's already there," Fox continued.
Here is a highlight reel of Mitchell's game Wednesday night, in which he showed a lot offensively. At :08 you will see the play in which Mitchell almost stopped George again.
Mitchell finished with 13 points, 4 assists, 3 rebounds, 1 steal, 1 block and a +17 on the night. He went 3-3 from beyond the arc.
Fox Has Himself A Night
And let's not forget about Fox himself. He was much more aggressive this game compared to the first preseason matchup. He finished with 23 points, 4 rebounds, 4 assists, and went 3-5 from three and 6-6 from the line, in just 22 minutes. It was an impressive performance.
Fox is still feeling out how to use his extra muscle it looks like. He looks a lot more in control now than he has in previous years. He isn't relying on just his speed, he's patient and knows when to turn the jets on. And there is always the worry the added weight has forced him to play a little slower, but that is something we should watch over the course of the season. Regardless, it doesn't look like it is going to slow down his production.
Walton had this to say about the added muscle.
"He committed to it this offseason and it showed, it's showing just by looking at him, but I think even as he continues to play he will get more comfortable with some of the new things he can do as he gets stronger. His shot looked good tonight. When he's making shots, he's near impossible to keep in front, so he had a really good game for us. I thought he did a nice job of setting the tempo early as far as playing with the pace we want and attacking offensively," he said.
Fox said this: "Physically I feel good, I feel ready, I still feel fast, I feel stronger being able to get to my spots. All of that I'm still trying to play the same way – shoot the ball better, still get guys involved so nothing in that aspect is really changing," he said.
Here is a set of Fox's highlights from the game.
Rotations
Walton started Fox, Tyrese Haliburton, Moe Harkless, Harrison Barnes and Tristan Thompson. Before the game he mentioned it could be a lineup he considers in the regular season.
Luke Walton was asked if tonight's starting lineup is something realistically he might consider for the regular season: "It's realistic. This is a lineup we feel could be versatile with the Harrison/Moe 3-4 and Tristan and what he brings as far as just his winning mentality."

— The Kings Herald (@thekingsherald) October 7, 2021
It is still preseason so we probably shouldn't read much into this, but keep an eye on how Richaun Holmes is utilized the rest of the preseason. We likely will see other starting lineups in the next few games and Walton probably considers any of them as options at this point.
Following the game, Walton said he thinks he will have 12-13 guys he feels confident about playing. He said that the rotation will shrink by the start of the season, but that it will end up being more than 7 or 8 guys.
Here are the postgame pressers with Walton, Fox and Thompson.