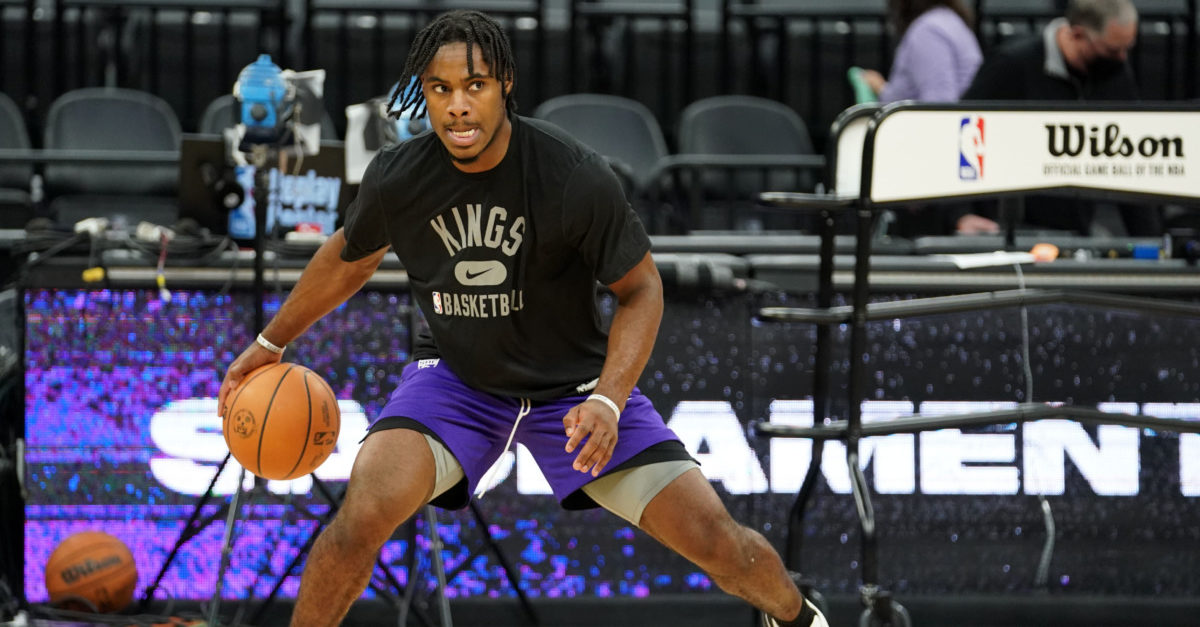 Davion Mitchell proved a lot in his rookie season. He proved the defense is legit, that he can be an offensive threat, he is a really good passer and most importantly, he proved he belongs in the NBA and has a chance to be a highly impactful player on top of it.
And he has much more to prove.
Throughout the start of the season, Mitchell was behind De'Aaron Fox and Tyrese Haliburton in the rotation and while he showed flashes, he remained a question mark because of his limited playing time. We saw him produce the first time Fox got hurt and sat out a handful of games. After Haliburton was traded, we saw him a little more and once Fox was shut down, we saw a guy who had learned the NBA game and took the reigns as the floor general of an overmatched squad.
Since March 18, Mitchell averaged 39 minutes per game over 11 games. In those minutes, he averaged 18.8 points, 9.3 assists, 2.5 rebounds, .7 steals, 44% from the field, 31% from three and 82% from the free throw line. For those wondering, if he had averaged 9.3 assists per game for the whole season, he would be 4th among all NBA players in assists behind Chris Paul (10.8), James Harden (10.3), and Trae Young (9.7).
He has a reputation as a hard worker, so we should probably assume we'll see growth from Mitchell next season.
In fact, Fox had this to say about his backcourt teammate on Monday.
"We all know Davion is probably the hardest worker that we have all probably seen outside of maybe Kobe [Bryant]," he said.
Mitchell has mentioned three things he would like to improve on: shooting consistency, off-ball defense and leadership.
Shooting Consistency
"There's a lot of things I want to work on, I think just being consistent shooting the ball is definitely one of the things," Mitchell said. "We've got two guys who can make plays so if they leave me open, I've got to knock it down."
In the games leading up to the point when he took over as a starter for Fox at the end of the season, Mitchell was averaging 41% from the field, 31% from three and 54% from the free throw line. In the 11 games he started down the stretch, his field goal percentage increased and his free throw percentage increased a lot. His three-point shooting remained the same. If he can get that three-point percentage up it would help the team a lot.
Off-Ball Defense
Mitchell spoke about the team's defense, his individual defense and the improvements needed.
"Just having that chemistry. Trusting one another. I feel like sometimes we didn't really trust each other like, 'Oh he doesn't have our back so we're going to stay with our man,' but the other guy is going to be wide open, so just trusting each other," Mitchell said. "And as far as me, just getting better off the ball. I feel like on the ball I do a really good job, but being better off the ball and not just ball watching, also seeing my man. I feel like I got back cut a lot of times this year and they kind of picked on me off ball so that's one thing I need to emphasize on my side."
For a guy who is known as such a good defender, it is good to see him be able to critique himself in such a way. He has been talking about getting better off the ball all season, so seeing if that improves next season will be interesting to watch. A new coach, system and players could help with that also from a team defense perspective.
Leadership
"I think the biggest thing for me is just getting comfortable being the point guard out there, not getting sped up, running a team, just kind of being the leader on the floor when Domas [Domantas Sabonis] and De'Aaron are out. Just being the leader and trying to run a team the best way I can," Mitchell said. "Being a leader is definitely one of the things, I mean it's kind of hard for you in the offseason, but yeah, those are the things I want to work on."
Now-former interim head coach Alvin Gentry spoke highly of Mitchell's progress in the leadership category in the final stretch of the season.
"I think that a month and a half ago, he was still this quiet rookie that would not say very many words, during timeouts say anything, and I think that's changed drastically. I think that he feels confident, he's not afraid to have an opinion, a voice, which I think is really good. And even in certain situations where I say, 'Let's run this,' and he goes, 'Hey, how about this one right here?' I think that's all leadership," Gentry said. "As a coach when you see that you need to embrace it because you want he and De'Aaron when they are running the team to feel like they are running the team and not just robots coming from the coach."
In the 11 games to close out the season, there was a noticeable difference with Mitchell off the floor. When he was on, the team just ran smoother and you could see him being vocal and directing traffic. This was a good sign, not to mention the numbers he was putting up. The fact that he is open about wanting to build on his leadership qualities is even better.
Mitchell had a really solid rookie season considering the amount of change this franchise went through. The question now becomes can he play next to Fox or will he need to be the spark off the bench? And if he is the backup point guard, will we see who the 23-year-old (he will be 24 when next season starts) can truly become as a player?