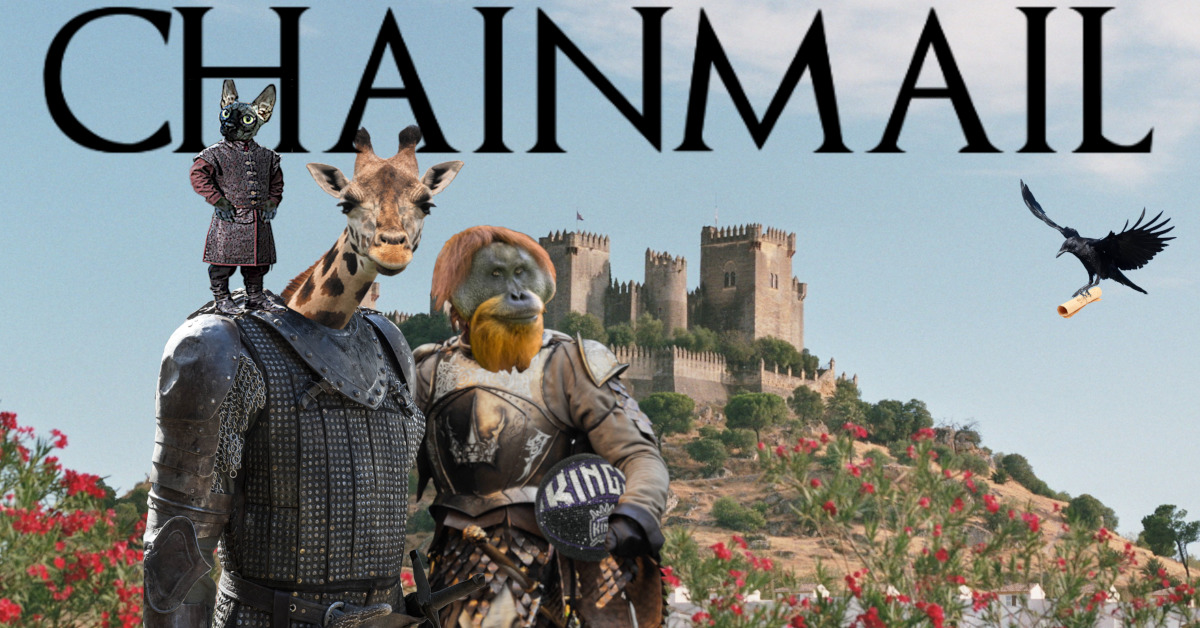 Welcome back to Chainmail! Will is out this week (his tummy hurt a little bit after having too much leftover Taco Bell that he left on the counter a few nights ago and he just hasn't been up to it), so the brilliant Mirann has taken his place! We prompted all of you to ask any question, basketball-related or not, on your mind, and y'all sure filled up the mailbag! Because of the unique prompt, we've broken up the mailbag into two sections: those having to do with throwing a round ball into a round hoop, and those having to do with nothing in particular. Let's jump right in!
Basketball Talk
From 9sac8:
What is Monte waiting on to trade for Ben Simmons? He'll fill the Draymond Green role, only better. If a 3rd team is needed…get it done!
Tim: The Sixers have to want what we're offering, and I'm guessing that isn't the case as of now, nor will it likely be in the future, and that's always been my sticking point with a potential Simmons trade. The Sixers want to win RIGHT NOW, not in a few years. Draft picks don't help them win right now. A small, rookie point guard like Davion Mitchell doesn't help them win right now. Even as good as he was as a first-year player, Tyrese Haliburton doesn't come close to replacing the production of a player of Simmons' caliber. The only way I see a deal happening is if another team wants to reset and dump a star-caliber player, and it ends up being a three-team deal.
Mirann: My guess is that Daryl Morey wants what Monte McNair isn't willing to give up - De'Aaron Fox - and both front offices have reached a stalemate. In shopping Ben Simmons, Morey has made it clear he isn't willing to settle for less than star-caliber return or an exorbitant amount of future picks and young talent. I also think Morey & McNair, both in their second seasons as GM for their teams, are feeling the added pressure of getting this offseason right. Morey obviously has the big task of getting valuable return for the unhappy Ben Simmons, while McNair is responsible for constructing a real playoff roster for the Kings. Neither are easy tasks, and given their mutual need to nail their sophomore offseasons as GMs, I expect both to be very thoughtful and headstrong in their dealings. BUT, as time continues to go on and we get closer to the start of the season, fires will be lit under butts and decisions will need to be made, so we will see what happens. For now, I suspect both front offices are just holding strong to their assets until things get hotter.
From MaybeNextYear:
Which current players are still members of the Sacramento Kings when this team next makes the playoffs?
Tim: De'Aaron Fox, Tyrese Haliburton, Richaun Holmes. That's it.
Mirann: I agree with Tim. I am already a big Davion Mitchell fan, but I suspect he will need to be included in any future deals that can get us the power we need to get to the playoffs. Oh, and Alex Len will likely go play on another team and then come back to us again, so he'll be there too.
From SMF-PDXConnection:
We've got a small, three-guard lineup and we know the Kings would need to package assets to pull off any big swing they're thinking about. Fox/Haliburton/Mitchell: which two are you keeping and who are you trading the third one for?
Tim: I would not trade Fox or Haliburton for Ben Simmons, assuming that's the guy the Kings end up targeting. Conversely, I would absolutely shop Mitchell for an impact player, whoever that ends up being. As much as I loved Davion's play in Summer League, he's almost the same age as Fox as a rookie, and I'm still not convinced that he fits long-term with a Fox-Haliburton core.
Mirann: Today, I would keep Fox and Haliburton and include Mitchell in a trade package for a star-level wing. I loved what Mitchell showed in Summer League, but there are still some unknowns about how he will fare in the regular season. If you ask me in a year, my answer may be different, but for now, Fox and Haliburton have proven that they're worth building around.
From Melmoth:
With the current roster, who would you position as the 6th man (first off the bench)? Is that still Hali, or now Davion, or another candidate (who doesn't feel threatened by that role)?
Tim: As much as I would enjoy watching the battle between Hield and Walton if Buddy came off of the bench, I think it's in the Kings interest to start Fox-Hali-Hield-Barnes-Holmes. Sacramento doesn't have a starting caliber small forward on the roster (if you think Barnes is a PF), or they don't have a starting caliber power forward (if you think Barnes is a SF). At that rate, I may as well surround Fox and Holmes' pick-and-roll threat with three very good shooters from deep. Mitchell automatically becomes my hype man off of the bench, while Davis, Bagley, Harkless, and Len get most of the other minutes in some way, shape, or form.
Mirann: I think Davion would fill the 6th man role perfectly. I love a good spark of energy off the bench and I can imagine some fun final first quarter minutes where we get to see the three-guard lineup. I'm especially looking forward to seeing if they throw out that three-quarter court zone trap once Davion enters the game. The idea of Fox, Hali, & Mitchell standing above half court, ready to meet and hound the ball, gives me goosebumps.
From Gabriel_Boniot:
Is Fox better than Simmons, and is there a good justification for not swapping those two players via trade?
Tim: Here's where I'll split the hairs between Fox and Simmons, as I think they're near the same caliber of player. If I'm a team that's ready to win right now, Simmons is a great completion piece, a la the Warriors. If I'm a team that's trying to get to that level, Fox is much better served as a number one option. That being said, the market, not the player, sets the value for any contributor in the NBA. Fox's continued growth, and Simmons' stagnation, as well as the Sixers throwing Ben under the bus, puts De'Aaron's value higher than Simmons' right now. That's why I wouldn't execute a one-to-one swap.
Mirann: I'll first start by saying that I've watched De'Aaron Fox play basketball a lot more than I've watched Ben Simmons. I understand Ben Simmons to be a freakish 6'-11" point guard who is dynamic in transition and as a passer, utilizes his long limbs and athleticism to dominate on the defensive end, and is most limited by the fact that he can't shoot. De'Aaron Fox is a smaller 6'-3" point guard who is, as Mark Jones often puts it, "quicker than gossip", and gets to the rim and free throw line at will, but has shown inconsistencies on the defensive end. So although they play the same position, they bring different things to the table. Given what I know, I can't say with confidence which of the two is better, but I think De'Aaron has accrued more value. De'Aaron has continued to get better every year and has shown no indications of slowing down, whereas Simmons has hit a roadblock in his development and is still trying to figure out what hand he should shoot with. That's not to say that Ben won't get over this hump and continue on an upward developmental trajectory - that's entirely possible. But today, De'Aaron is worth more than a one to one swap with Simmons, especially in the context of what he means for the Kings.
From Carl:
How long does the front office have to wait for the draft and tinker around with bench players before pressure from ownership and fans to make moves that will win more games starts to become real?
Tim: The pressure should be there right now. I've heard a lot about how Sacramento's roster is so much better than at the start of last season, but isn't last season's terrible starting depth chart partially on Monte? He let Bogi go for nothing and didn't use the MLE on a contributor, instead choosing to sign terrible bench contributors in Whiteside and Robinson. And as much shit as we give Vlade for hiring Walton, Vlade chose him once; Monte has chosen him twice. And no, I don't want to hear convenient leaks about ownership's involvement every time the front office makes an unpopular decision.
I think McNair's had made some nice maneuvers around the fringes, but his plan seems to be formulated on one thing: making the big trade. Unfortunately, those trades don't always happen. If the Kings look relatively the same after the trade deadline, Monte's seat should be getting pretty warm.
Mirann: I think Monte is already feeling the pressure. I mean, he even called out Gregory Wissinger and that baby giraffe guy by name! So I think he knows what fans are hoping for and expecting of him. I just hope it doesn't cause him to make a deal for the sake of making a deal and we end up with a short stick.
From JBB:
Can you go over how G-league rosters are constructed and how they relate to summer league rosters, if at all? I'm curious if guys like Coleman, Murkey, and Terry are likely to be in Stockton.
Tim: The NBA's minor league system still needs a decent amount of work, and the summer league - G League - home club relationship is a perfect example. The only players that a team controls in the G League are guys under NBA contracts: either two-way deals or full-time guys getting some reps instead of riding the line all season. Anyone else on that G League roster has no true loyalty to the association or to the franchise. The Stockton Kings have had several guys play very well for them and those players have signed with other NBA teams and made a career for themselves. It's an odd system that doesn't funnel talent the way it should.
As far as summer league is concerned, that's usually where most Exhibit 10 contracts originate. Teams can carry up to 20 players into training camp, with the need to cut the roster to 15 before the start of the season. If the Kings liked a player in Vegas, whether he played for them or not, they could offer the Exhibit 10 one-year, non-guaranteed deal. The player will likely be cut, and they know that walking in, but it gives them a shot to make the full club, and if they are cut, they'll be given a financial incentive, maybe $50,000 to stick with that organization's G League affiliate. That sounds like a great deal for both sides, and it is a great deal for the player, but remember that the team doesn't control that player's ability to sign with another NBA club - it just lets them develop him on their minor league team.
Mirann: What Tim said.
From TheBanquetBear:
If you could replace any players on the opening day roster with Harry Giles, would you? Ignoring cap space implications/benefits of replacing a player like Buddy or Bagley.
Tim: No, I don't think Harry Giles is going to get a contract next season. I would say Robert Woodard, but I would prefer to cut him and sign someone else. Yes, I'm cold hearted.
Mirann: I would gladly take Harry Giles over Robert Woodard. This is motivated moreso by my disappointment in Robert Woodard than my admiration of Harry Giles. I was hoping to be impressed by Woodard in Vegas, but his game looked strained, uncomfortable, and was not the confident performance you hope to see from a second-year guy in Summer League. I don't think Harry would be a big floor contributor in any way on this roster, but I do miss the energy and heart he brought to this team. So I would take Harry's off-court presence over Robert Woodard's on-court presence.
From Jman1949:
Did Louis King's play in LV Summer League earn him serious consideration for a regular roster spot instead of a two-way contract? If so, who is the guaranteed-contract player most likely to be waived?
Tim: I wouldn't quite go that far. King played well in most of the games, but Summer League and the NBA regular season are two wholly different beasts. Sacramento has cheap control of him for 50 active games before needing to make a decision. They may as well wait, and at worst, get some ultra-cheap production before converting him late in the year.
Mirann: I agree with Tim that waiting for now makes the most sense. I think Louis King definitely earned himself more opportunity on the roster in the regular season and should certainly see floor time before Robert Woodard, but there's no need to convert him yet. If anything, the two-way may provide him with more motivation to get to that roster spot
Potpourri
From Kosta:
You reluctantly get up early on a Sunday to join your buddy in a Dodgeball tournament he found on Craigslist. Running late, you had to skip coffee and breakfast but upon arriving at the site you are shocked to find that a guy who resembles Vlade Divac is in fact THE Vlade Divac. Apparently, his Sundays are pretty free nowadays and he likes to keep in shape by joining Craigslist recreational leagues.

Vlade came alone, looking to join a team… either yours or your opponent's. It's your team's call, and your buddy asks you what to do.. Winners get $1000. After watching Vlade warm-up, you see he has pretty good Dodgeball playing skills.
Tim: There's no way I'm putting Vlade Divac on my dodgeball team, and it has nothing to do with him being one of the worst General Managers in NBA history. He's a 53-year old, 7'1" man who will make an easy target for every opposing thrower (is there an official term for that person?). No. Thank. You.
Mirann: In a game where flopping gives no advantage, I shall pass on having Vlade Divac on my team. He might be able to throw a dodgeball fairly well, but I have little to no faith in his dodging abilities and he is a massive target. The only thing I could see him being good for is to hide behind, but that becomes useless once he gets hit 10 seconds into the round.
From TyrekeFan18:
Tell us one thing about your personal life (whatever you want) that we probably don't know about you.
Tim: My full-time job, aside from monitoring Kings Twitter and infuriating as many people as regularly as possible, is as a corporate trainer. Yup, I'm the guy that greets you on your first day, shows you the bathrooms, pep talks the hell out of you, and then shows you how to do your job. Side note: most corporate trainers are awful.
Will: Tim once visited Sacramento and I wanted to show him a cool Sac spot so I took him to…Buffalo Wild Wings! (This may have been written by Tim, but it's the absolute truth.)
Mirann: I got my Bachelor's and Master's degrees in civil engineering and now work full-time as a civil engineer and yet I am still the second-best child in my family because my brother actually saves lives as a doctor specializing in oncology
From outrider:
If you could meet and talk to anyone for five minutes (even if historical), who would it be?
Tim: Is Lee Harvey Oswald a weird answer? I need to know what really happened.
Mirann:If I only get five minutes, I'm going a similar route as Tim here. I need to know who killed JonBenet Ramsey.
From Klam:
Since this is an "Ask Us Anything Mailbag"….

You're given one million dollars and need to do something with it right away. What do you do with it? Spend some on a house? Put it in savings? Give some away? Bribe Vivek to get a new coach? Buy Blu-Rays of Lady Bird and Little Women? Other?
Tim: Okay, I'm going to put a couple of additional requirements on this question. We have to spend the money within 24 hours and we cannot invest it in any way like a smart person would do.
I'm paying off the house that I just closed on last week.
With the pennies I have leftover, I'm grabbing $50,000 in Southwest gift cards, $25,000 in Walmart gift cards, $25,000 in Target gift cards, and $10,000 in Fry's Grocery gift cards.
PS5, here I come! (And several games). A sexy new television is coming with the PS5 as well.
My wife is getting some expensive jewelry.
I'm buying plane tickets, hotel rooms, and food vouchers for a 14-day European tour for like two years from now.
Mirann: This question stresses me the hell out. I am super indecisive about spending and now I have to decide how to spend more money than I've ever known in 24 hours. Okay, I think I would do the following:
Pay off the house
Buy an Earthroamer (it's like an RV but smaller and super luxurious)
Negotiate an amount with my boss for me to take a 6-month absence
Buy tickets to a game in every NBA arena and then plan a 6-month cross country trip in my Earthroamer to go to said games
Okay, that wasn't as hard as I thought it would be. Now I want a million dollars...