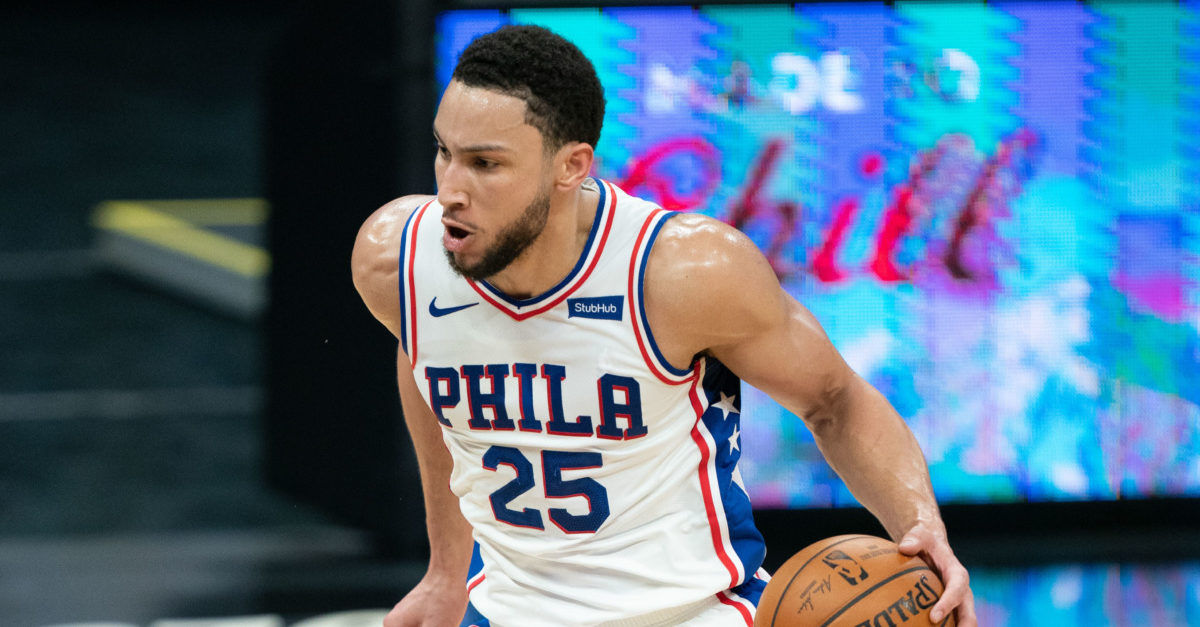 The Philadelphis 76ers lost Game 7 of the Eastern Conference Semifinals last night, and in the process (pardon the pun) Ben Simmons destroyed fan's opinions of him. Simmons took just four shots the entire game, including passing up an open shot right at the rim in the closing minutes of the fourth quarter. After the game, Joel Embiid even seemed the throw Simmons under the bus:
Full quote from Joel Embiid: "I mean, I'll be honest. I thought the turning point was when we — I don't know how to say it — but I thought the turning point was just we had an open shot and we made one free throw and we missed the other and then they came down and scored...

— Rich Hofmann (@rich_hofmann) June 21, 2021
Joel Embiid on whether he'd like to see the Sixers run it back next year:

"That's a tricky question."

— Bryan Toporek (@btoporek) June 21, 2021
Simmons was reportedly made available in James Harden trade talks at the beginning of the season, and now with this playoff failure it seems unlikely that Simmons returns to Philly next season. Simmons' trade value has also never been lower.
And that's why I think it's the perfect time for the Sacramento Kings to trade for him.
First things first, I wouldn't want the Kings to make any trade involving De'Aaron Fox or Tyrese Haliburton, and I also wouldn't want to include this year's draft pick if the Kings jump in the lottery.
There are a number of ways the Kings could mix and match salaries to make a deal work, depending on what Philadelphia would want. Obviously the Kings should be willing to give both Marvin Bagley and Buddy Hield. I personally think Hield would be a really good fit on a team with so many good defenders. But the Sixers may not be interested in either player.
Another possibility would be Harrison Barnes, Delon Wright, and draft picks. Neither Barnes nor Wright are stars, but both could help Philadelphia's offense without harming their defense, and might work better as supporting pieces around Embiid. It would ultimately come down to how Philadelphia valued the draft assets, and what other offers the Sixers received. It seems unlikely that Sacramento would have the best offer (a Simmons and CJ McCollum swap seems to make a ton of sense for both sides).
But even if the Kings were the best offer, I know there are many of you that still wouldn't want Simmons. And I get it. Simmons' flaws are prolific. Simmons possesses an unhealthy combination of being unwilling to shoot threes, being shy about taking shots at the rim in a big moment, and just a general inability to shoot from the floor or the free throw line.
Ben Simmons 34.2% FT pct in the 2021 playoffs is the worst by any player in a single season postseason in NBA history (min. 70 FT attempts).https://t.co/s5XftvpNyT pic.twitter.com/8VXON8qpiF

— Stathead (@Stathead) June 21, 2021
So yes, I absolutely acknowledge the ways that Simmons can hurt a team.
But only focusing on a player's flaws can make you overlook the other ways they help. For starters, Simmons is an elite defensive player. He's 6'11" with the ability to guard guards or wings. And not just the ability to stay in front of them, but the ability to be a shutdown defender. For the Kings, who finished last in the league in defensive rating, adding an elite defender would be huge.
Simmons contributes in other ways as well. He's an insanely good passer, and a very strong rebounder. He contributes on a high level in every way other than scoring.
If the Kings added Simmons, who is still just 24 years old, there would be concerns about floor spacing, but the Kings would have the ability to run set with Fox, Haliburton, and Simmons all being able to attack a defense and then pass out. You'd obviously need to ensure the remainder of the roster had some shooting to help cover both Fox and Simmons, but the talent level of the Kings would be drastically improved.
The Kings need an infusion of talent, and Simmons would be that despite his shooting woes. It's a risk, but it's a risk the Kings should take.