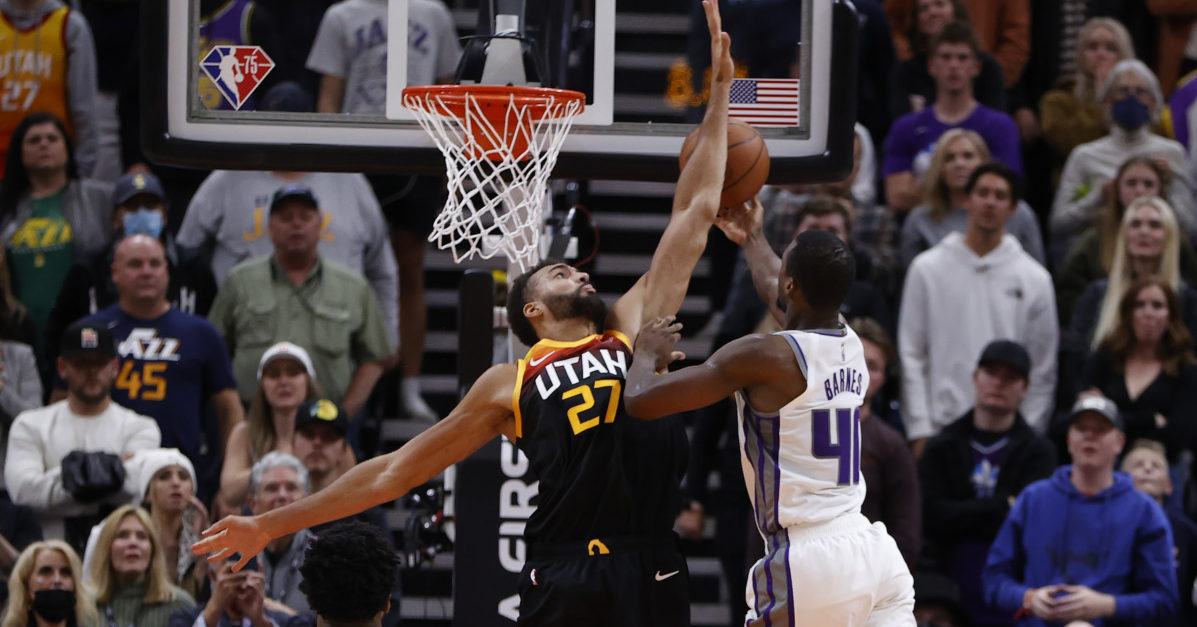 I know everyone is tired of hearing about moral victories, but there is plenty to be happy about from the Sacramento Kings' recent loss in Utah against the now 6-1 Jazz.
Utah's only defeat this season came against the Chicago Bulls, who are tied with the Jazz and Heat for the best record in the NBA. Outside of that, they managed to secure convincing victories against the high-caliber (although injury-riddled) Denver Nuggets and Milwaukee Bucks.
In 2020-21, no other team protected home-court advantage as well as the Jazz with their 31-5 record at Vivint Arena. Again, I get the annoyance with moral victories, but let's not forget just how good of a team the Kings were up against on Tuesday night.
The Sacramento Kings now sit at 3-4 after seven games played against playoff-caliber rosters in six of those showings. Here are my primary takeaways from the 119-113 road loss against the Utah Jazz.
The most points Utah has allowed this season
Throughout seven games, the Utah Jazz allowed their opposition to score triple-digits on just three occasions. The Nuggets tallied 110 in a loss, while the other two instances came against the Sacramento Kings - 101 in their first matchup and 113 last night.
Utah's 99.7 defensive rating places them 4th in the NBA while Sacramento moves to 12th in offensive rating (107.6). The usual candidates of Harrison Barnes and Richaun Holmes were phenomenal, combining to shoot 12/24 from the field.
Luke Walton mentioned an increased emphasis on pushing the pace in his pre-game press conference, and the Kings succeeded when doing so - as evident by their 18 total fast break points.
The Kings are going to win games on the offensive end of the floor, and this type of performance against an elite defense is encouraging. We've seen significant lulls in previous games and a few too many fourth quarters, but the Kings remained consistent on offense for most of the 48 minutes.
24 assists on the night certainly aided their efficiency numbers with nine of those coming from De'Aaron Fox. Speaking of Fox...
De'Aaron Fox continues to struggle shooting
The Kings' franchise centerpiece has had a horrific start to the season. There are plenty of theories as to why. Maybe it's the rule change and resulting lack of free-throw attempts? Or the roughly 10 pounds of muscle he allegedly gained this offseason is affecting his jumper? Is his shoulder bothering him more than we realize?
The most recent showing in Utah answered none of these questions but instead seemed to add to the fanbases growing concern. Fox went 0/8 from the field in the opening half including zero trips to the charity stripe. However, he did manage five assists in those minutes and was the obvious best option at initiating the offense.
De'Aaron Fox's second half was more of what Kings' fans have grown accustomed to. He tallied 13 points, four assists, and two steals while converting 4/7 from the field, 0/3 from three, and 5/7 from the free-throw line. We just need to see it for an entire game in the near future.
Concerns with Fox's three-point shooting not being enough are valid, but he is undeniably better than his underwhelming 15.4 percent rate to start the season. Keep in mind that Damian Lillard is only hitting 23.1 percent of his long-range attempts so far this season.
The shot will come around for Fox, to some extent, and the second half in Utah was solid play from the young point guard.
Terence Davis registered his first DNP-CD
There's no nice way to put it. Terence Davis has easily been the Kings' worst rotational member to start the season with erratic shot selection and ugly efficiency and defense that is not impactful in the way you'd want.
Davis' shot will reappear at some point, but him throwing it up within seconds of any opportunity to is concerning. The coaching staff and Davis both need to identify a fitting role for his skillset on a guard-heavy roster.
The writing was on the wall for Davis to potentially receive a DNP-CD after less than 10 minutes in each of Sacramento's last two showings.
His absence left Luke Walton with an eight-man rotation while Len was favored over Thompson to match Utah's outlier size. It's underwhelming to see that after all the talk about Sacramento's notably improved depth compared to last season.
The good news is Terence Davis still has plenty of time to turn his season around and carve out a role on this roster.
Davion Mitchell is good at basketball
D. Mitchell balled out last night with some standout moments against D. Mitchell. Interpret that whichever way you chose and it will remain accurate.
Let's start with Davion Mitchell on the defensive end of the floor. It's ridiculous that Davion is undeniably the Kings' best perimeter defender with less than 10 NBA games under his belt, but that's the reality we live in.
He wasn't perfect on defense, but the rookie once again made life difficult for one of his mentors this season.
Donovan Mitchell was a superstar tonight against Sacramento, ending the game with 36 points and six rebounds while shooting 14/30 FG and 5/12 3P.

Davion Mitchell was easily the Kings' best option of slowing Donovan down - he had some nice moments. pic.twitter.com/lch8pupuxs

— Brenden Nunes (@BrendenNunesNBA) November 3, 2021
Aside from Donovan, Davion Mitchell spent time assigned to Jordan Clarkson and Mike Conley as Sacramento's clear best option to contain each of the aforementioned perimeter creators.
Looking past the expected stellar defense, Davion posted the second-best offensive performance of his young career with 18 points and two assists while shooting 7/15 from the field in a variety of ways.
Hang-dribble jumpers off the bounce, catch-and-shoot threes, floaters, tough lefty finishes, and dimes to the roll-man were all on display. Davion Mitchell's offensive ceiling becomes increasingly intriguing to me with each passing game. (Maybe he should be off the table for Ben Simmons? I don't know...)
Here is my favorite stretch from Davion's 30 minutes of playing time. A beautiful lefty finish, the defensive awareness to impact Gobert's dive to the rim from the weakside, topped off by him taking advantage of a numbers situation by powering through Conley.
Rebounding is still an issue
The Sacramento Kings finished last season 30th in rebounds per game while allowing the 3rd highest average in opponent offensive rebounds.
The Kings have improved to 15th in rebounds per game early on in this season, yet they still allow the third-most offensive rebounds per game.
It's important to note that the Utah Jazz were the best rebounding team in the league last season, but Sacramento was truly destroyed on the glass last night. They were outrebounded by a margin of 21 (38-59), with Gobert contributing 20 and Whiteside managing 12 of his own in 15 minutes.
There have been a few occasions early in this season where opposing guards have an unexpected and frustrating amount of offensive rebounds, as was the case with Donovan Mitchell recording five.
The Utah Jazz secured offensive rebounds that led to second-chance points on both of these possessions.

Sacramento played great tonight, but little things like this make all the difference in the end. Can't help but look back at them after a close loss. pic.twitter.com/zyTS6Umny5

— Brenden Nunes (@BrendenNunesNBA) November 3, 2021
33 second-chance points for the Jazz en route to a six-point victory hurts and is surely something that Walton and the coaching staff will address with Jonas Valancuinas coming to town tonight.
Stop jumping at close-outs
After spending most of the game in an inconsistent deep drop coverage, as Kayte Hunter often mentioned on the broadcast, Sacramento's defensive scheme moved to a show (or hedge) late in the closing quarter.
In this scheme, the big defender (Holmes) is asked to meet the opposing ball-handler high at the point of the screen and make contact with him to hinder his movement before sprinting to recover to the roll-man.
As a result, the three remaining defenders are heavily relied upon to temporarily defend four players. Quick ball movement from the offense often requires a full set of rotations from the defense, which is something the Kings' 30th ranked defense wasn't exactly good at last season.
When this scheme was implemented tonight, we saw proper rotations, but a lack of fundamental details and discipline still lead to back-to-back threes for Utah in a crucial moment.
Both Haliburton and Hield are clearly giddy to contest these jumpers and leave their feet in the process. By doing so, Conley and Bojan Bogdanovic simply wait for them to fly by while taking a deep breath and proceeding to secure six points in less than 60 seconds.
The improved defensive awareness and understanding are somewhat encouraging, but it changes nothing if these details are overlooked.
A few other notes
The Kings would have fallen out of range early in the fourth if not for some heroic shot-making from Buddy Hield
Keep the Haliburton-Holmes pick-and-rolls coming... please
Every single player on Sacramento's roster needs to get better at navigating screens
Great to see Tristan Thompson so active on the sidelines in a game where he didn't play