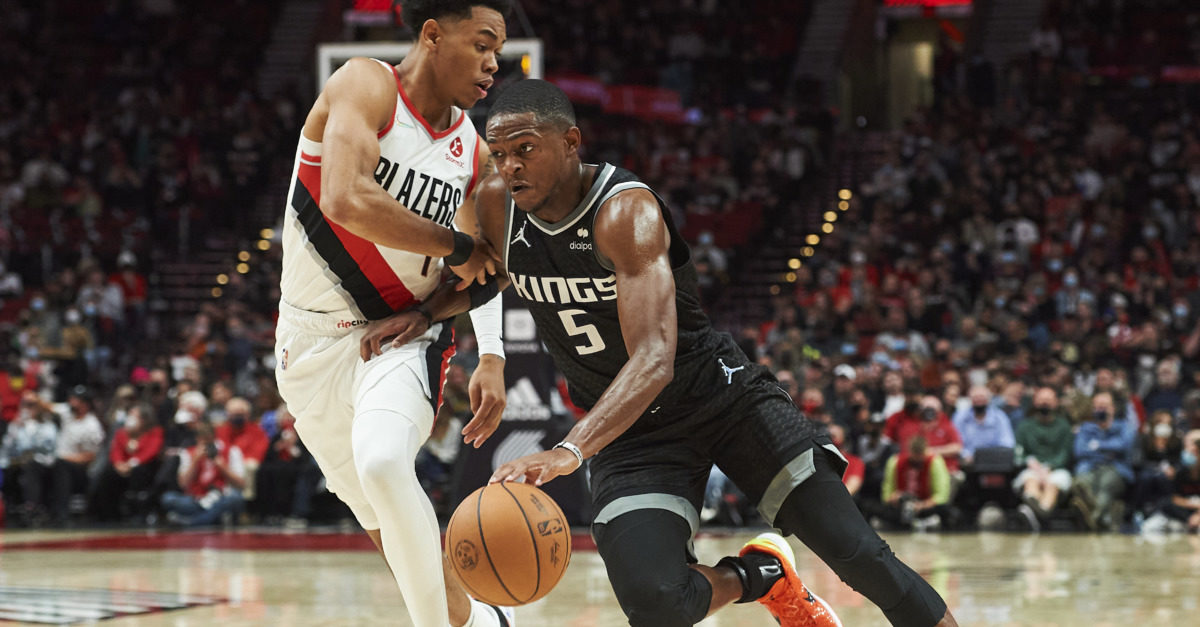 Every Sacramento Kings fan who paid close attention to the heart-wrenching 2020-21 squad knew that an 18 point lead could shrink fast. It's disappointing that those flashbacks were proven to be warranted on opening night, but at least the final conclusion was a victory.
Harrison Barnes career-high of 36 points, headlined by eight of 11 from beyond the arc while sharpshooter Damian Lillard converted zero of his nine attempts threes, is the obvious storyline. Barnes was phenomenal, and I don't mean to undersell his stellar performance, but I wanted to highlight a few other aspects of the game that were less apparent.
Luke Walton gave us a little peek into his initial plans for the rotations and his level of trust in certain players. Clear differences and similarities to last season were on display as well.
Here are my five, less obvious, takeaways from the Sacramento Kings victory over the Portland Trail Blazers on opening night.
5 | Alex Len is on the outside looking in
When Alex Len was brought back to Sacramento this offseason, there was hope in knowing that a seven-footer with capable rim protection would wear royal purple once again.
Then, the addition of Tristan Thompson added some complications to the conversation surrounding Len. To the surprise of many, Thompson seems to have outplayed Len and comfortably sits as the second center in Walton's rotation behind Richaun Holmes.
"Situationally" was a term often mentioned among media and reporters when predicting Len's role. He was anticipated to appear on nights where the Kings were facing an opposing seven-foot bruiser such as Joel Embiid, Nikola Jokic, Jonas Valancuinas, or... Jusuf Nurkic.
Matching height and strength isn't as simple as it's often presented, considering that Lillard and CJ McCollum probably would have relentlessly attacked the slower-footed Len. Zero total minutes is still a surprise in one of Len's more favorable center matchups in the NBA.
4 | Some new defensive schemes
The Kings didn't switch everything on opening night! They still had their moments, but sprinkled in between were double teams, blitzes, and hedging accompanied by solid rotations on the backend.
Doug Christie may deserve some credit here, but it's hard to know for certain if it was him or Mike Longabardi. At the very least, Christie had me hyped up at home with his energy from the sideline after each defensive stop and it feels safe to assume that same energy spread to the roster.
From the jump, it seemed like the focus was making Damian Lillard uncomfortable. Sacramento succeeded into doing that early by bringing doubles in late shot-clock situations, hedging on some guard-on-guard screens, and forcing other players to beat them.
There were still occasions where Lillard or McCollum took advantage of Tyrese Haliburton when he switched onto them, but I don't recall any bigs finding themselves in those borderline impossible situations. Lillard went just three of his 67 total games last season without knocking down a shot from beyond the arc and that was the case opening night in 2021-22.
Credit to the Kings' defensive gameplan and execution for showing him different coverages early on, but some typical Dame Time attempts just didn't go down in the second half. No matter, the variance is encouraging after what we witnessed in the year prior.
3 | Tyrese Haliburton struggled immensely
You could argue that this was Tyrese Haliburton's worst game in a Sacramento uniform. The second-year guard played 29 minutes and contributed just two points, four assists, two rebounds, and one steal during that time. Not to mention his lone turnover that occurred with 19 seconds remaining where a five-point cushion quickly shrunk to one.
I wrote recently about why sophomore struggles are to be expected for Haliburton and that was on display. Opposing coaching staffs now have an entire year of tape showing his tendencies and weaknesses. Portland seemed well prepared to negate the guard's impact.
Haliburton only attempted one shot from beyond the arc and was regularly hunted on defense. He was a liability to the point where Luke Walton elected to close the game with rookie Davion Mitchell over him, which was controversial but understandable.
If any player on this Sacramento roster can be trusted to view a poor performance as a learning lesson, it's Haliburton. Game one struggles are not a cause for concern, but let's hope we look back on this performance as a clear outlier in a few months' time.
2 | Davion Mitchell is already an impactful perimeter defender
Damian Lillard had an Off Night! Davion Mitchell's nickname may describe the Portland star's performance well, but it was not heavily caused by Mitchell himself.
No matter, expecting a 6'2" rookie point guard to shut down on the best scorers in the NBA was always ridiculous. Mitchell did succeed in his goal of bothering the Oakland native on multiple occasions throughout the night.
"Try to slow him down and throw some things at him he's never seen before." - Mitchell on his approach to guarding Damian Lillard
Being tasked with Lillard and then McCollum in his first NBA minutes was a far from gentle introduction, but the Baylor product proved he belongs already. His impact on that end was later rewarded by Luke Walton with crucial fourth-quarter minutes in place of Haliburton as the Blazers made a valiant attempt at a comeback.
Davion's offense is a work in progress, but Sacramento has enough offensive-oriented contributors in the meantime. Overall, it was a solid debut for the ninth overall selection in the 2021 NBA Draft.
1 | The previously mentioned idea of staggering Fox & Haliburton
Luke Walton mentioned to the media that he would like one of De'Aaron Fox or Tyrese Haliburton on the floor at all times and the logic of that is easy to understand. Aside from those two, the Kings are deprived of above-average initiators and playmakers with a rookie as the likely next best option.
Five minutes and 47 seconds of playing time included neither one of De'Aaron Fox or Tyrese Haliburton on the floor for Sacramento. There were two separate stretches of this with one coming at the end of the first quarter and leaking into the beginning of the second. The latter segment occurred at the opening of the final quarter.
Neither one of these occasions proved atrocious for the Kings. In fact, those minutes recorded a plus-four plus/minus! Maybe that's a sign of promise when both guard initiators need a breather, but those nearly five minutes still presented a stagnant offense. I also could very well be overreacting and reading too much into a single game sample size, particularly when that game is opening night.
At the very least, Luke Walton is willing to experiment with lineups that do not include either of De'Aaron Fox or Tyrese Haliburton.
Other notes:
Terence Davis has the greenest of green lights. He went 2/10 from the field in a mere 13 minutes of playing time.
Richaun Holmes's proved that his shaky preseason meant nothing. The stellar "role player" tallied 21 points, 11 rebounds, two assists, two blocks, and one steal while only missing one field goal attempt.
Buddy Hield has shown flashes of a jump in his passing ability, but it's too early to tell confidently.
Harrison Barnes saved the day and solely denied Portland's rally with his perfect six of six three-point shooting in the third quarter. The Kings would be lost without him.