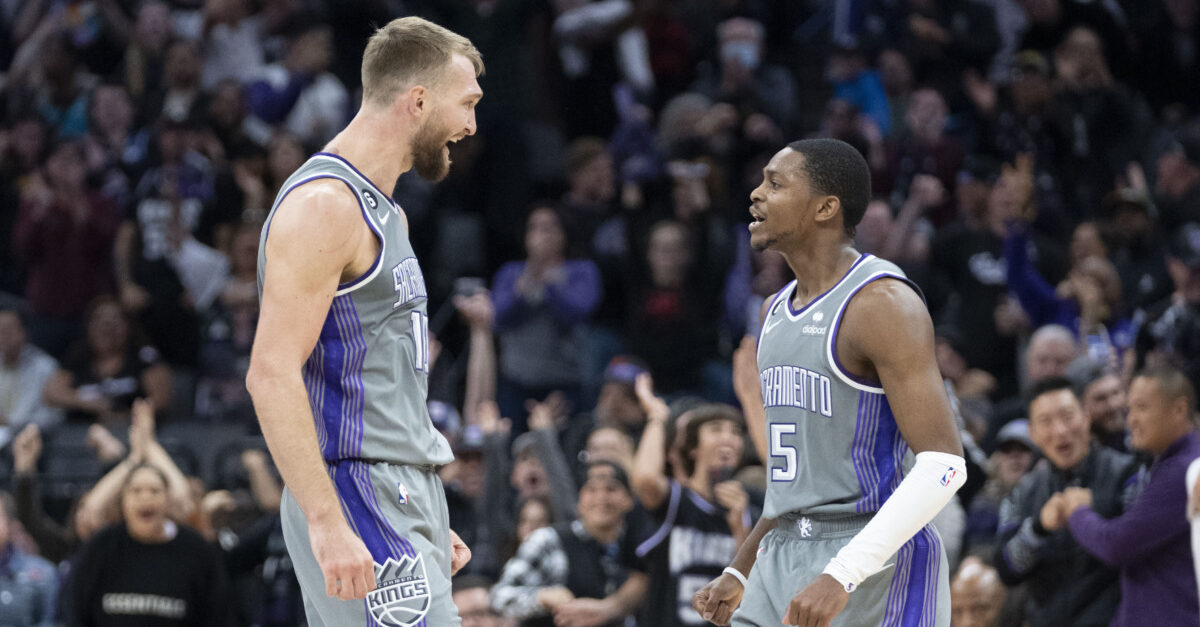 Former Sacramento lottery pick Marvin Bagley made his return to Golden 1 Center on Sunday afternoon as the Kings extended their win streak to six.
The Pistons came into the game with a league-worst 3-14 record and were without three crucial pieces in Cade Cunningham, Saddiq Bey, and Isaiah Stewart. The only players unavailable for Sacramento were their two-ways in Keon Ellis and Neemias Queta.
It wasn't pretty, but Sacramento managed to get the job done behind another game of stellar offensive production and walked away with a 137-129 victory.
Here are four takeaways from another night that ended with a beam being lit in the Sacramento sky.
The return of Marvin Bagley
The former number two pick in the 2018 NBA Draft made his first appearance at Golden 1 Center since being traded to the Detroit Pistons last season. The crowd wasn't exactly happy to see him, despite the three and a half years he spent as a member of the Kings.
There were boos when his name was introduced during starting lineups. There were boos every time he touched the ball during the game. There were even some "Bagley sucks" chants when the Duke product was at the free-throw line late in the fourth quarter.
The fanbase's frustration is more than understandable and has plenty to do with the handful of comments that Marvin Bagley II, who was courtside on Monday, made during his son's time in Sacramento.
De'Aaron Fox spoke on his former teammate following the win.
"We can't control injuries, a broken bone or something like that, there's literally nothing you can do about it," Fox said. "He got a fresh start in Detroit. That's a young team. They have a lot of guys that can go and I think their future's bright. And, for him, it's just continue to do what you do, continue to do what got you here…"
Sacramento's offense excels despite poor shooting
Coming into the game, Sacramento was averaging 14.6 three-point makes per game but only ended up converting 12 of their 35 attempts from beyond the arc. The Kings have shown that they likely are one of the best shooting teams in the league, but it's important to be able to excel on that end when shots aren't falling at their typical rate.
They made up for it in other ways. Getting to the line 35 times and knocking down 31 of them was crucial, as was scoring 62 points in the paint. 67.9 percent of Sacramento's 137 points came from either the free-throw line or inside the paint.
"We can score with the best of them," Coach Brown said postgame. "The sky's the limit for us on that side of the ball. We scored 137 points in a regulation game on 55 percent shooting. That's crazy."
De'Aaron Fox was almost his own takeaway, but that could be a nightly occurrence at this point. Sacramento's star point-guard tallied 33 points, seven assists, and four rebounds while shooting 11/18 from the field, 2/4 from three, and an impressive 9/9 from the free-throw line.
"This is the best basketball he's played in his career. He's played at an All-Star level," Harrison Barnes said post-game. "He's doing it on the offensive end, defensive end, getting guys involved, just all over the place, making plays happen. I think it's a credit to him and the hard work he put in this offseason and it's a credit to just how he prepares and takes care of his body."
Harrison Barnes is shining
During Sacramento's four-game losing streak to start the season, Harrison Barnes scored in single-digits three times. Ever since Mike Brown has seemingly settled into a consistent rotation, Barnes has looked comfortable as ever and it's evident in his recent production.
Throughout the course of the now six-game win streak, Barnes is averaging 16.8 points, 6.3 rebounds, 2.7 assists, and 1.2 steals on 61.2 percent from the field, 42.1 percent from beyond the arc, and 89.2 percent from the free-throw line.
"I think just getting a sense of chemistry," Barnes said. "Knowing where guy's spots are, where passes are gonna come, cuts are gonna happen, I think now we're kind of clicking. We have that kind of continuity that at the beginning of the season, we didn't have."
Mike Brown's first words after sitting down at the podium postgame were complimentary of the recent play of Barnes.
"(Harrison Barnes) has been playing well," Coach Brown said. "I thought he stepped up on both ends of the floor and had a big game for us."
Barnes was the one assigned to Kevin Durant when Brooklyn came into town, and he was also tasked with slowing down Bojan Bogdanovic on Monday. His defensive capabilities had been questioned as of late, but he's been performing well on that end and back to his usual form on offense.
Coach Brown was not happy with his team's performance
Right when Coach Brown walked into the room for his postgame press conference, you could sense his frustration. After the aforementioned complimentary statement regarding Harrison Barnes, he made it clear that this sort of defensive performance was unacceptable.
"We gave up middle and we're a no middle team. We got blown by. We didn't come help like we're supposed to from the weakside when guys did drive the basketball. We didn't communicate. There were a couple of breakdowns where we had three guys around the ball and somehow, someway, nobody picks up the ball and the guys scores a layup," Coach Brown said. "We didn't get out to shooters with a sense of urgency all the time, especially the guys that were 'low-percentage shooters' coming into the game. Anybody can knock down a shot if you don't challenge the shot and they get in rhythm and they know you're not going to contest. It's not running the low-percentage shooters off the line, but at least being there and making them feel you. There were a lot of things defensively, that I thought we did that we've done a better job of as of late, and I thought we trended in the right direction but maybe this was one of those times where we took a couple steps backward tonight, defensively. Hopefully, we can start moving forward again on that side of the ball."
You never would have known that his team just won six games in a row and nine of their previous 11. That's just how Coach Brown is. He's always looking to improve and continue to trend upward. He praised the offense, but no team is able to consistently win games if they are unable to get stops and the Kings have struggled there.
The Pistons, who averaged 10.7 made triples per game coming into Sacramento, managed to knock down 15 of their 29 attempts from beyond the arc. Jaden Ivey went 4/4. Killian Hayes was 2/3. Kevin Knox converted 3/5 and old friend Cory Joseph added 2/3.
Some would chalk that up as simply an outlier shooting performance from the opposition, but Coach Brown felt as though they didn't do enough to make them uncomfortable. There were things within his team's control that need to be cleaned up.
"We have to understand going into the game, that if we're going to lose, we're going to lose because we got beat. Not because we close out to a guy and he shoots the ball and we don't contest because we don't think he's a good shooter," Coach Brown said. "Those little things, they don't show up in a stat sheet a lot of times, but again it allows a team to get comfortable. And one of our staples defensively is we have to be physical without fouling. It's something we'll keep preaching, it's something we'll keep showing, something we'll keep drilling. Hopefully, sooner than later, we'll get it."