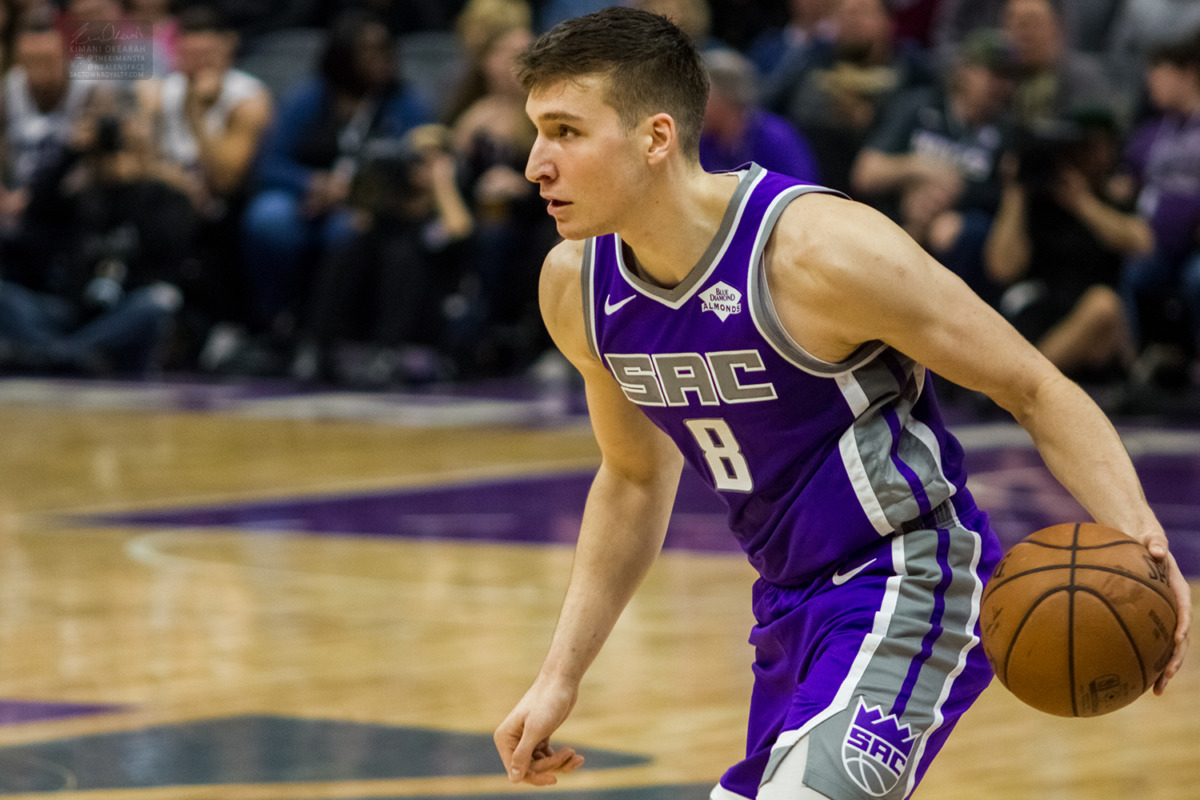 According to Sam Amick of The Athletic, the most reliable national reporter when it comes to Sacramento Kings news, the Atlanta Hawks are preparing an offer sheet for restricted free agent Bogdan Bogdanovic:
Here's my sourced sense: The Hawks wouldn't be doing this if they didn't feel very, very good about how this ends up. https://t.co/YnOSRAZtUf

— Sam Amick (@sam_amick) November 22, 2020
There are a couple of important distinctions that have yet to be discovered with this news. According to Chris Kirschner, the Hawks beat reporter for The Athletic, the deal will be in the 4-year, $72 million range, but that bit of news doesn't include any details like signing bonuses, annual incentives, or trade kickers. Keep in mind that the Kings will have to match the exact terms of any signed offer sheet to keep Bogi around, and the Hawks will make the deal as unpleasant for the Kings as possible.
Unfortunately for Sacramento, Atlanta has also presevered enough cap space to make that offer to Bogdanovic without having to shed any salary, meaning a sign-and-trade isn't absolutely necessary, although it could still happen. It will be interesting to see if having the Hawks former General Manager on staff will help the Kings in this situation at all.
Once the Hawks do make the official offer to Bogdanovic and his representation, it will be important to note if he actually signs the agreement or if he simply shares the details of the deal with the Kings. If Bogi doesn't officially sign the sheet, he can go back Monte McNair and either allow the Kings to counteroffer, or the Kings and the Hawks can begin negotiations for a sign-and-trade. Conversely, the worst case scenario for Sacramento is for Bogdanovic to sign the offer sheet without speaking to the Kings. In that instance, a sign-and-trade will no longer be an option, as Bogi will have formally signed a contract with another team. The Kigns will be put into the position to either match a $72 million contract for a player they clearly don't see in their future or they'll be forced to allow Bogdanovic to walk away without compensation - neither of which is ideal for a team in Sacramento's position.
A team with cap space sending a large offer sheet to Bogdan Bogdanovic was always Sacramento's biggest fear, and it looks like that's exactly what will happen. Monte McNair has some very important, very tough decisions in front of him over the next 48 hours, the amount of time the Kings are allowed to wait until making a decision on a signed offer sheet.
We'll keep this story updated as news continues to develop.
Update: The Atlanta Hawks have submitted a signed offer sheet to the Kings, meaning a sign-and-trade is no longer an option.
Source tells @TheAthletic the Hawks' signed offer sheet for Bogdan Bogdanovic is four years, $72 million (as @ChrisKirschner reported earlier). There's a player option in the fourth year. Again, Kings have 48 hours to decide.

— Sam Amick (@sam_amick) November 22, 2020
According to Marc Stein of the New York Times, the offer is for 4 years, $72 million and will include a 15% trade kicker, obviously a ploy convince the Kings not to match.
Bogdan Bogdanovic has signed his four-year offer sheet worth $72 million from the Atlanta Hawks, league sources say

The deal, I'm told, includes a player option in Year 4 and 15-percent trade kicker for the restricted free agent

The Kings will have 48 hours to match

— Marc Stein (@TheSteinLine) November 22, 2020
Monte McNair will have 48 hours to either match the exact terms of the sheet or allow Bogdanovic to walk away with no compensation. This will mark the first controversial decision for Sacramento's new General Manager.