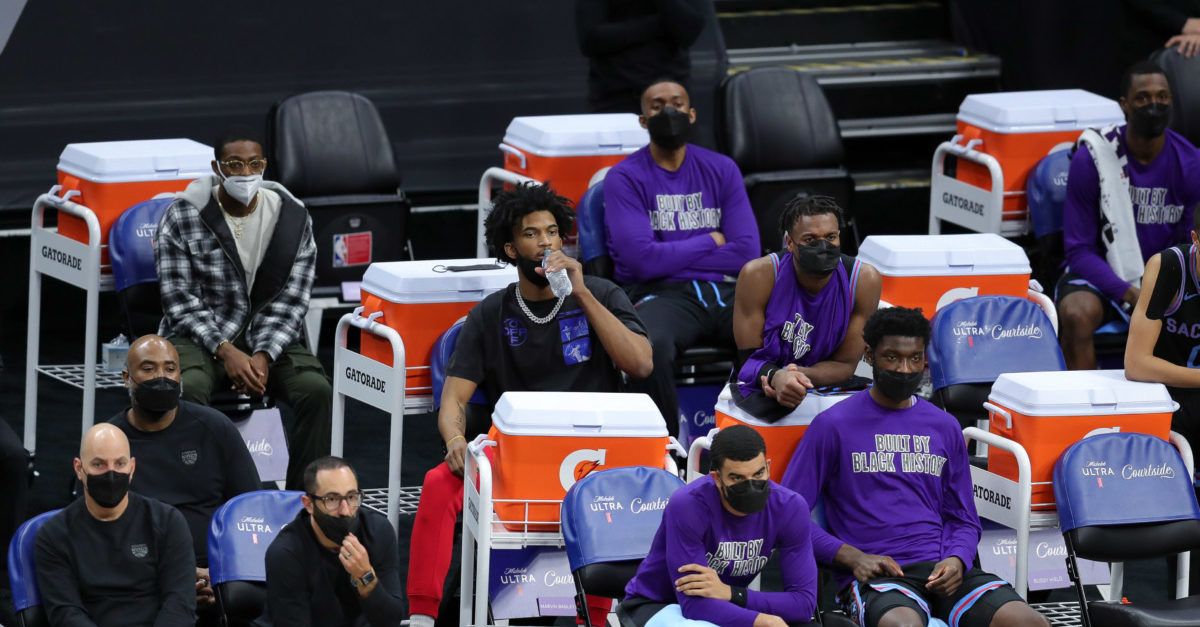 Luke Walton used just four players off his bench on opening night vs. the Denver Nuggets last season: Tyrese Haliburton, Cory Joseph, Hassan Whiteside, and Nemanja Bjelica. The rest of his bench unit to start the 2020-21 season was filled with unproven young depth: Glenn Robinson, Justin James, Robert Woodard, Kyle Guy, and Jahmi'us Ramsey. It was arguably the worst bench in the NBA, both on paper, and on the court.
For whatever reason, Monte McNair punted the 2020 offseason. It wasn't until the Kings were on the fringes of the play-in race that McNair went out and landed Luke Walton a few serviceable bench players at the trade deadline. It wasn't much, but the additions of Delon Wright, Terence Davis, Moe Harkless, and Damian Jones upgraded the team from an awful bench to somewhere below average, and they weren't killing the team every night anymore.
The Kings should have an improved bench unit heading into the 2020-21 season. You wouldn't call it one of the NBA's best, it's too reliant on potential for that praise out of the gate, but they have significantly more playable options, and it could be a real strength to this team if, say, Buddy Hield would accept a role carrying them offensively.
Sacramento has some often talked about roster balance issues despite what Monte McNair is saying publicly, and that makes their starting lineup difficult to predict. If you can't predict the starters, good luck guessing what the regular bench rotation is going to look like, but the talent floor of this roster has been raised.
In the frontcourt, Alex Len, Tristan Thompson, and Damian Jones should be better than what Hassan Whiteside or Nemanja Bjelica gave the Kings last season. In the backcourt, whichever members of the promising guard logjam come in off the bench should be better than Cory Joseph's disappointing run in Sacramento. Davion Mitchell is the big addition here, and while I'm less sure about what his offensive contributions might look like in year one for a smaller guard that has to adapt to NBA size, his defense is going to make a real impact for that unit.
On the wing, despite how light that position still is, they have Moe Harkless as a steady-but-unspectacular veteran who can eat up minutes with Louis King as a higher-upside player that could break through, and Terence Davis who should be able to play some three off the bench despite his size that is probably more suitable for guard.
We'll see if internal improvement from the Kings' youth, and noticeably improved bench depth is enough to put Sacramento in the playoff / play-in race, but that seems to be what Monte McNair is banking on after another offseason without that big swing for the fence we keep speculating about. Do I think McNair needed to more? Yeah. But I also don't want to completely discount how awful their bench unit was to start the 2020-21 season, and how much better it looks (on paper) now, both offensively and defensively.
The Kings didn't take that gigantic talent leap fans wanted, myself included, but this is a better roster than they started with last season, and Sacramento should feel that improvement most in their bench play.
How many wins is that improvement worth? We'll find out.