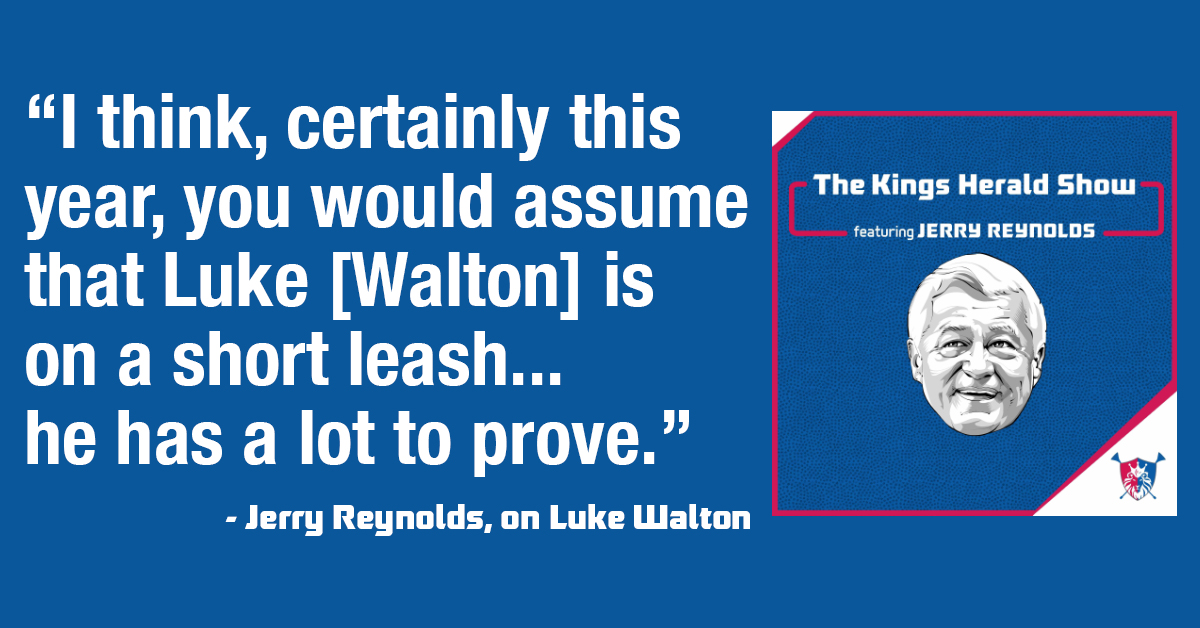 The Kings Herald Show returns just as your Sacramento Kings arrive in town for training camp and media day to take an early look at the 2021-22 season.
On the podcast this week, Jerry Reynolds, Will Griffith, and Tony Xypteras answer several questions from our annual September '30 Questions' series highlighting some of the most pressing topics that could make or break an important season of basketball in Sacramento.
Timestamps:
(1:50) Jerry Reynolds' take on offseason #musclewatch and what the Kings are working on right now.
(10:20) What do you look for heading into media day, training camp, and the preseason?
(12:20) Should the Kings be focusing on acquiring talent, or building culture?
(16:15) Will the Kings be an average defensive team this year?
(21:50) Can Davion Mitchell win a Defensive Player of the Year award at some point during his career in the NBA?
(26:40) Which young Kings can earn a spot in the rotation this season?
(31:30) Is Marvin Bagley's time with the Kings finished?
(39:00) How long will Luke Walton be coach of the Sacramento Kings?
(44:00) Chris Webber, Rick Adelman, and Yolanda Griffith get inducted into the NBA Hall of Fame.
(58:30) Jerry Reynolds shares some of his favorite Bill Russell stories
You can find The Kings Herald Show wherever you listen to podcasts, but if we're missing a platform of your choosing, leave us a note in the comments and we'll get to work. If you can subscribe, rate, and review the podcast on any and all platforms, that would be greatly appreciated, too. It's the easiest way you can support the show!
Apple.
Spotify.
Google.
Stitcher.
In addition to our bi-weekly podcast with Jerry Reynolds, we also record a Patreon exclusive Q+A once a month where Patrons at any level can Ask Jerry Anything. You can listen to our latest Patreon exclusive Q+A right here.
You can submit questions for Jerry on Patreon, or write your questions in the comments below this post! Or you can just yell questions to Tony or Will on Twitter.
And finally, you can sign up for our Patreon here.
Thanks for listening!