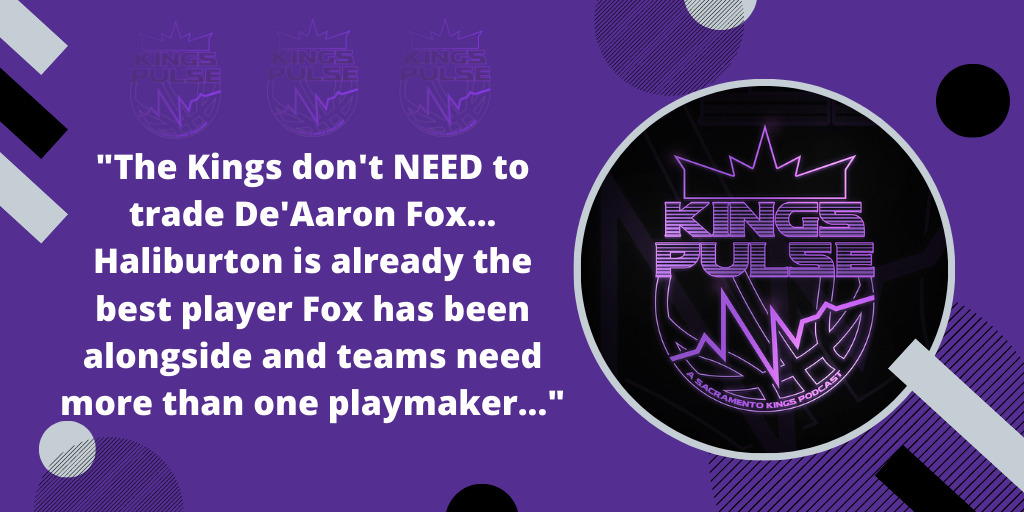 When I first saw media commentary that De'Aaron Fox needs to be traded, I was shocked. Frustrations with the max-player had obviously been growing and the "Well, what could they get for him?" question understandably has surfaced, but I refuse to view it as a necessity.
I spent the entirety of this 90 minute Kings Pulse podcast episode explaining why I disagree. The Sacramento Kings need more talent first and foremost. And De'Aaron Fox is kinda good at this whole basketball thing.
Last season, he averaged upwards of 25 points and seven assists at the age of 23. Those are historic numbers at that age and something only six other players in NBA history have ever accomplished -- I listed all seven on the pod.
There's no way to know how good De'Aaron Fox truly can be because of the constantly changing subpar circumstances around him. He's dealt with three coaches and two general managers and he's just halfway through his fifth season. And he still led the 2018-19 team to a win percentage that Sacramento hasn't accomplished since 2006.
Fox has ended every season of his career as Sacramento's leader in assists per game. Before Tyrese Haliburton, no other player even manages to contribute an average of more than four assists.
I spent a lot of time diving into teams into all teams from that timeframe who had only one player averaging more than four assists and shared my findings on the episode. To put it vaguely, expecting De'Aaron Fox to carry the surrounding talent that he's had is unfair.
Tyrese Haliburton is (probably) the best player that De'Aaron Fox has ever gotten the opportunity to play alongside in the NBA. Haliburton has proven to be phenomenal, but think about that from Fox's perspective...
And now, when Fox finally has a teammate with a potentially comparable ceiling, people are demanding they be split up?
I respond to the idea that Haliburton can't be the best version of himself alongside Fox and vice-versa. Spoiler: I disagree.
The roster is imbalanced, yes. The roster also lacks talent, consistency, and ideal coaching. Trading De'Aaron Fox is not a necessity.
I always enjoy hearing everyone's responses and opinions to episode topics, so please leave them in the comments section or reach out on Twitter!
🚨 NEW EPISODE 🚨

🔘Fox is good now, imagine him with a good coach & team
🔘The historical value of multiple playmakers
🔘Keeping Fox should NOT limit Hali's growth
🔘The FO needs to take a risk soon
🔘Hali is Fox's first teammate to average 4+ assistshttps://t.co/jwVRIq6ION pic.twitter.com/0Ews72Dpr0

— Kings Pulse (@Kings_Pulse) January 5, 2022
The Kings Pulse podcast is available on all major listening platforms.