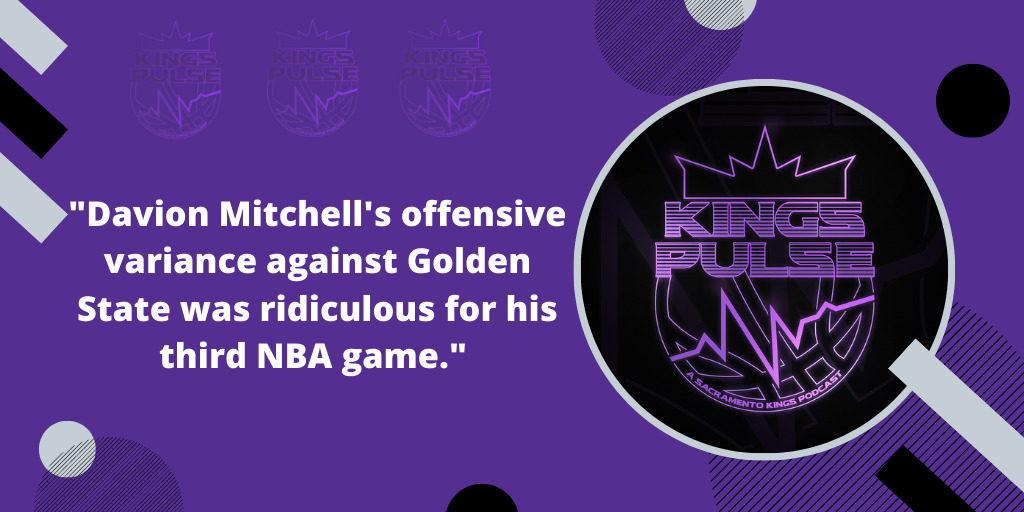 The Sacramento Kings are now sitting at 1-2 after their first three games of the 2021-22 regular season. Tim Maxwell joins the show, as he will continue to for #MaxwellMondays, to talk about some trends we are starting to notice.
Of course, the conversation has to start with Davion Mitchell. Davion has been receiving leaguewide recognition from his peers after impressive defensive performances against Damian Lillard, CJ McCollum, Mike Conley, and Jordan Clarkson.
Sacramento's rookie clearly thrives in isolation situations on the defensive end of the floor, and that impact being so apparent this early for a rookie is surprising.
Damian Lillard, CJ McCollum, Donovan Mitchell, Mike Conley, and Jordan Clarkson when defended by Davion Mitchell:

75 possessions
20 points
7/27 FG (25.9%)
3/10 3P (30%)
1 shooting foul drawn
4 assists
3 turnovers

— SactownBabyGiraffe (@TimMaxwell22) October 23, 2021
Stephen Curry presented a bit of a different challenge for the Baylor product who knew he would be tasked with running through a ridiculous amount of screens. He still had his moments 1 on 1 against Curry, but Mitchell showed out on offense himself in game three.
We talk about the impressive variance in his 22 points and four assists on the night. Harrison Barnes also continues his unexpected offensive production, and we point out some numbers that show why this year will be different for the forward.
Is there reason to be concerned about De'Aaron Fox, who has notably struggled in the last two games? We don't particularly think so.
What about Tyrese Haliburton? Tim makes a great point on why the second-year guard could be struggling to find comfort so far.
We also spend time speaking about the play and roles of Buddy Hield, Tristan Thompson vs. Alex Len, Terence Davis, and Maurice Harkless.
The Sacramento Kings were dead last in rebounding last season, and this year they have been on par with all three of their matchups. Progress!
The late-game rotations have been somewhat confusing, and we talk through our questions along with if we have any concerns with how Walton has handled the end of games.
Overtime Question: Would you rather have to speak in rhyme for the rest of your life or have to speak in riddles for the rest of your life?
The Kings Pulse podcast is available on all major podcast platforms.