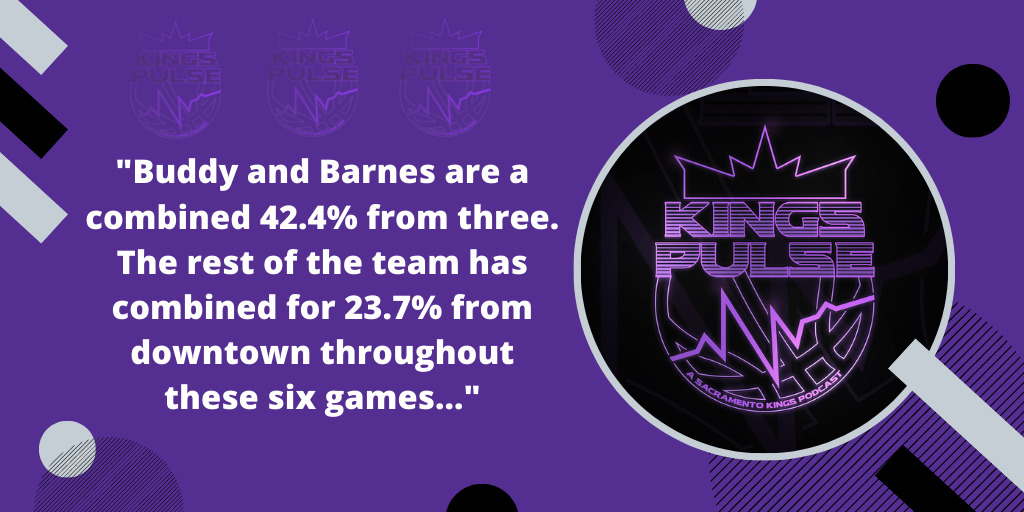 With six games of the 2021-22 NBA season in the books, the Sacramento Kings own a 3-3 record. Tim Maxwell joins the show (#MaxwellMondays) to talk through what we have seen throughout these early showings.
We start with the handful of offensive lulls that the Kings have been experiencing. There's the 22 point first quarter in Dallas, 19 points in the fourth vs. Golden State, 21 in the closing quarter vs. Utah, along with a few other standout moments. We break down what is going wrong during these damaging runs.
The three-point shooting was a big focal point for Tim and me in this one, backed up by some intriguing numbers we both found. You can listen in for the specifics, but the point is that the Sacramento Kings currently have just two above-average three-point shooters this season - and they certainly are not creating easy looks from beyond the arc for the other guys.
How much of this revolves around De'Aaron Fox's lackluster performance? Surprisingly, we present numbers that show that Fox's gameplay and attempts don't vary much from years prior. That turns the question to: Is Fox's issue as simple as shots haven't been falling?
Tim and I explain why we spend so much of the conversation focusing on the offense, even though the team currently possesses the 8th best offensive rating. Their defense may be improved, but it's still a clear weakness as they rank 25th in defensive rating.
The Sacramento Kings are going to win games by being a high-caliber offense, and they cannot afford to have the lapses we have seen too often to start the season considering their defensive talents.
Should Marvin Bagley be getting minutes? We are sitting here talking about offensive lulls with Bagley (a sporadically impactful offensive player) sitting right there to take minutes from Maurice Harkless or the backup bigs.
Moving on from the offense, we dive into the stellar play of Davion Mitchell with his first handful of NBA games now in the record books. Tim has some outstanding stats to back up the idea that rookie is already one of the NBA's elite perimeter defenders. I touch on how impressed I have been with his offensive versatility as well.
Tristan Thompson had a significant contribution against Dallas, just don't look at his advanced numbers until a few more games have taken place - seriously, they are horrific. Alex Len, the other backup center option, was a factor against New Orleans. We speak on that pairing, the ideal moments to utilize each one, their early performances, and how much better Richaun Holmes is.
We saw a four-guard lineup of Fox-Haliburton-Davis-Mitchell-Thompson in the third quarter of the Dallas matchup. How did they perform and what are our thoughts on lineups like this moving forward?
A big focal point of the offseason was the improved depth of Sacramento compared to last season, but we point out how that has yet to present itself early on.
We are always open to suggested topics moving forward so please don't hesitate to comment with any questions you'd want us to cover in future episodes! I also greatly appreciate any sort of feedback or opinions you may have for the show.
Overtime Question: What is your favorite Halloween movie? (Please, send more OT questions our way... I need help)
The Kings Pulse podcast is available on all major listening platforms with new episodes every Monday, Wednesday, and Friday.