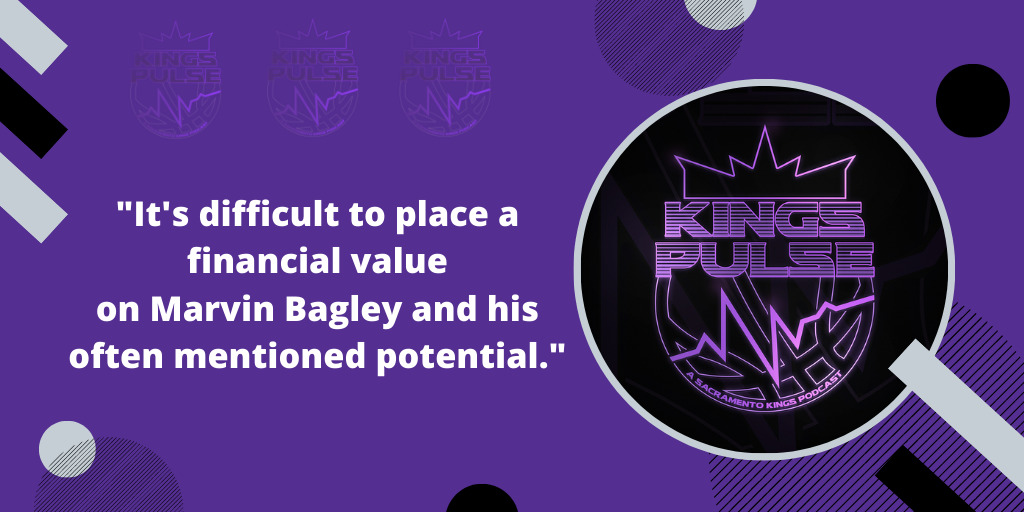 2018 rookie extension contracts are getting handed out left and right today. On the lastest Kings Pulse, Tim Maxwell and I react to some of the deals that have been agreed upon including:
Michael Porter Jr. - 5-years/$172-million
Mikal Bridges - 4-years/$90-million
Wendell Carter Jr. - 4-years/$50-million
Robert Williams - 4-years/$48-million
First of all, I had to talk about how ridiculous it is that Richaun Holmes is getting paid less money than both Wendell Carter Jr. and Robert Williams. What a frickin deal that 4-year/$46-million agreement is for the Sacramento Kings.
We talk about why we didn't expect any sort of Marvin Bagley extension to be announced today and to the surprise of nobody, it looks like we were right.
With five hours to go before the NBA's Class of 2018 extension deadline at 6 PM, no deal is expected for Sacramento's Marvin Bagley III, league sources say.

Bagley, 2018's No. 2 overall pick, would thus become a restricted free agent next summer.

More: https://t.co/1zmRAUMJ6b https://t.co/CzCkgqt8sw

— Marc Stein (@TheSteinLine) October 18, 2021
No matter, the conversation we have of placing a value on Marvin Bagley at this point in his career is a useful one to have. Tim did phenomenal research into previous high-draft picks who have similarly underperformed and their extension values.
He also compared players with similar production levels to Bagley from last season and what they were paid this past offseason. I went into this exercise with a number written down of what I would feel comfortable offering Marvin Bagley in an extension and was not far off from the conclusion that Tim came to as well.
That figure led us to the point of Bagley's impending restricted or unrestricted free agency. Are there any teams that would be willing to offer Marvin Bagley upwards of $12-million annually over several seasons next offseason? What would he have to show this year to warrant that type of deal?
At what value should the Kings no longer consider matching an offer for Bagley next offseason? Or should they just move on from the neverending conversation that surrounds the young big man no matter the cost?
We explore the idea of a smaller contract humbling Marvin Bagley into more of a complementary role. Tim mentioned how it could either humble him or affect his mindset in another direction.
Let us know how you currently value Marvin Bagley from a financial standpoint.
The Overtime question for this pod is: What vegetable do you think you could throw the farthest?
This question was submitted by Ryan (@Kangs2Kings) and I always appreciate goofy overtime question suggestions! At this point, I'm way too deep into Google looking for these topics.
The Kings Pulse Podcast is available on all major listening platforms.