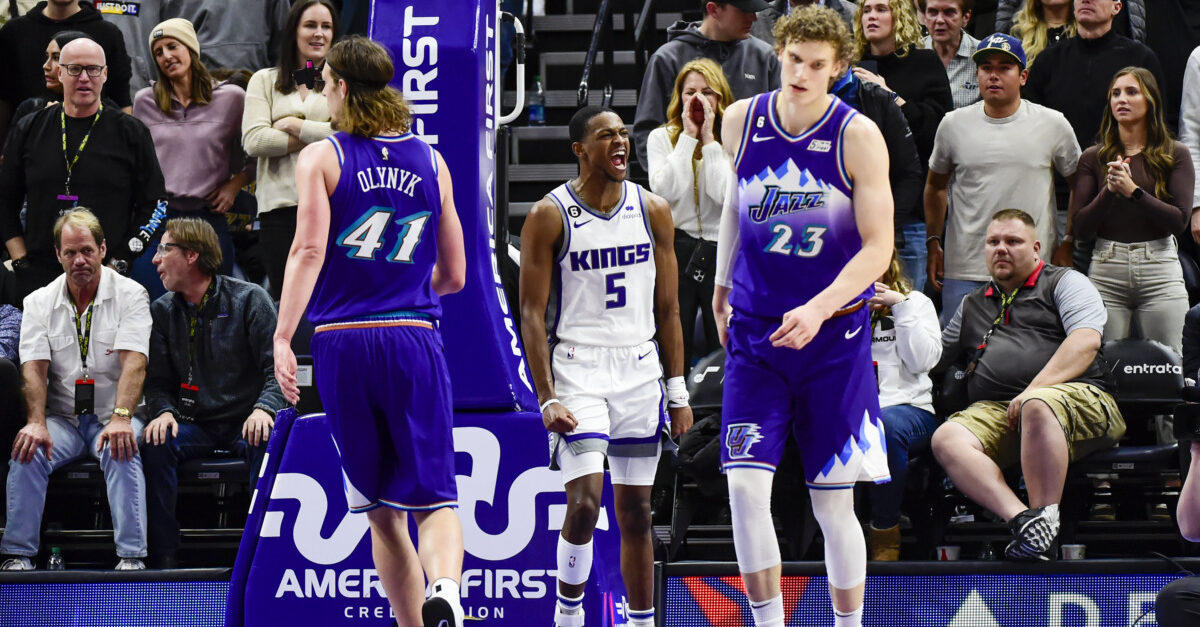 The Kings and Jazz faced off for the second time in three games and once again it was a thrilling finish. After Kevin Huerter won the game with a go-ahead three last Friday, tonight saw De'Aaron Fox score a go-ahead layup with 0.4 seconds left, and a desperation Lauri Markkanen three that went in was deemed too late, giving the Kings their 20th win of the season.
DE'AARON ICES THE JAZZ 🥶 pic.twitter.com/OF8VpyT9ma

— Kings on NBCS (@NBCSKings) January 4, 2023
This game had quite a few parallels with Sacramento's first matchup with the Jazz, as Sacramento got off to a hot start but wasn't able to blow the game open. Utah kept hanging around and hanging around and eventually took the lead heading into the fourth quarter.
That's when Fox simply took over. After getting off to a slow start himself, Fox scored 22 points in the fourth on 9 of 10 shooting, dominating from midrange and attacking at every opportunity. Every time Utah scored, Fox was right back at them with an answer, including one absolutely thunderous dunk to put the Kings up by four with just under a minute left.
DE'AARON CLUTCH SLAM pic.twitter.com/nCZtaUgQd8

— Kings on NBCS (@NBCSKings) January 4, 2023
The last minute was not without its own drama of course. Immediately after Fox's dunk, the Jazz called timeout to advance the ball and draw up a play. Jordan Clarkson baited the officials with a stop and jump into KZ Okpala and drew an away from the play foul, resulting in a free throw and the ball for Utah. After sinking the free throw, Clarkson missed a three point attempt on the subsequent possession, but the Jazz got the offensive rebound (a recurring problem all night) and Mike Conley made a tough driving layup.
Fox came right back with yet another mid-range jumper to put Sacramento up by three. After Utah took their final timeout, Lauri Markkanen pulled up for three and Keegan Murray was a little too close for comfort and was whistled for a shooting foul. I don't know what it is about Utah and the Kings closing out on their shooters, but it was the 3rd time in the game that the Kings had fouled a three point shooter, something they had also done in the first matchup with Utah. There is a potential argument that Markkanen was the one who initiated the contact by kicking out his right leg though, which should be called an offensive foul. You be the judge:
This is going to be in the NBA Last 2 Minute Report tomorrow. Lauri kicked his right leg out to draw the foul. pic.twitter.com/qpaEaNfRq0

— Cameron Salerno (@cameronsalerno1) January 4, 2023
Markkanen made all three free throws and the Kings elected not to use their timeout and instead Fox attacked and found an easy path to the basket for the game-winning layup. It was a masterclass of a quarter by Fox and one of the best performances of his career.
The game should not have been nearly as close as it was, but the Kings were their own worst enemy for much of the night. Despite shooting a very efficient 53.5% from the field and holding Utah to just 43.2%, the Kings once again were killed on second chance points (24 off 12 Jazz offensive rebounds) and despite having only one more turnover than Utah, they only scored 6 points off of Utah's turnovers while the Jazz scored 27 off of Sacramento's.
The Kings also didn't get much production from their bench. The bench only scored eight total points, led by Davion Mitchell's four points. Malik Monk had a very rough night, scoring just two points on 1 of 7 from the field. The backup center position was again a problem, as Richaun Holmes only provided two fouls and a turnover in his almost nine minutes of action, missing his only shot.
Plus/Minus is a flawed stat, but sometimes it can tell a very accurate story. Tonight, in a game the Kings barely won, Domantas Sabonis was a +21 in his 38:52 of game action. That means in the just more than nine minutes he was off the floor, the Kings were outscored by 23. It's impossible to fully replicate a player like Sabonis (who put up an excellent 21 points, 14 rebounds and 8 assists for another near triple-double), but the Kings can't afford to be hemorrhaging points whenever he's off the court.
Western Conference Rookie of the Month Keegan Murray had a mistake at the end in fouling Markkanen on his three point attempt (again, potentially debatable that it was a foul) but was otherwise excellent. Murray scored 15 points and also added in 5 rebounds. He had some nice hustle moments as well even though they didn't ultimately end up in Sacramento's favor. Murray's highlight of the night was a nice one-handed alley-oop layup off a Sabonis pass for an and-one in the fourth quarter. It's easy to forget that Murray is still a rookie sometimes and will likely just get even better.
What a feed by Domas to Keegan 👀 pic.twitter.com/eEp0Teb1kD

— Kings on NBCS (@NBCSKings) January 4, 2023
The Kings will look to carry their momentum back home, as they start a five-game homestand tomorrow with a visit from the Atlanta Hawks.
Random Observations
Harrison Barnes deserves some praise as well. Barnes saw a variety of defensive assignments, but was notably the one on Markkanen most of the night. While Markkanen did end up scoring 28 to lead Utah, most of that came at the line where he was 15-15. He was just 6 of 15 from the field and 1-7 from three and Barnes' defense played a big part in that. Barnes also chipped in with 19 points, 8 rebounds, 2 assists and a couple steals to boot.
The Jazz have a lot of excellent young players. I was particularly impressed with Jarred Vanderbilt, who scored 14 points on a very efficient 7 of 12 from the field along with 9 rebounds and 2 assists in just 25 minutes. He was also one of the looks that Jazz coach Will Hardy tried to throw at De'Aaron Fox in the fourth quarter to slow him down, which goes to show his defensive range (even though he didn't actually manage to stop him at all). Walker Kessler's also a nice young player for the Jazz and Malik Beasley is a solid veteran off the bench.
Utah should go back to these uniforms and logo. Anything is better than the horrendous neon yellow and black style they've adopted for this season.
What a difference a year makes; the Kings didn't win their 20th game last season until game 55.