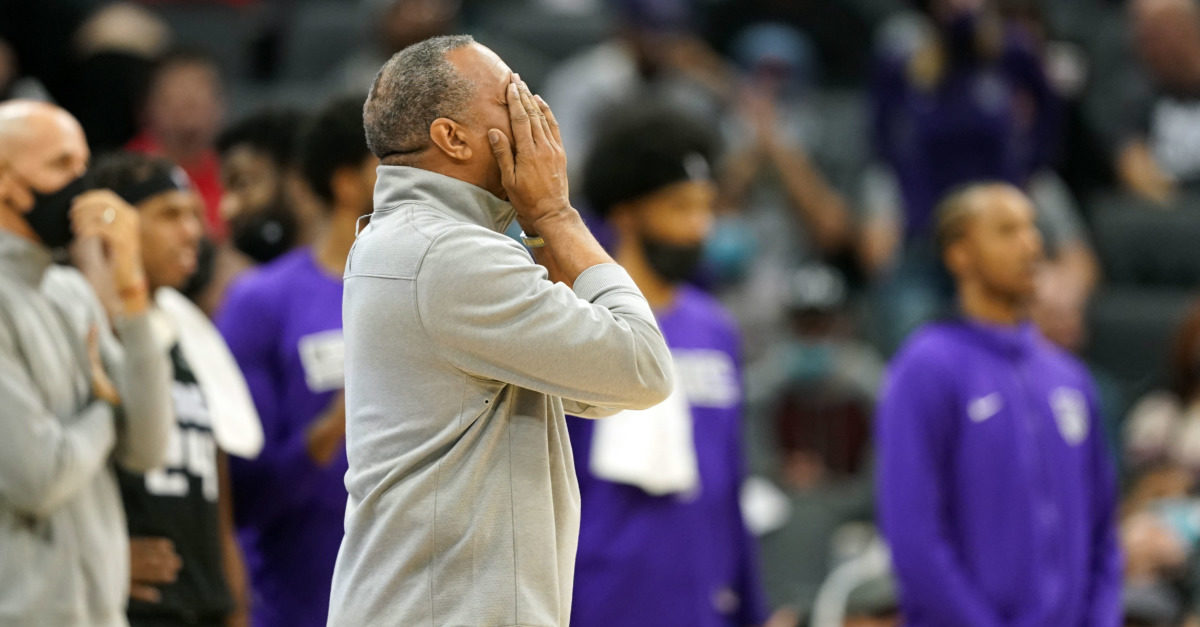 The Sacramento Kings are in a familiar and disappointing spot: basketball limbo. They're once again bad enough to be on the outside looking in, even after the NBA extended the Play-in Tournament as a participation trophy meant to discourage purposely losing late season games.
Sacramento is three games back of the Portland Trail Blazers for the 10th seed, and it's hard to imagine that the Kings squad that lost by 53 to the .500 Boston Celtics squad will ever show the fight needed to get that 10th seed, let alone win the Play-In Tournament. They've lost 8 of their last 10 games and are 29th in points allowed per game. As much as Vivek Ranadivé and Monte McNair may want a single big-name trade to fix this team, there's no salvaging this roster with any one move.
But make no mistake; the Sacramento Kings aren't tanking. They're not purposely losing these games. They just stink, and they're stinking with a roster of veterans, so-called win-now players who have all either checked out or are broken by basketball hell. Harrison Barnes, Buddy Hield, and Richaun Holmes have all regressed this season for one reason or another. De'Aaron Fox and Tyrese Haliburton have shown bright spots, but are not transcendent players who can take a bad team to greatness. This is a $130 million roster with no heart or competence. This isn't tanking - this is losing, without style or purpose.
Tanking has become a hot button term across the NBA fandom. The term got cemented in fans minds as "purposefully losing for a long time" thanks to the Process Sixers - who, in reality, only took three seasons (2013-14 through 2015-16) to rebound once Joel Embiid and Ben Simmons got rolling. The Oklahoma City Thunder are currently the tank masters, in their second year of their rebuild and are unlikely to pull up anytime soon. Given those two squads, I can't blame any Kings fan so sick of the last 16 years of ineptitude that the concept of "tanking" again isn't appealing. But that's what the Kings should do; trade all the veterans for whatever combination of youth and picks they can get in return, switch to developmental mode, and analyze the team again come this summer. We don't need to call that tanking, if the term has been too corrupted to imply the actual meaning - just don't behave like this team is a move or two away from success.
The issue for Sacramento's 16-year playoff drought isn't that the team tanked or didn't tank during that time, although they only capital-T Tanked twice - once in 2008-09 (a league low 17-65, earning them Tyreke Evans) and after trading DeMarcus Cousins at the trade deadline in 2017. That last "tank" started so late in the year that the Kings sat at 8th in the 2017 draft lottery, but then they jumped up to #3, had to swap back to #5, and eventually drafted De'Aaron Fox. Those were arguably the only two times the Kings traded veterans for youth and bottomed out, and one of them only worked because of lady luck.
The real issue for Sacramento is that every rebuild in the last decade has been interrupted midway through by the team's desire to skip steps and just get back to the fun stuff. Vlade's Super Team, Just Young was surrounded in 2017 and 2018 by veterans, from George Hill to Harrison Barnes to Garrett Temple to Iman Shumpert to Dewayne Dedmon to Cory Joseph, all hoping they'd gel into something meaningful. That all failed when Marvin Bagley didn't pan out, when neither a tough coach or a player's coach could get Buddy Hield to be efficient, when Fox wasn't great enough to drag an expensive, below-average roster to success.
The bright side of this sad state of affairs is that, depending on how you feel about De'Aaron Fox and Tyrese Haliburton, this reset may not take that long. Smart fans have pointed out that even the quickest rebuilds in recent memory - the Memphis Grizzlies (from 2017-18 to 2019-20), Atlanta Hawks (from 2017-18 to 2019-20) and Dallas Mavericks (from 2016-17 to 2018-19) all had rebuilding phases that left them with three seasons of no playoffs. But none of those teams had young players anywhere near as talented as Fox or Haliburton.
It's a gamble on lottery luck, and the evaluation chops of Monte McNair, but if the Kings ended with a top pick in this years draft, a young core of Fox, Haliburton, and one of Paolo Banchero, Jabari Smith Jr., Chet Holmgren, or Jaden Ivey is a lot better off than the Kings are now.
Indeed, that is why the so-called "gap year" of last season was so frustrating, when prominent media members sourced the team as saying they were "taking the long view" of the squad. If the team had bottomed out last year, the Kings could have had a team with Fox, Haliburton, and one of Cade Cunningham, Evan Mobley, Jalen Green, or Scottie Barnes. Hell, even one more loss last year would have meant the Kings sat at pick 8 instead of pick 9, and Franz Wagner (a rumored favorite of McNair) is thriving in Orlando. Instead, McNair only sold off one veteran at the trade deadline (Cory Joseph), didn't pick a direction, and ended at pick #9 in what could have been a franchise-altering draft. Stuck in basketball limbo.
The Sacramento Kings aren't tanking. They're just a really bad basketball team, and it's time for them to finally treat themselves as one.