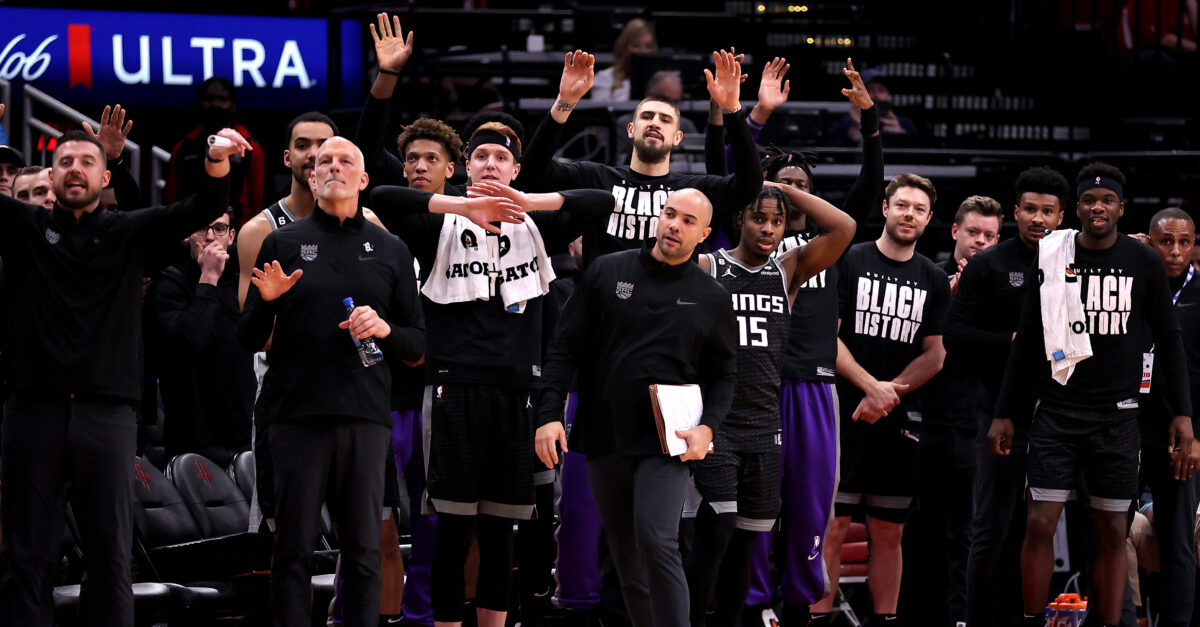 One of the best parts of March Madness is learning about different team's benches.
Whether its elaborate celebrations or a hero that rises up to overcome big odds and lead his team to victory, fans tend to fall in love with some kid they had never heard of prior to tip-off to the madness.
You don't see quite as much of that in the pro game, but the best teams -- the ones that win championships -- seem to have at least a player or two that folks say "would be a starter if he played anywhere else". That depth comes to roost in the postseason, and can often make the difference in a seven game series.
The Kings have quietly developed one of the best benches in the association; sure, everyone talks about Malik Monk, but it's guys like Trey Lyles, Davion Mitchell, Terence Davis, and most recently Kessler Edwards, that could be the difference in April and May. Scoring 37.5ppg, a top ten mark in the league, there is plenty of instant offense off the bench, but they also get it done defensively and on the glass (+/- of 126, one of just 13 bench units in the league with a positive +/-).
Take Mitchell, for example.
Not known for his offensive game, the back-up point guard out of Baylor averages just 5.6ppg to go along with 2.2 assists and half a steal a game. But his defense is bothersome to opponents -- just ask Bradley Beal -- and in increased minutes over the last month, he's stepped up his game on both ends of the floor. After shooting just 40% from the field in February, he's over 50% in March, he's doubled his assist rate and provided quality minutes for a team that's been red-hot.
With Lyles and Huerter out Saturday in D.C., it was Davis that stepped up, dropping 21 points on a night where De'Aaron Fox and Harrison Barnes struggled. Chimezie Metu was impactful in his limited run as well, scoring just two points but hauling in six rebounds and dishing two assists.
The great thing about this group is that on any given night, any one of them is capable of stepping up; though Monk's production is expected and counted on, the others are free to fulfill their roles as needed depending on matchups. You see a ton of support for their teammates, little to no complaining about minutes and roles, and a sense of a willingness to just do their jobs. It's rare at the professional level, and it might be the difference between just making the playoffs -- and making a run.
Crown Him:
He could be the King of the Week every week, but it's time for me to give Domantas Sabonis his flowers officially.
You can't watch this guy play and not be impressed; on any given possession he might initiate the fast break, drain a midrange jumper, dish a no look pass, or block an opponent at the rim. He has such a well-developed offensive skillset and a knack for hauling in rebounds (12.5 per game), and is a perfect compliment to Fox and the rest of the Kings lineup.
You have to give something up to get something, and the Kings trade of Tyrese Haliburton to bring Sabonis to Sacramento is as classic a win-win as you will see.
Sabonis, who has playoff experience with the Pacers, has been a revelation in his first full season in Sacramento; a career 15 ppg scorer coming into the season, he's closing in on 20 this season, has increased his rebounding rate and more than doubled his assist rate. In fact, his 7.2 assists per game is 12th best in the league and and trails only Nikola Jokic for big guy passing.
He's also shooting a career-high 61% from the field and has blocked over a shot per game over his last five.
To say it plainly, the guy is on a serious heater, and it couldn't come at a better time.
SacTown's Finest:
After a fun weekend of March Madness at Golden 1 (congrats, Princeton and UCLA!), the Kings are back in town this week.
With the stretch run in front of us -- and a chance to secure the No. 1 seed in the West not out of the realm of possibility -- it's time for the home crowd to show up in support of the team.
After a date in SLC tonight, Sacramento gets four straight at home, hosting the Celtics Tuesday night, the Suns Friday, the Jazz Saturday, and the Timberwolves Monday.
Three of those games are against Western Conference foes with big-time playoff considerations, while the matchup with Boston is a chance to prove their mettle against an Eastern Conference title contender.
Let the fun basketball continue in the Capital City!