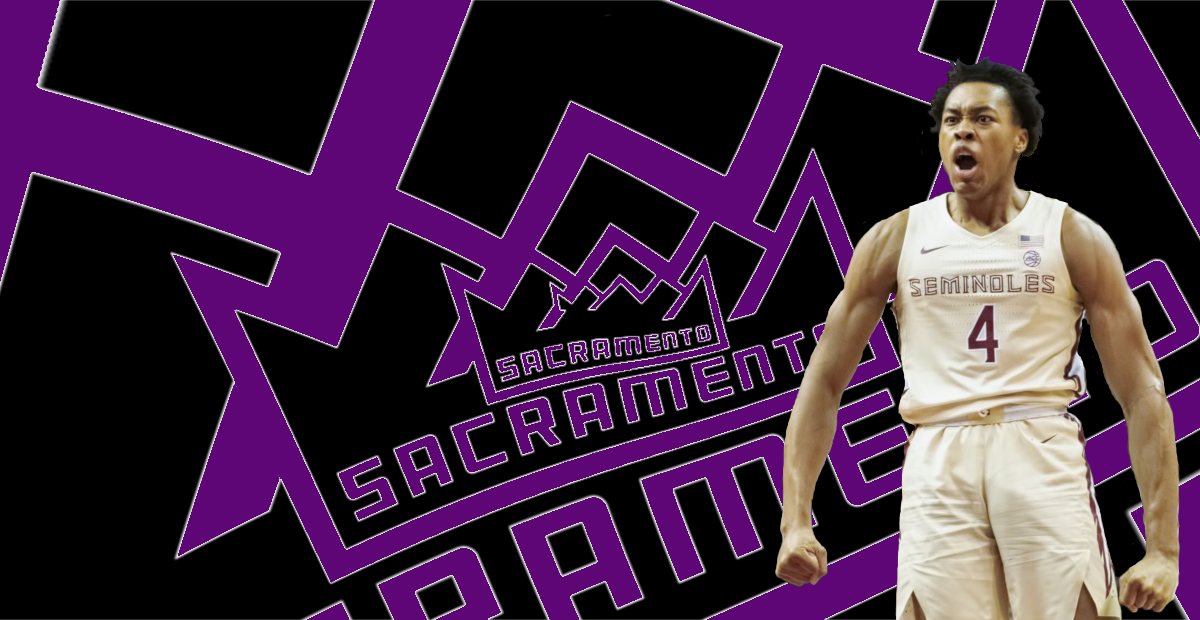 The Madness was in full force last week as the NCAA Tournament saw some major upsets; the Sweet Sixteen features five squads at 8 seeds or lower, including the Loyola Chicago vs. Oregon State match-up we all totally saw coming. Unfortunately for NBA Draft fans, the tournament also saw the departure of presumptive top selection Cade Cunningham (but thank goodness we'll never have to watch him with that Oklahoma State squad again), and other potential lottery picks like James Bouknight (UConn), Keon Johnson and Jaden Springer (Tennessee), Kai Jones (Texas), and Ayo Dosunmu (Illinois).
Thankfully, the Sweet 16 offers up the chance to check out six players I consider lottery talents, including many who may be in the vaunted pick 8-14 range that the Sacramento Kings seem determined to draft in. Let's check out the top prospect match-ups for this weekend.
All stats come from Synergy Sports, sports-reference.com, Tankathon.com, or hoop-math.com.
Franz Wagner vs. Scottie Barnes
Michigan vs. Florida State, Sunday, March 28, 2 p.m., CBS
The marquee match-up for Kings fans offers a chance to check out two versatile forwards who might be in Sacramento's range come draft night. Franz Wagner (6'8, 205 lbs, 19 Years Old at Draft [YOAD]) was clutch for Michigan in their 86-78 win over LSU on Monday, scoring 9 of his 15 points in the final 4:30 of the game. While Wagner has never been a high-volume scorer (he's had more than 15 field goal attempts only ONCE this season), everything about his game is scalable at the next level - he's a more-than-capable shooter, a great passer, and a high-instinct, gritty defender.
Scottie Barnes (6'9, 225 lbs, 19 YOAD), meanwhile, has not had an explosive tournament run. After scoring 49 points on 70% shooting in Florida State's three games prior to the tournament, Barnes had just four field goal attempts combined (and made all four of them) in their wins over UNC Greensboro and Colorado. That's not to say he didn't make an impact - against Colorado, he was instrumental in breaking down the Buffaloes defense with his excellent passing vision, which led to 5 assists.
Another 5 assists in 22 min for Scottie Barnes vs. Colorado. He's a very accurate passer who is willing to throw the simple hit ahead or swing pass, but also has the size and feel to open up passing lanes and even manipulate defenses some. pic.twitter.com/1fhEbEUU3L

— Draft Dummies (@DraftDummies) March 25, 2021
And as always, Barnes is a dude who makes his living as a dynamic defensive tank - there's a reason why he's been our buddy Will Griffith's favorite non-Cade prospect this season. Even if there are serious red flags about his offensive role at the next level, just watch him play defense against the Wolverines; for a Sacramento squad already blessed with talented guard scorers, Barnes' defensive intensity and versatility could be a game-changer.
Hopefully we'll see these two face off repeatedly on Sunday - we could be debating these two as potential future Kings for months to come.
Evan Mobley and USC against Oregon
Sunday, March 28 vs. Oregon, 6:45 p.m., TBS
Evan Mobley (7'0, 210 lbs, 20 YOAD) had himself an excellent first weekend. He was the best player on the floor in both of USC's wins against Drake and Kansas, even if the blowout win against Kansas limited the Trojans' need for him as a scorer. Hat tip to his brother Isaiah Mobley, who had 17 points and hit 4 of 5 from deep with some real eye-popping step-backs; Isaiah should be a priority two-way option player if he chooses to leave USC this summer (some team should just hire the whole Mobley family).
While some will worry about Evan's lower usage on offense, Mobley's got all the offensive tools you want in a modern NBA center and should be immediately ready (with some weight training, of course) for a higher offensive workload at the next level. And his value on defense is damn obvious - he's not the strongest dude for his size, but he's so insanely mobile and long that he makes insane defensive plays on the regular. Just look at this shot from the Drake win.
Anyways now that we're all watching him again look at this from the Drake game pic.twitter.com/9Be15rONAr

— Brian (@BrianJDraft) March 23, 2021
The Trojans will face a Pac-12 rival in Oregon, and Ducks guard Chris Duarte (6'6, 190 lbs, 24 YOAD) deserves real attention from draft fans. He's averaging 17 points, 4.6 rebounds, and 2.5 assists (on 53% shooting and 43% from deep) this year for the Ducks, and had 23 points and 7 assists in Oregon's win over Iowa. He's a crafty three-level scorer who has earned real consideration in the late 1st/early 2nd round; he'll be ready to contribute pretty quickly at the next level.
USC won the lone matchup between these squads this year, and if I'm honest, I'm going to be FULLY cheering for the Trojans on Sunday. Give me Gonzaga vs. USC in the Elite Eight, Evan Mobley vs. Jalen Suggs, and shoot it right into my eyeballs.
The Unstoppable Zags vs. Creighton
Sunday, March 28 vs. Creighton, 11:10 a.m., CBS
The Gonzaga death machine rolls on, drumming poor Norfolk State 98-55 and then dooming Oklahoma 87-71. Jalen Suggs (6'4, 205 lbs, 19 YOAD) had a quiet night against Norfolk with just 6 points, 2 assists, and 4 boards in 18 minutes, but bounced back against Oklahoma with 16 points and 3 assists on 5 of 13 shooting. While it certainly won't keep him out of my top 5, it should be noted that Suggs is in a major slump from deep - since the beginning of February, he's shot just 29% from deep (11 of 38) in 11 games. He may not be as automatic a shooter as his early season numbers indicated. But even when he's not shooting well, Suggs makes a difference in every game by keeping the top-ranked Zag's offense going and being a near-lockdown defender.
More than anything, the fact that Gonzaga has rolled to easy wins in both tournament games despite non-game-breaking contests from their star initiator just highlights their insane depth. Drew Timme, handlebar mustache king, had 30 points, 13 rebounds, and 4 assists against Oklahoma and deserves real 2nd round consideration whenever he decides to go pro.
Meanwhile, sniper Corey Kispert (6'7, 220 lbs, 22 YOAD) continues his insane shooting season. He had 23 points on 6 of 9 from deep against Norfolk, and 16 points on 4 of 8 from deep against Oklahoma. Kispert has a ton of draft fans€"both experts and armchair scouts€"but while his shooting ability is an absolute elite skill and makes him a high-floor player at the next level, I'm not sure I'll have him as high as some on my KingsCentric big board. Kispert is an elite catch-and-shoot player (86th percentile for such shots, per Synergy) and he's elite at moving around the court to find open shots, but nearly half of those C&S shots are considered €œunguarded€ by Synergy. He very much enjoys taking advantage of Gonzaga's depth, system, and talent to get open shots - and that's no real criticism, since his insane gravity opens up everything for the Zags. But while he's a solid player across the dribble-pass-defend spectrum (as you have to be to star at Gonzaga), I definitely think he's going to be a more limited player at the next level - still with an elite skill, but a lower ceiling than some of the wings and forwards in Sacramento's range. I'd be aiming for more homerun swings if I was the Kings. Still, he very much deserves to be in the debate over the next few months.
Gonzaga will almost certainly roll through Creighton, and hopefully we'll get the Gonzaga/USC match-up that us armchair draft scouts are begging for.
Moses Moody and Arkansas vs. Oral Roberts
Saturday, March 27, 3:25 p.m., TBS
Moses Moody (6'6, 205 lbs, 19 YOAD) and Arkansas won a nailbiter against Texas Tech on Sunday, even as I was swearing at my TV about Eric Mussleman not running plays for his best player. Moody had 15 points and 6 rebounds on 6 of 11 shooting against the Red Raiders, and was his usual, disruptive defensive self. He's going to be an excellent 3-and-D player at the next level.
At 6'6 with a 7'1 wingspan + active and strong hands, Moses Moody has a case to be the best disruptor and defensive event creator in the class. Showed those traits in the win vs Texas Tech pic.twitter.com/KRKAiWiOSw

— Jam Hines (@jamontheboards) March 22, 2021
Even as I grit my teeth about Arkansas not utilizing their best scorer, Moody showcases enough as both an off-ball shooter AND on-ball creator to keep him as my favorite prospect outside of the top 5. Here's hoping Arkansas keeps this run going - and gets Moody the ball a bit more.
Moses Moody's creation flashes are marvelous pic.twitter.com/9TrrgLDjGh

— Jackson Frank (@jackfrank_jjf) March 21, 2021
Other Matchups:
Oregon State vs. Loyola Chicago, Saturday, March 27, 10:40 a.m., CBS
Baylor vs. Villanova, Saturday, Saturday, March 27, 2:15 p.m., CBS (check out Jared Butler and Davion Mitchell!)
Houston vs. Syracuse, Saturday, Saturday, March 27, 6:55 p.m., TBS
Alabama vs. UCLA, Sunday, March 28, 4:15 p.m., TBS
An early congrats to Adam Site, JT Bets, and gg ez - early leaders in the 1st Annual Kings Herald Bracket challenge, who all are in the top 97th percentile for bracket success!