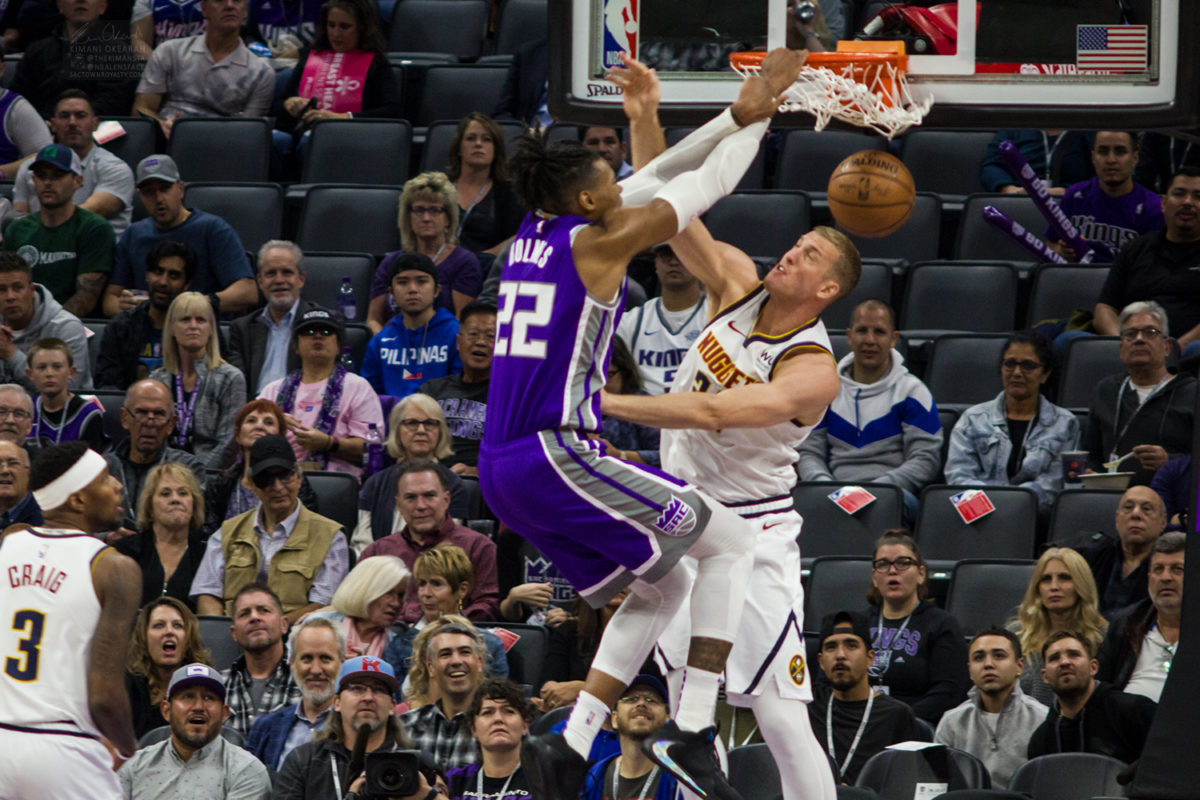 When healthy, there was a legit argument to be made that newly signed center Richaun Holmes was among the top 15 in his position - if not higher.
Many factors have contributed to Holmes' success with Sacramento this season. When the Kings signed the 6'10€ big using the MLE, I wrote back at our previous venture that Holmes would become a fan favorite. After Marvin Bagley III went down with a thumb injury and Dewayne Dedmon's performance rapidly deteriorated, Holmes didn't take long to insert himself into the starting lineup.
His energy and motor is the primary reason for his success. He's always fighting for 50/50 and loose balls, grabbing tough rebounds and throwing it down on the opposition's head. When the Kings lacked fight on the court, Holmes would oftentimes be the only player fighting back. That's what Kings fans saw in Holmes - a guy that gave it his all, no matter the circumstances.
Another key factor to Holmes' success has been his ability to finish around the rim. Besides the patented push shot that seemed to have a 100% conversion rate according to the eye test, Holmes was extremely efficient around the rim.
Quick numbers dump:
-shots less than five feet from the rim: 158-214 (73.8%)
-less than eight feet: 174-257 (67.7%)
-restricted area only: 148-202 (73.3%)
-all alley oops: 26-29 (89.7%)
-tip shots: 28-42: (66.7%)
Holmes is the best finisher around the rim for the Kings (Harry Giles has numbers close to Holmes, but on much less volume), but for this film room breakdown, I went to see what makes Holmes successful near the rim.
Buddy Hield is the pick-and-roll initiator here with Holmes (he's had this role in many plays I've watched) and patiently makes the read for an open Holmes. Holmes initially bobbles the incoming pass, but he stays poised and maintains possession with Jerami Grant sliding over from the right corner. Grant could make a play on the ball after the bobble, but he bends back instead.
Holmes gathers the ball, shifts away from Grant's arms and shows the calmness to drop it in. He could've easily rushed the shot upon catching the ball which possibly would've resulted in a charging foul since Grant is just inches ahead of the restricted area. It's great instinct from Holmes to react accordingly when Grant slides over as the play easily could've been a turnover than two points.
Backing down Alex Caruso is not necessarily impressive for someone's Holmes size, but when LeBron James comes over for help defense, he is all over Holmes. As aggressive as James is, which eventually is enough to warrant a foul, Holmes does a phenomenal job to stick through the contact, lean into the defender's body to create space and softly bank it off the glass.
Again it's another pick-and-roll with Hield and three Denver defenders forget Holmes' presence on the court. That allows for Hield to split the defenders for a bounce pass back to Holmes, who gathers the ball with two defenders sandwiching him, uses a quick pump fake to cause Mason Plumlee to bite and then Holmes uses that sliver of space to get off a shot.
Now Holmes initially misses, but another factor to his success was being faster than anyone else when reacting to the ball. Plumlee is the first one to lift his feet when the ball bounces to the right side of the rim, but Holmes gets in there as well to tip it back in. If Holmes is a second late to that jump, Plumlee likely hits the ball back in the air for anyone to get based on the way his hand slaps the air when Holmes touches it.
After Bogdan Bogdanovic misses the elbow jumper, Holmes runs to the right block and gets in prime position to grab the follow-up, which he does...over three other Spurs. San Antonio's big man depth is pretty thin as it is, but without LaMarcus Aldridge it's even worse. That plays to Holmes' advantage in this play as he outmuscles everyone for the basket and it should benefit all the bigs for Sacramento when they play the Spurs on opening day.
Again, there's no way Jakob Poeltl will be able to keep up with the other bigs that Sacramento has, let alone Holmes. The Spurs also have Tyler Zeller and Trey Lyles available, but that's not ideal depth. Holmes played bully ball against the Spurs and he should look to continue that level of physicality in Orlando.
Going back to the same game against the Lakers, Holmes once again displays great anticipation and awareness as the ball goes everywhere. He's all alone near the rim against three other Lakers, yet he's able to win the ball over Dwight Howard for two points. Holmes stays with the play, even when there's hardly a play to be made.
Holmes doesn't get the basket on this play, but it reiterates some points I've already made. He gets himself in position to get the ball as it looks like Hield is throwing him a lob. Holmes misses the initial shot, knocks it away from Bismack Biyombo and at the five second mark of the clip, finds himself as the only King anywhere near the ball.
There are literally five Hornets in the paint to one Holmes. He gets some pump fakes off for space to shoot, but after he misses, he still attempts to win the ball back one more time. That type of effort is what has gotten Holmes rewarded on many plays.
Outhustling Hassan Whiteside isn't an arduous task, but this game was an imperative one to win. On the road with a double-digit lead, Holmes takes on two Blazers to fight for the ball to extend the Kings lead. He's made countless plays just like that that made him stand out in the frontcourt.
We may be seeing the Kings insert more small ball lineups into the game plan, leaving Holmes as the likely starting five. If Harrison Barnes is playing hefty minutes at the four, then Holmes' presence in the paint on both ends will be as crucial as ever. There's satisfaction in knowing that Holmes can certainly get buckets down low and Sacramento will need that anticipation, motor and passion to shine in Orlando.