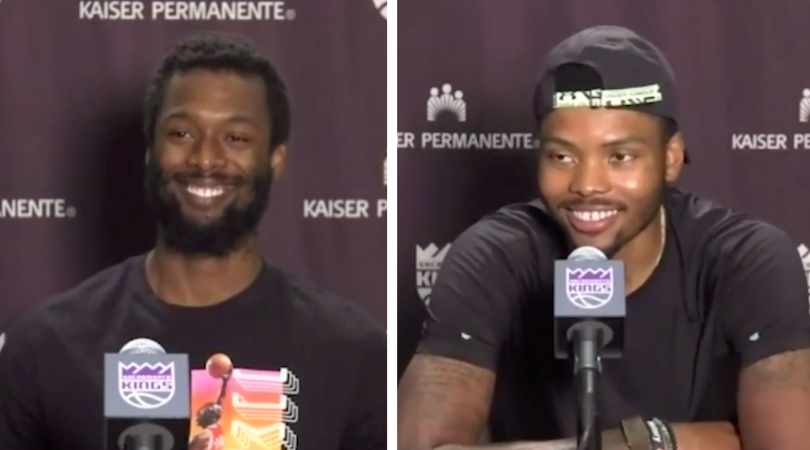 The Sacramento Kings conducted another Zoom call with local media Friday. Harrison Barnes and Kent Bazemore participated in the call.
Bazemore discussed how difficult being away from his family is going to be during this renewed portion of the season. He also expressed that he would like to stay with the Kings over a longer period of time.
"This is definitely a place that I could see myself playing for the next couple of years - with a team with so much promise. I definitely want to be a part of that," he said.
Barnes gave an update on his playoff beard and how he hopes he can shave it off if things go well on the trip. He also discussed the Black Lives Matter movement and said he plans to add a social justice message on the back of his jersey in Orlando.
"I'm definitely going to do something I'm just waiting on the official guidelines for what we can do," he said.
(A list of options for messages on the back of jerseys were reportedly approved Friday by the NBA and the NBA Players Association.)
Check out the full press conferences below.
https://www.youtube.com/watch?v=BcmG9uQQyuA
https://www.youtube.com/watch?v=mcqy1n9O5Rw
Additionally, on Saturday, the NBA released its schedule for the scrimmages that will take place leading up to the start of the renewed season on July 30 in Orlando. Each of the 22 teams participating will play three scrimmage games.
The Kings will play the Heat on July 22 at 8 P.M., the Bucks on July 25 at 12:30 p.m. and the Clippers on July 27 at 4 P.M.
Details for potentially broadcasting these scrimmages haven't been worked out. That will come at a later date, according to the release.