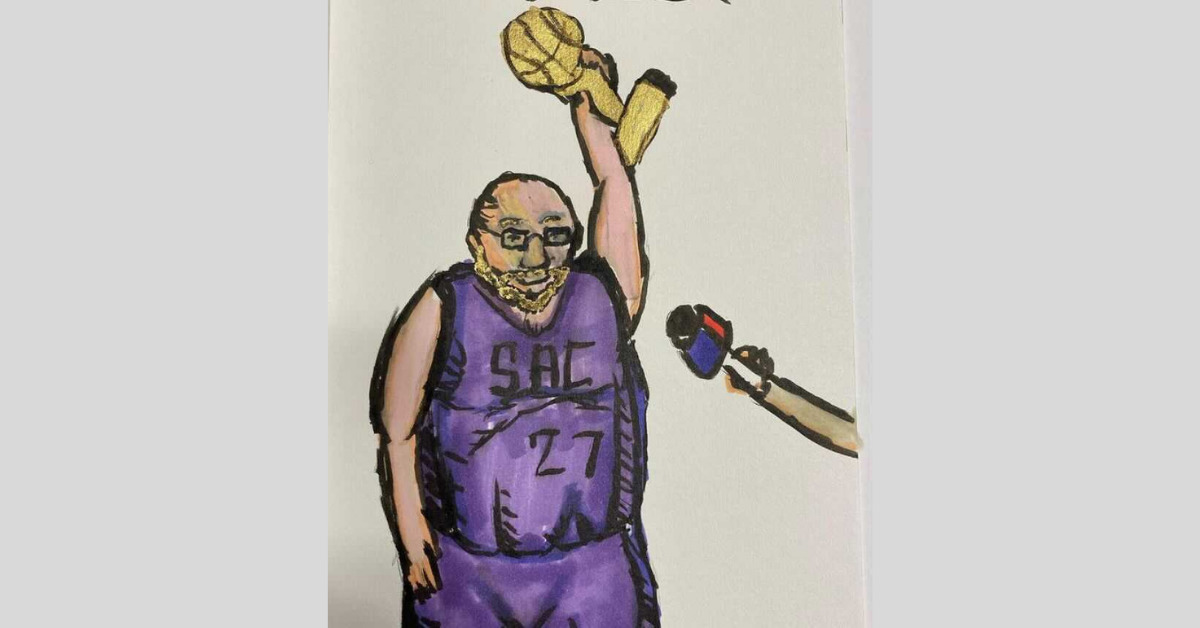 For most of my life since Jason Williams recruited me as a fan, the Sacramento Kings have been the one consistent passion in my life. It was the perfect time to be a ten-year-old. Jason Williams was coming into the league, and while my NBA interest started with Space Jam, it was the first time I started following any sports team with any frequency. I lived and died by the Kings. Some of my first school rivalries were with Jazz and Lakers fans during the rest of my grade school career.
Obviously, the years since my glorious, naive entrance into NBA fandom have gone a different way. Seeing the team make the playoffs every year from then until young adulthood spoiled me and gave me this notion that the team would always be this fun. Sometimes, it has been. While my life has taken several dozen detours since that lockout-shortened season in 1999, the Kings were something that kept a sense of normalcy. That was, until 2020.
I was all in on the team at the beginning of the year. Despite my inhibitions with the coach, the owners, and how the team chooses to function, I loved the young core. In fact, despite 15 years of botched draft picks and a slew of injuries, I still have a soft spot for nearly every player on the team. Despite all of the inhibitions I had with the team, I had this site, which was still in the planning stages, to keep my energy on something good and positive.
Once the NBA went on hiatus, however, something inside me went with it.
Before I get into that, I have to talk about the lead-up to that day in March when the NBA hit pause amidst the global pandemic. In January 2020, after several months (or years, or decades) of internalizing my emotional self, it all came into fruition when I woke up one night breathless and feeling like an invisible weight was slowly crushing me. Those with anxiety know this feeling all too well. After getting diagnosed, however, nothing got easier. Days after, the death of Kobe Bryant made me grapple with more than a few things, but for the most part they remained unrelated.
This wasn't months earlier when I spent three days at the hospital after waking up in a spell of dizzy hallucination on account of a bleeding esophagus. That was easy. It was something far more sinister. When there's a physical explanation for your ailments, it is easier to accept. I spend the night at the hospital. I take a pill. I go home and try to get better. When it's your brain working against you, it's not that easy to look out on the other end. While I now know that anxiety has been silently taking the driver's seat for years, at the time, it was an absolute shock.
We joke about the burden that comes with being a Kings fan. Hell, we put up with more adversity in a given year than some fans experience in a lifetime. However, at the end of the day, we are watching a group of strangers throw a piece of rubber into a circle draped with string. What bad could come from that?
Well, reader, I'm here to tell you that the answer is a lot. Those who know me know that while my sarcasm and pettiness can get the best of me, I try to keep things mostly light. I'm not too enamored with numbers, and the draft process mostly bores me. What I do like is the story of the game. I love trades because of the chaos that ensues. I love wins and losses because of the high highs and low lows that come after. Although I may have tried from time to time, I was not the person you would go to for brilliant insight. I was the guy who was quick with a terrible photoshop, a pun about whatever recent player had a funny name, or antagonizing our former play-by-play guy for his history of the same type of behavior that eventually got him to €œagree to step down€ from the team. I always loved that. Even the team's lowest lows were always secretly fun because I knew that we would experience the self-schadenfreude together as a group.
The Kings were not the cause of my woes. Despite a million missteps, 16 years without the playoffs, and a pair of relocation sagas, the Kings have always been my solace in the most challenging times. Heck, I even get a sick enjoyment out of watching a team who, to 29 other fanbases, is a constant source of comedy. They've helped me get through family deaths and provided an escape as I made my way through school while also reaching my thirties. On the other side of that coin, however, the Kings and the NBA became the perfect foil for all my other internal problems. I cannot yell at everyone who makes me mad about real issues, but I can disguise it as a sports joke and put the negative energy I have towards a thousand different things and put it toward something light like basketball.
This has been the case for many years. Sports becomes the ultimate scapegoat for a thousand problems for the same reason we use it to escape them. Have a hard day? It's easy to find a player that can take your mudslinging and make you feel better. Whether it was my least favorite player on the Kings or the Lakers, Warriors, or whatever other team I chose to hate, the lie I told myself and others for many years - that my favorite part of sports was cheering against the teams I hate - was no longer fun or rewarding.
Back to the hiatus, when basketball was on the verge of coming back, I found myself in the minority as someone who wasn't really happy to see it. A lot of this was justified. To this day, I firmly believe that the Orlando Bubble was misguided despite my worst fears about it never coming true. But, on a deeper level, I realized that I just wasn't that excited. It no longer felt like something I enjoyed. Sure, the organization had something to do with it, but it felt that just like other things, the Kings had become something I partook in the third person only to turn off in an apathetic haze.
Assuming this was just a phase, I did what I do best, crammed the negativity into a crowded box, and kept going like nothing was afoul. I even recorded a few podcasts in the lead-up, including an interview with my favorite person and future Hall of Famer Jack Cooley! For the most part, however, I attempted to fake my way back into something resembling passion.
Not long after, a guest who shall not be named (TJ) canceled, and after recording a brief episode with Greg, I realized that I no longer had anything to talk about. You can only talk about Luke's coaching, bad draft picks, and better times so much. The result was one of the most awkward recordings ever done. Mercifully, that episode was never released to the public. It was my last episode of the show before I gave up the reigns and was eventually usurped by a retired journeyman broadcaster named Jerry.
That love for the Kings that dominated the last twenty years of life had turned into an obligation that fed my worst instincts. I realized that my fandom had become more about an obligation. It wasn't because I wrote about them -- I seldom did that to begin with. It wasn't because I had a podcast - I enjoyed my year behind the microphone when my brain allowed me to do it. I slowly realized that the team that once served as an escape started to fuel my worst inhibitions.
Basketball was no longer something I watched out of enjoyment. It was something I watched because it's something I had always done. The Kings and NBA alike gave me an avenue to do this without acknowledging what the endgame was. After all, It's hard to recognize that you have a problem, but it's extremely easy to admit the Kings do. Overreacting to a loss in January? Obviously, the Kings. Mad that the Lakers or Warriors won the title? It's because you're a Kings fan. Was I having a random panic attack in mid-August during the doldrums of the offseason? Clearly, it's the Kings' fault. The Kings were both my therapist and my antagonist, but most of all, they were a distraction from myself.
That leads to today. The Kings just beat the San Antonio Spurs to secure another massive win coming off Harrison Barnes' unlikely buzzer-beater against the Cleveland Cavaliers. I know all this despite not watching. A month or two ago, I started to realize that regardless of how my days were going, Kings games immediately put me back into that dark place, win or lose. It doesn't mean that I was an absolute monster (although sometimes it did). Those with mental health issues know that feeling on your mental teeter-totter when the good vibes step away and let the bad vibes crash into your psyche. Every lousy call, all the fan-based discourse, and every coaching faux paw made me turn into something I couldn't stand.
That's when I decided to take a break. I don't know how long that break will be. There's plenty of legitimate reasons for me not to watch the Kings. Heck, even in the midst of one of the better stretches since Ron Artest briefly delayed the Maloofian collapse, I cannot bring myself to watch anything but game highlights and box scores. It's what's best for me and me alone.
Despite my deep-down hatred for the Kings, I still love them more than I love most things. Even if they make the play-in game or defy science and make the postseason, I will likely be watching from afar. The fact of the matter is that when sports start feeding your worst whims as a person, let alone a fan, they no longer serve a valuable purpose. They're an easy outlet for a passionate empath like me to convey negative energy I seldom put toward other things. That, my friends, is a problem, but not a bucket.
Next time you're watching a Kings game, give an extra cheer for me. De'Aaron Fox is still one of my favorite Kings ever, and I'm excited to see what Tyrese Haliburton does for years to come. For the time being, however, I cannot watch. My mental health is too important to let a thing I love turn me into a person I don't.
Despite some hiccups, I am in my healthiest mental place in years. The lack of Kings games plays a small part in this. Other answers include Zoloft, the discovery that I'm a not terrible artist, and the realization that I don't have to please everyone to the point where I end up alienating them. I still love the Kings, the readers, and everyone I have met throughout my time covering the team. Still, until I can watch a game with that same love I had at ten years old, the negative effects it has on me aren't worth the positivity I get from buzzer-beaters.
Don't get me wrong. I don't see a world where this becomes a permanent thing. Whether I continue as a casual fan or go all-in in the next few months remains to be seen. I made a vow to stop hating other teams for similar reasons. Basketball is beautiful to me not because of stats and wins and losses, but because it's one of the best leagues in the world for stories.
So, why did I let it become something different? 32 years of repressed mental health and a 2021 world that encourages my worst my worst behavior turned another thing I love into a piñata for my hidden self.
I'm going to cheer on wins despite my many other problems, but in the meantime, I felt that it was important to share my story. My story might be unique, but my struggles are not. The best thing I could do for myself is let you all carry this on while my brain goes through its own rebuild after several years of fruitless tanking.
Until then, I appreciate everyone who has been there for me as a friend, reader, listener, viewer, or casual acquaintance. Hopefully, by the time we're allowed back at games, I'll be right there with you all without the burden hiding underneath.