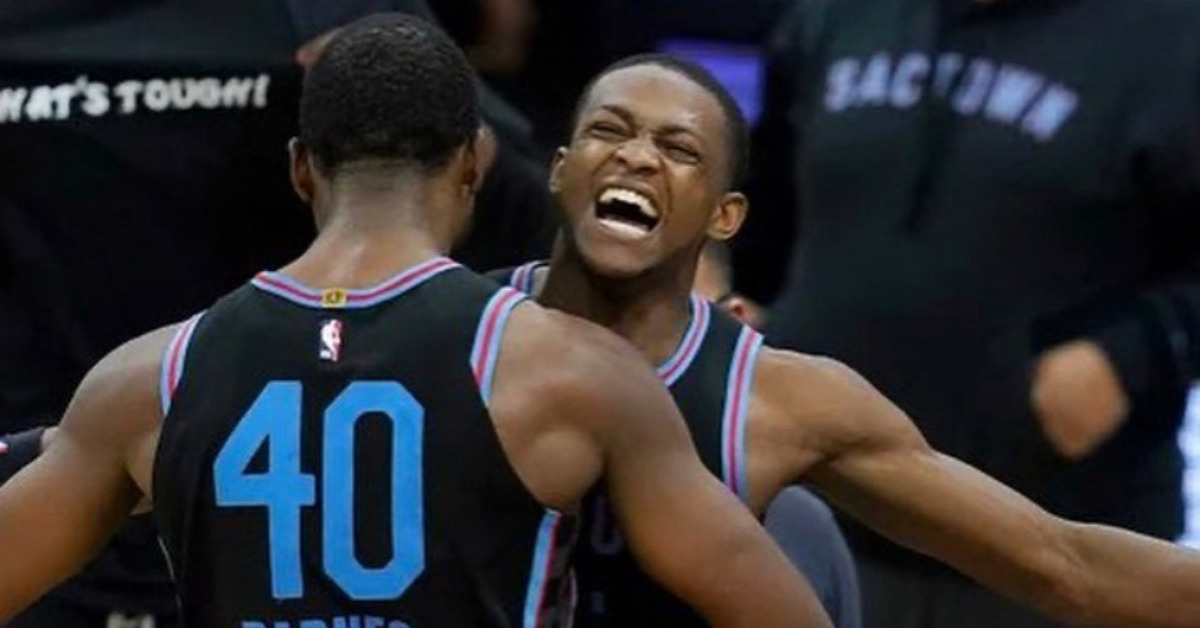 Have you heard? The Sacramento Kings have won FIVE (5!!!) games in a row. After what felt like an endless nine-game losing streak prior to the All-Star break, followed by some trade deadline moves, and an easier back end schedule, the Kings have done it again - they are making us hopeful. The addition of the play-in tournament has given this late-blooming team something obtainable to strive for in the second half of this season.
Beyond the growth in their win column, the Kings have also shown some major growth in the formation of their identity as a team. As expressed by Harrison Barnes after their buzzer beater win over Cleveland:
"Just to be able to celebrate with my teammates, to have that joy, I think that kind of embodies where we're at as a team right now. Not only are we winning, but it feels like we're building something."
The rarity of such an exciting night, followed by such a wholesome quote warmed my heart, ignited some nostalgic feelings, and thus made me reflect on the identity of the Kings. For the past 10+ years, the Kings have largely portrayed an image of dysfunction and haphazard handling. Now, with a point guard playing out of his goddamn mind, a franchise jackpot in their rookie, an upgraded bench, and the unprecedented chance to get into the playoffs at the 10th seed, the Sacramento Kings have finally begun to shed free of this cursed identity and build anew.
As I tried to find the words to describe this new identity the Kings are forming, I considered some other successful teams and their established identities, and I recognized a pattern. So here's my thesis: Successful teams inherit an identity that is cultivated by the traits of the city in which it resides. Some examples include: (1) 2020 Los Angeles Lakers sinking into their hometown identity of big-time celebrity with the acquisitions of LeBron James and Anthony Davis, (2) 2020 Miami Heat solidifying their success as a team that is gritty, tough, fearless, and above all else, swaggy as hell, much like their city, (3) 20-Teens Golden State Warriors imitating the fast, exciting, and innovative culture of the Bay Area by revolutionizing the potency of the 3-point shot, and last, but certainly not least, (4) 2002 Sacramento Kings embracing the small-market cow town jokes and flipping them into an identity of tight-knit camaraderie and beautiful basketball.
Following this same trend, the Sacramento Kings have begun to build a new identity that mirrors the best parts of its city. Sacramento has begun to emerge out of its cow town cocoon and its identity feels ever-evolving. A brand spankin' new arena can do that to a city. With our city's new landscape and development, what are the Kings using from it to build a new identity to push them back to success? Here are my three cents:
Youth: Sacramento has always felt like a family place to me, but in recent years, with the migration of Bay Area techies and increase in college attendance in nearby Sac State and UC Davis, the everyday crowd I see around the city feels much younger. This observation is supported by the boost in apartment-style housing and commercial development all over downtown - the city is looking to house young people and provide them with new restaurants, bars, and entertainment. The Kings' roster perfectly mirrors this identity, as they are looking to build around their young backcourt of De'Aaron Fox and Tyrese Haliburton. The Kings are looking to capitalize on this young core by utilizing it as a fresh start. If managed correctly, Fox, Haliburton, & Richaun Holmes can conceivably play in Sacramento for many years to come. A strong identity now as a young and fresh team can later develop into a seasoned and successful one.
Energy: Prior to lockdown, I loved walking around downtown because there's always a low buzz of energy everywhere. We aren't Los Angeles or New York, but we have our own unique low-key energy that is palpable without being overwhelming. It is one of my favorite things about Sacramento and something the Kings are learning to build into their new identity. De'Aaron Fox obviously has some of the quickest limbs in the league, but he uses his quickness in a way that is smart, balanced, and so you never tire of seeing it. It isn't full-blown, in your face, running as fast as he can at all times. It's methodical, sneaky, and always entertaining. The Kings are beginning to learn how to play and flourish in De'Aaron's nuanced pace and it's given us all some beautiful basketball to watch.
Humility: To me, Sacramento has never been gritty like Miami or "showtime" like Los Angeles. For me, the best parts of Sacramento have always been its feeling of comfort and its down-to-earth people. We aren't overly flashy in appearance and we aren't out to pick any fights. We just want to mind our own business and work our way to success together, and in an honest way. Much of the Kings' roster already embodies this sense of humility and togetherness. We see the quiet leadership of De'Aaron Fox, the unselfish play of Tyrese Haliburton, and the humble hard work in Richaun Holmes. Most recently, we all got a heavy dose of feels as we watched the Kings hug, smile, and celebrate together after Harrison Barnes' buzzer beater to lift the Kings over the Cavaliers for their fourth straight win. It is this type of pure, supportive joy for one another that feels so... Sacramento. The scene took me right back to the 2002 team and watching them laugh, love, and uplift each other every night. This same family mentality that the 2002 team had feels ingrained in Sacramento, no matter how much the city may change.
I love this city and I love this team. But recent years have shown me that there is a disconnect between how I view each of them. Sacramento is evolving into some big city vibes, but still maintains its unique humble energy. On the other hand, the Kings have suffered from a lack of a discernible identity for the past decade. I know we've said it a million times before, but there are a lot of good things coming together for this team, their identity being one of them, and this just might be the start of what we've all been so desperately waiting for. Tyrese Haliburton added more fuel to this flame of hope in my heart following Monday's win against the Spurs:
"We're all here to help change the Kings culture, get the Kings back to the playoffs, do special things here in Sacramento. Things that they haven't done in a long time."
What are some things you love about Sacramento that the Kings could embody in their identity as a basketball team?