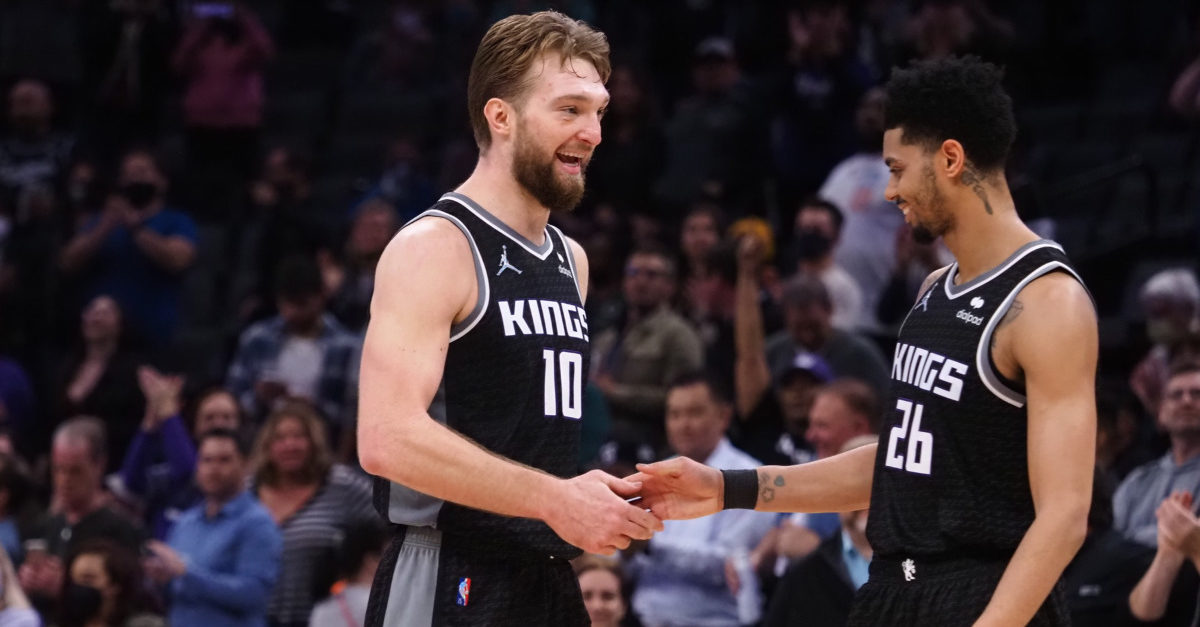 The 2022 NBA Trade Deadline has come and gone and the Sacramento Kings are a much changed team.
Gone are Tyrese Haliburton, Buddy Hield, Marvin Bagley III, Tristan Thompson, Robert Woodard II and Jahmi'us Ramsey.
In are Domantas Sabonis, Jeremy Lamb, Justin Holiday, Donte DiVincenzo, Trey Lyles and Josh Jackson.
After nearly two years of standing pat, Monte McNair has finally pushed in some of his chips to try to get the Kings back to relevancy.
Will Monte's big bet pan out? That remains to be seen, but as of now, all indications are that the Kings are a better team than they were two days ago. Domantas Sabonis is the best big man the Kings have had since DeMarcus Cousins, and as shown in his first glimpse of action last night against the Timberwolves, brings a new dimension to Sacramento's offense that hasn't been there for quite a while. The acquisition of Donte DiVincenzo also brings back a player that McNair and Sacramento have coveted since last year. DiVincenzo has struggled this season after missing much of last year and this year recovering from ankle surgery, but if he can get back to form, he's exactly the type of 3-and-D player the Kings have been looking to pair with De'Aaron Fox.
The Kings are also a far more balanced team than they were before. Whereas before the Kings were very guard focused and had little to no wing depth, the Kings now have a bevy of wings to try out for the remainder of this season in Jeremy Lamb, Justin Holiday and Josh Jackson. None of those guys are necessarily future solutions or even going to be part of the future (only Holiday is under contract for next season and he's the oldest Sacramento King, turning 33 in April), but they're better options than what the Kings had been trotting out, and allow the team to play a bit more traditionally. Lyles has bounced around from team to team and hasn't managed to carve out a consistent role, but his playstyle seems like it could fit next to a guy like Sabonis and he as a small team option for next season if the Kings like what they see over the final 25 games.
Moving on from Buddy Hield and Marvin Bagley III is arguably addition by subtraction in itself. While Buddy is one of the NBA's premier three-point shooters, it's been clear for a while that he's wanted out of Sacramento. When Buddy is on, he can singlehandedly win you a game. The problem is that Buddy can also do the opposite, because he usually keeps shooting like he's on even when he isn't. In Bagley's case, it's more of just a clean break for the Kings and him. Bagley has had a tumultuous career thanks to a combination of injuries and draft expectations that he hasn't been able to live up to. He now has the chance to start fresh in Detroit while the Kings no longer have to worry about trying to fit him in or figuring out when he'd be available to play.
The Kings were able to make these moves without giving up any future picks, which is always a shaky proposition given our recent history, but they did send out one of the most promising young talents in the entire NBA in Tyrese Haliburton. This is Monte's biggest gamble. For this to be worth it, the Kings have to be right that these guys they have acquired are going to make the Kings a consistent playoff team again, especially if Haliburton becomes the star that many of us believe he can be. History has not been particularly kind to the Kings when they make these kind of gambles and so the criticism and apprehension that we've seen since the trade has been well deserved. In the basketball world, the Kings are guilty until proven innocent. Time will tell, but Monte is clearly hoping that these moves will be able to change that narrative and move us forward to a better future. For our sakes, I hope he's right.