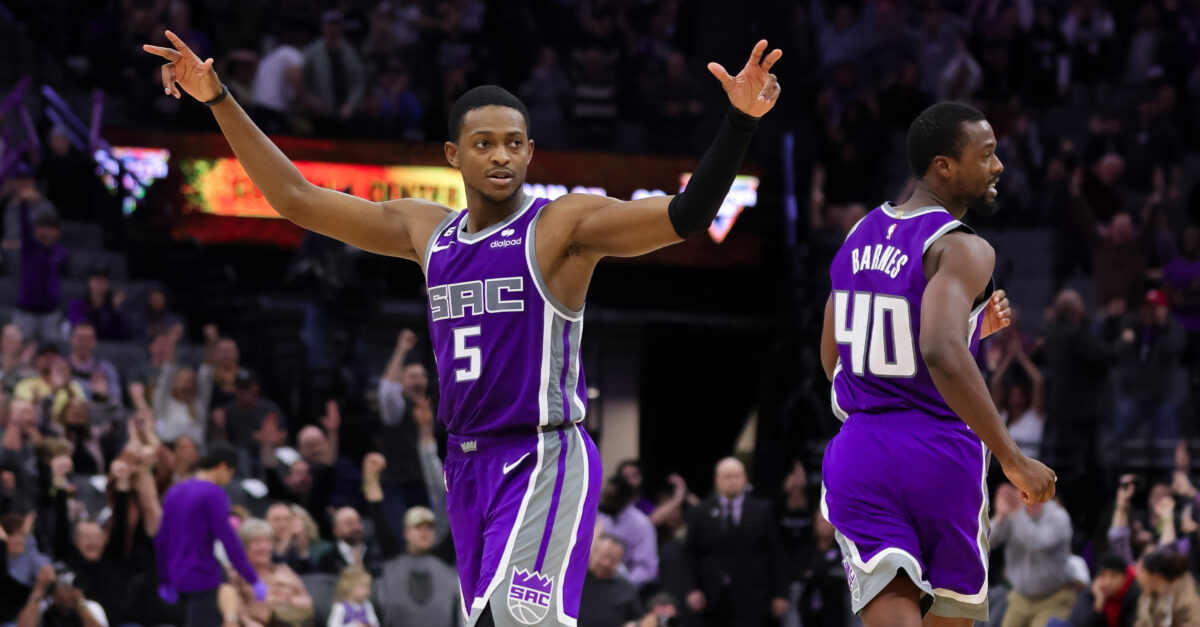 When was the last time you let yourself be excited about the Sacramento Kings? Not just "We are only a few years away" or "Next year's draft is looking good" or "Super team, just young" level of excitement, but real deal feel it in your bones excited? For me, it was on March 30, 2021, when I wrote what I thought might be my first and last commentary piece of my blogging career. In a dramatic reaction to the Kings winning five games in a row, I wrote about the Kings getting an identity makeover and finally cultivating a foundation of successful basketball. You know how they repaid me for this praise? By immediately going on a nine-game losing streak. Touché, Kings. I added this to the long list of times the Kings had let me down and proven that I am just another idiot with an internet connection and vehemently vowed to never write a commentary piece again.
Well, so much for that because here we are - I'm back, baby! I'm all in on the Sacramento Kings right now, and I've resurrected out of my self imposed retirement to tell you that you should be too - not just because there are a myriad of statistics and reasons to believe in this team, but simply because you deserve it.
I think most can relate when I say that I entered this season with the usual approach of skeptical hope. All signs pointed to things being better. A new head coach, impactful roster moves, and a stellar rookie all logically computed in my mind that this team would be better than years past. And yet, I wasn't ready to be too hopeful. Years of disappointment had taught me otherwise. But we are now 14 games in, the Kings are the best team in California with a .571 win percentage, and I have released all of my inhibitions. I am having an out of body experience. I irritate my dogs every game night as I clap, yell, and dance around my living room. I talk about this team to family, friends, coworkers, and pretty much anyone who is too polite to ask me to shut up. I experience soul-crushing FOMO every home game I am not able to attend. I am ALL IN and it feels amazing.
If you haven't reached this point yet, I don't blame you. It makes sense to leave some excitement, joy, and pride in the reserves for now. It makes sense to not fully open your fragile purple heart to the brutal world that is NBA basketball. It makes sense to hold back on making any bold statements about a team that has only left you heartbroken and disappointed for the past decade.
But here's a counter argument to those points: it doesn't make sense to not let yourself full enjoy this moment.
After 16 years of turmoil, it has become clear that success worth celebrating in Sacramento is rare, unfamiliar, and prone to be taken away in an instant. So why not enjoy it while it's here? And it's here in a big way. In case you need some numbers and reasons to push you over the edge:
Kings have won 5 games in a row and 8 of their last 10. Big victories include wins over the the Golden State Warriors, Cleveland Cavaliers, and Brooklyn Nets.
Head Coach Mike Brown is a revelation - he currently has the Kings at 2nd in the league in offensive rating and 7th in net rating.
De'Aaron Fox is playing at a supernova level (24.8 ppg, 6.4 ast, 37.5% 3 pt, 55.4% fg).
Kevin Huerter is the best 3-pt shooter in the league of those with 7 or more attempts per game (51.0% on 7.1 3pa).
The bench is legit. Kings are currently 2nd in the league in bench scoring at 42.8 ppg.
THE BEAM - it's got the city buzzing every game night and is a literal beacon of hope.
The thing I love most about being a sports fan is the low stakes, high rewards nature of it all. Obviously, the best thing that could happen is winning. Winning is euphoric. I get emotional just thinking about it. The worst thing that could happen? This all falls apart again and I was wrong about the playoff drought ending this season and the Kings never losing a basketball game again. And as terrifying as it has become in our digital age to be wrong about something, I remind myself of one simple thing: WHO CARES? You know who else is wrong about stuff every day? Literally every person on this planet. So I'd rather be wrong about this team than suppress my raw emotions and miss out on the opportunity to feel pure basketball joy in Sacramento again.
As dramatic and insane as I probably sound, I hope you join me. I hope you allow yourself to be excited, cheer like this team has never broken your heart before, hug a fellow fan, and experience the ecstasy of beautiful basketball in Sacramento. Simply because you deserve it.