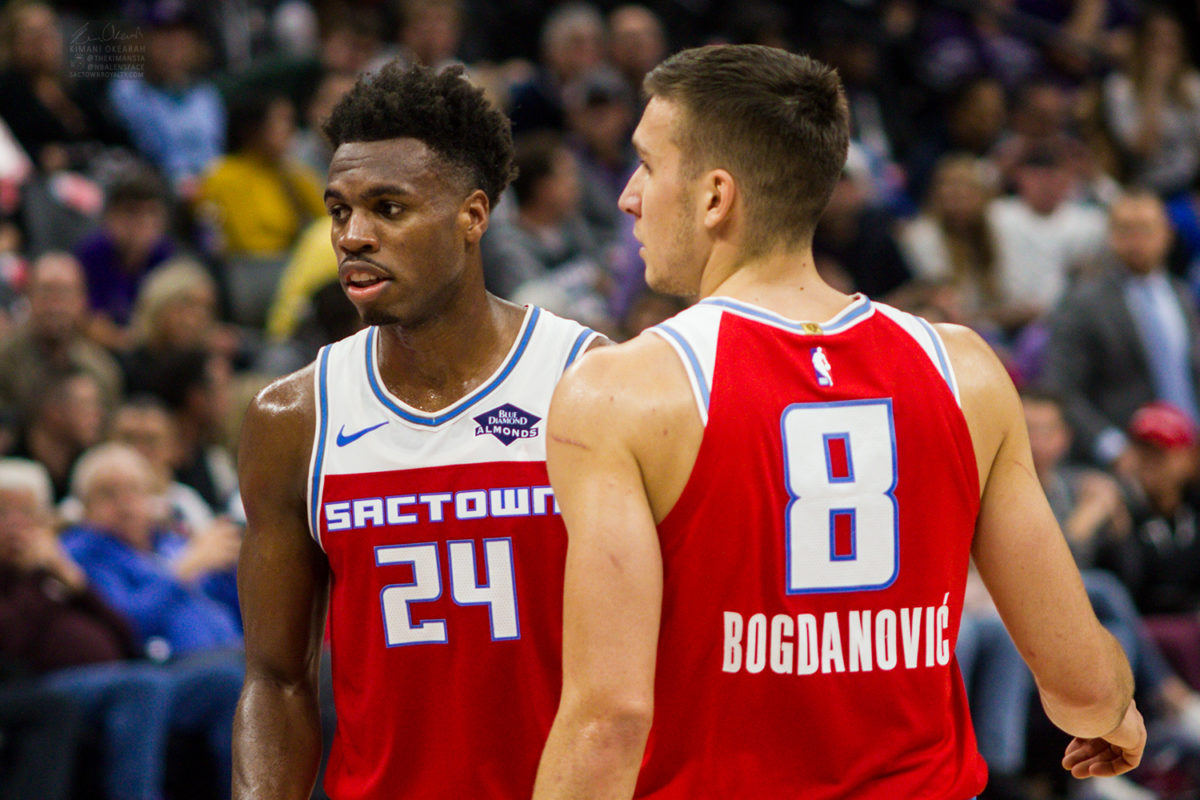 The Sacramento Kings have two starting caliber shooting guards at their disposal and when the season resumes, Luke Walton needs to make a decision.
Buddy Hield held the starting role for much of the early months of the season. During this time, Hield's dynamic backcourt partner De'Aaron Fox dealt with an ankle sprain that kept him out. Hield's game took a sharp left turn as he was no longer asked to be the Road Runner of the offense. Instead, Walton gave Buddy the freedom to hunt wabbits, leading to a large debate between Walton's ineffective utilization of Buddy's abilities versus Walton's irrational vision for the elite shooter. Our own Tim Maxwell went into great detail on this topic as well.
With Fox out, Buddy became more than just a shooter on offense. He began to create more as isolations, pick-and-rolls and dribble hand-offs went through Buddy more often than it did with Cory Joseph. Nonetheless, Buddy still put up averages of 19.8 points, 4.8 rebounds, 3.1 assists while shooting 39.5% from deep in what many considered to be a down year for the guard. Now 39% is a fantastic rate, but it's nowhere near where Buddy could've been.
Enter Bogdan Bogdanovic, whose season took some setbacks due to hampering injuries and inconsistency largely occurred because of it. Bogdanovic is well equipped to be a better playmaker on offense than Hield and that has been evident for quite some time. Both bring unique skill sets to the table. However, it was clear that when Bogdanovic was on the floor, the ball movement improved and went through more hands. And more importantly, Bogi's defense was far better than that of his counterpart.
Starting Buddy
The locks for starters should be Fox, Harrison Barnes and Richaun Holmes. Marvin Bagley's situation is still speculative to this point and the way the season went, I'd like to say Nemanja Bjelica will be starting at the four. So with this starting lineup in mind, putting in Buddy brings back the possibility of the lightning fast duo of Fox and Buddy to return.
Teams haven't played in months, so the Kings' chances to win games when the season resumes could rely on them simply outrunning the competition. We saw it last season with Dave Joerger's squad. It gave the Kings an explicit identity and one they stuck to for a while. Though it disappeared this season, running Fox and Buddy as starters could mean a rise in catch-and-shoot opportunities for Buddy when others draw attention. Buddy still created when Fox returned from injury, so we'd just have to wait and see how Walton's playbook has altered, if there were alterations, when play resumes.
If Bagley is back and part of the bench core, a reserve lineup would include Joseph, Bogdanovic, Kent Bazemore, Bagley and either Alex Len or Harry Giles. An imperative reason to have Bogi on the bench is having a creator alongside Bagley at times when Fox is off the court. Not to forget among the reserve group, Bogi would be one of the main offensive initiators and that could be something to consider when reintegrating Bagley into the mix.
Starting Bogi
Inserting Bogi as the starting two while keeping the starters from the previous scenario the same could maximize the playmaking off the bat. A starting lineup consisting of Fox, Bogi, Barnes and Bjelica was used frequently before the season took an unprecedented turn. The only difference was Giles started due to Holmes being injured, but Holmes' defensive presence would bring a much needed identity on that end.
The Kings were 9-4 in 13 games with those four starters and though starting lineups aren't as essential to closing lineups, it's a decent indicator to how the team fared for recent games leading to the season's suspension. You lose speed and elite shooting with Bogi starting, but gain better defense and ball movement among other pros and cons.
Plus, Bogi must've definitely benefited off the hiatus as he usually plays international ball during regular offseasons. With the extra rest, we could see FIBA Bogi whether he starts or not and that itself is a frightening thought.
Having Buddy off the bench did wonders for the Bahamian. Walton flipped Buddy for Bogi in the starting lineup on January 24 and Buddy's shooting remarkably improved. In 20 games coming off the bench, Buddy shot 88-185 from deep, a 47.5% clip. And playing more minutes alongside Joseph and Bazemore could see improvements in defense as communication would be stronger and sharper with those two defensive-minded veterans.
Starting Both
The Kings could also do something completely different and start both of the guards simultaneously. A lineup of Fox, Buddy, Bogi, Barnes and Holmes has appeared in seven games (though it doesn't show the amount of minutes, thus making it difficult to compare to others) and can be something we see more of going forward.
It emphasizes small ball situations, allowing Holmes to be the focal point in the paint on both ends, posting up Barnes, shooting and running from Buddy and the playmaking of Fox and Bogi. Though this lineup arguably puts out the Kings' five best players at the same time, it might be better suited to roll it out as the game goes on and as coaches make adjustments rather than bringing it out right away for an opposing coach to plan against.
Regardless of Walton's decision, the Kings having good problems to solve is a much better topic of discussion than topics of previous seasons. Based on how the season ended, I'd start Bogdanovic due to how the team played as a result of Buddy going to the bench. But because the team's form and chemistry will need time to rediscover itself, I wonder what Walton must be thinking.