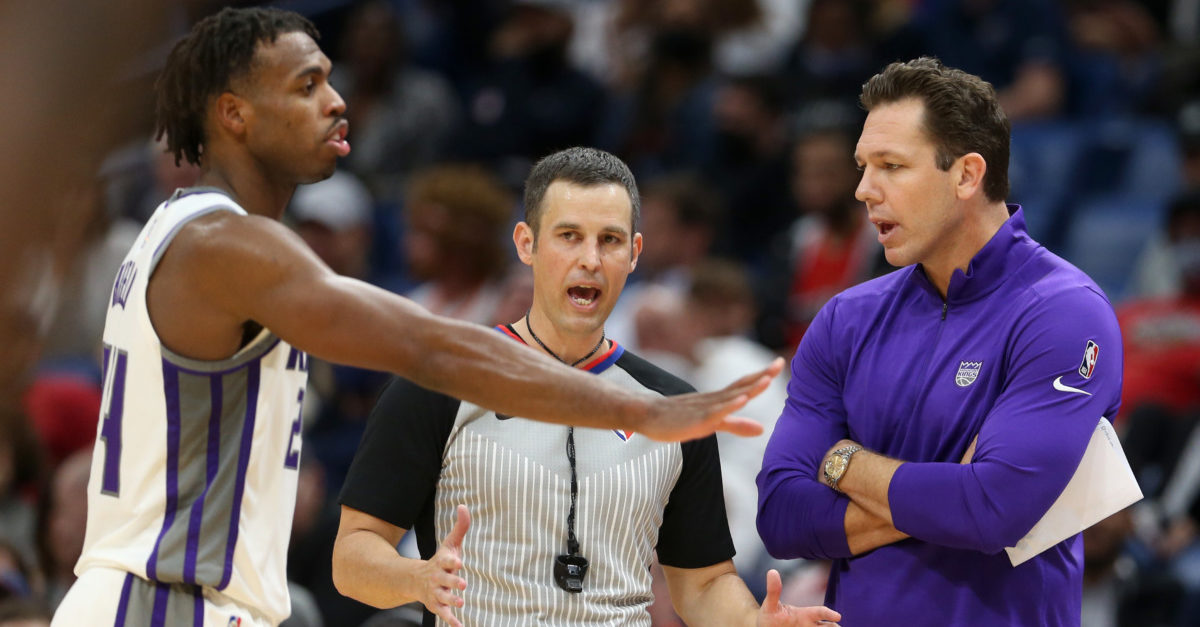 Despite last night's win, the focus on the Sacramento Kings will remain on Luke Walton and the temperature of his coaching seat. But anytime a Kings coach seems likely to be fired there is an inevitable debate to be had. Is it actually the coach's fault?
Good news, my friends. I have compiled the official guide for Kings finger pointing. I'm not here to tell you the right answer (as the truth is that no single person is responsible for the Kings sucking for the last 15 years and multiple people likely should be held accountable), but I am here to provide you with the definitive argument for why each person is to blame.
Luke Walton
Let's start with the most likely candidate to be fired. This is Walton's third season in charge of the Kings. The reasons for dismissing him are well-documented, but they largely circle around his overall lack of success in Sacramento. Walton inherited a team that won 39 games the season before, and Walton has led the Kings to back-to-back seasons of 31 wins and 41 losses. Even adjusting for shortened schedules, the Kings have been worse than they were before, despite it being pretty universally agreed upon that the roster has been improved over that time.
Remember, that final Joerger season had a 21-year-old Fox, Buddy Hield, Harrison Barnes, Bogdan Bogdanovic, and Willie Cauley-Stein as the top five players. Depth? The depth was Nemanja Bjelica, rookie Marvin Bagley, and Iman Shumpert. It was not a good roster. It still won 39 games.
Aside from the record itself, the Kings have consistently had inconsistent play. They'll beat teams with better records and then collapse against worse teams. We've also regularly seen the offense sputter at the first sign of resistance.
Add all of this up, and it's clearly Luke Walton's fault.
Monte McNair
Monte McNair assembled this roster, and chose to keep Luke Walton this past offseason. If anyone is to blame for the Kings struggles, it must be McNair, right?
Consider the recent adjustments the Kings have made. After starting the first 11 games, Maurice Harkless was moved to the bench in favor of Chimezie Metu. Harkless fell completely out of the rotation Monday, registering his first DNP-CD of the year. Retaining Harkless was one of the few roster moves McNair made this offseason. He also signed Alex Len (who has registered six DNP-CDs so far) and traded for Tristan Thompson (5 DNP-CDs). The erratic nature of players starting one night and being glued to the bench the next could be pinned on Walton, but it speaks to the larger issue of roster construction.
McNair built a roster full of guards and centers, with only and handful of forwards. The result has been a patchwork of players playing away from their best position, or being forced to play a larger role than they should.
You could argue that the roster imbalance would have been solved had the Buddy Hield trade gone through, but "things that almost happened" is becoming a trend for McNair. They almost had a deal with Milwaukee for Bogdan Bogdanovic, they almost matched his offer sheet with Atlanta (a deal that looks very reasonable at the moment), they almost traded players at the deadline, and they almost traded Buddy to the Lakers. Are all of these McNair's fault? Of course not, but when so many deals fall just short you begin to wonder. As the old saying goes, if you run into an asshole in the morning, you ran into an asshole. If you run into asshole all day, you're the asshole.
Between the growing list of changes-almost-made and the current roster construction, the current struggles are obviously Monte McNair's fault.
The Players
At the end of the day, the Sacramento Kings have cycled through coaches and GMs and ownership groups, and yet the players of the floor are the ones who win and lose games in the end. Missing shots, not executing plays, not taking opponents seriously. We can blame the coach if we want but these are professional athletes who should be expected to put forth their best efforts every night.
There's nobody to blame except the players themselves.
Vivek Ranadivé
Vivek has owned the Sacramento Kings since 2013. That means Vivek has overseen a playoff drought of 8 years under his ownership, compared to the first seven years of our drought coming under the Maloofs. Even if we removed the Maloof years, the Sacramento Kings still have a longer active playoff drought than any other team. Since Vivek took over he has employed three General Manager, 5 head coaches, and a half dozen advisors with nebulous titles and accountability. A revolving door of personnel, crackpot ideas of 4-on-5 basketball and jazz bands, and not one iota of on-court success.
Clearly this is all Vivek's fault.
Matina Kolokotronis
Chief Operating Officer of the Kings. She's been with the franchise for 22 years and is the highest-ranking individual who spanned both the Maloof and Vivek eras. I can't tell you a single basketball-specific decision she's made, or any specific thing to blame her for, but doesn't that seem a little too convenient that there's nothing specific and public for us to be mad at?
Clearly, Matina is to blame!
Vlade Divac
Let's be honest, if he'd just taken Luka (or a half dozen other possible players) instead of Marvin Bagley, we'd probably have made the playoffs by now. That's without even getting into many of Vlade's other terrible decisions as GM of the Kings.
This is all Vlade's fault.
The Kings Herald Staff
Rob, Akis, Biegler, Fippin, Blake, and me, we all found the old site somewhere around 2006 or 2007. Our ongoing negativity has obviously impacted this team in irreparable ways. If only we were a little more positive, maybe the Kings would be better.
We are to blame, obviously.
The Republic of India
The damn preseason trip ruined everything! We'd be so much further along right now if only the Kings had gotten a regular preseason that year!
It's all their fault!
Iman Shumpert
Without Shumpert, the team's swag vanished. Without swag, this team is clearly nothing.
You, the person reading this
You know what you did. This is all your fault.