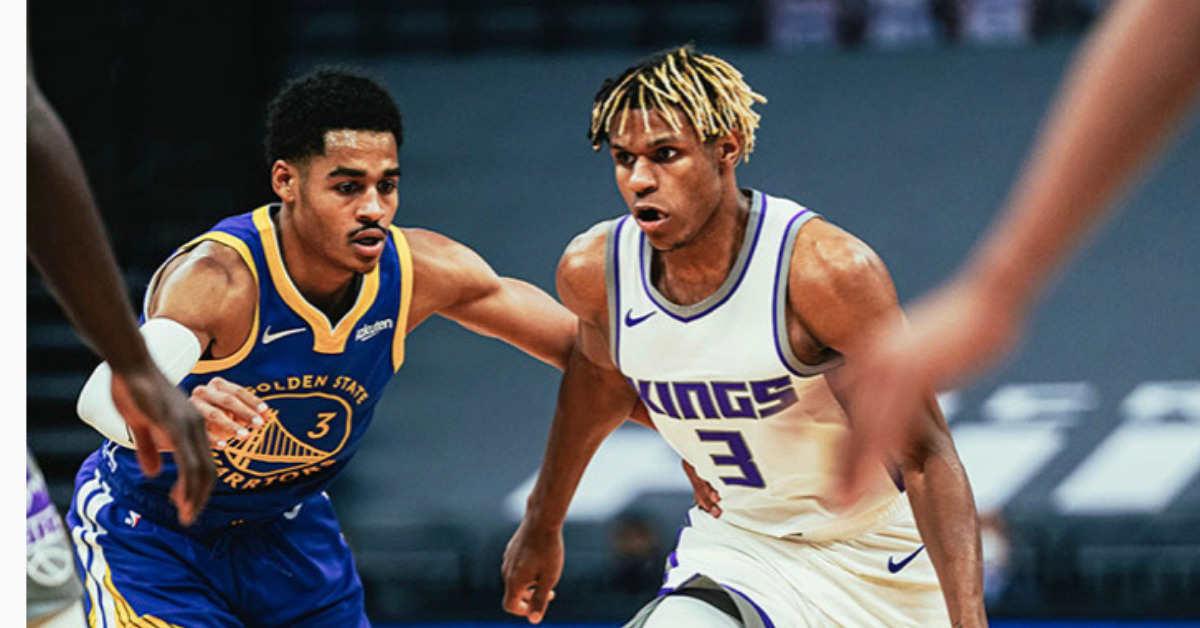 The G-League bubble has arrived, with the first game of the season featuring the star-studded G League Ignite roster against the Santa Cruz Warriors at 8am PST on Wednesday, February 10th.
The Sacramento Kings have assigned both of their most recent second-round selections, Jahmi'us Ramsey and Robert Woodard II, to different rosters in the bubble as a development opportunity.
After seeing nothing but garbage time minutes from them on the Sacramento roster, extended playing time will be an ideal peak into their intriguing skillsets.
Jahmi'us Ramsey - 6'3" guard, 43rd pick
Jahmi'us Ramsey is the seventh youngest player currently on an NBA roster, but his shooting stroke is mature beyond his years.
Ramsey can already succeed as a spot-up shooter but has untapped potential as someone who can create for himself and others off the bounce. He has a verticality that can lead to highlight dunks, strength to defend multiple positions, and speed to both blow by opponents and contain opposing guards.
Not to mention his killer dance moves.
Me every time Jahmi'us Ramsey checks into the game: pic.twitter.com/Bm0kzrJ5Vn

— Brenden Nunes (@BrendenNunesNBA) December 14, 2020
During his time in the bubble, he will be playing for the Agua Caliente Clippers alongside Ky Bowman, Amir Coffey, Daniel Oturu, Jordan Ford, and Jay Scrubb.
You can check out a full profile of the 19-year-old Jahmi'us Ramsey here.
Agua Caliente Clippers first five games:
Thursday, February 11th vs. Rio Grande Valley (4pm PST)
Friday, February 12th vs. Iowa (4:30pm PST)
Sunday, February 14th vs. Delaware (12pm PST)
Tuesday, February 16th vs. Salt Lake City (12:30pm PST)
Wednesday, February 17th vs. Raptors 905 (9:30am PST)
Robert Woodard II - 6'6" wing, 40th pick
Robert Woodard spent two years playing at Mississippi State before making his way to the NBA and quickly became known for his outlier strength as a rookie.
Kings rookie Robert Woodard II recorded the highest bench press on the team in baseline testing before training camp began, per coach Luke Walton.

"He's a strong young man," Walton said. "... In a grown man's league, coming out of college, you don't normally see that."

— Jason Anderson (@JandersonSacBee) December 7, 2020
That strength translates on the court with his promising defense at 235 pounds. Stronger players are often slower on their feet, but that is not the case with Woodard, where lateral quickness and defensive upside were one of his primary intrigues as a prospect.
That combined with a solid shot from beyond the arc during his sophomore season is the foundation for the ever so valuable 3&D mold. Woodard can make an impact on the floor without the ball in his hands, similarly to what Sacramento has in DaQuan Jeffries.
Woodard was assigned to the Austin Spurs where he will play alongside Khyri Thomas, Cam Reynolds, Quinndary Weatherspoon, Keita Bates-Diop, and Tre Jones.
Read the full draft profile of Robert Woodard II here.
Austin Spurs first five games:
Wednesday, February 10th vs. Memphis (9:30am PST)
Thursday, February 11th vs. Lakeland (4:30pm PST)
Saturday, February 13th vs. Erie (9:00am PST)
Monday, February 15th vs. Fort Wayne (12:30pm PST)
Tuesday, February 16th vs. Canton (12:00pm PST)
2021 Draft prospects on the Ignite squad
For the first time, the NBA has allowed incoming draft prospects to bypass college and instead play for a designated G-League roster. In its debut, two potential top-five selections elected to take this route and will be showcasing their talents in the first game of the bubble.
Jalen Green, who is from Fresno, is a hyper-athletic 6'6" guard with outlier burst and bounce who has been featured on highlight reels throughout most of his high school career. His shot creation ability with step-backs, a high release, and an overall shiftiness has intrigued scouts for years now.
Jalen Green is of the most versatile upcoming hoopers. Looking forward to his GLeague debut tomorrow. pic.twitter.com/BaR0d00JhU

— SLAM (@SLAMonline) February 9, 2021
Jonathan Kuminga will star alongside Green on the Ignite roster. Throughout high school, Kuminga was a man amongst boys, overpowering his opponents on a nightly basis with his strength and tantalizing athleticism at 205 pounds.
Standing at 6'8", with a 6'11" wingspan, Kuminga is a raw talent with undeniable upside on both ends of the floor and plays the most valuable position in the modern NBA. You will not want to miss out on the highlights produced by these two young talents on a daily basis.
Jonathan Kuminga with the poster dunk in practice today! @NBAGLeague | Team Ignite pic.twitter.com/j7JZw8xgSi

— Ballislife.com (@Ballislife) February 9, 2021
Outside of the headliners in Green and Kuminga, Daishen Nix is 6'5" point guard who could find himself selected in the first-round come the 2021 NBA Draft. The roster is also filled out with Cody Demps, who played at Sacramento State and spent time in Stockton, and longtime NBA veterans Jarrett Jack and Amir Johnson.
From Sacramento's point of view, there is plenty of reason to tune the Agua Caliente Clippers, Austin Spurs, and G-League Ignite.