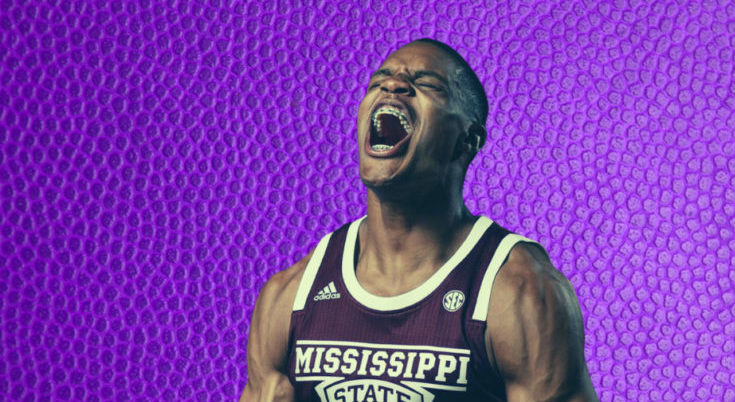 When Sacramento came on the clock at pick 35, Robert Woodard II was the fourth-highest remaining prospect on my board behind Tyler Bey, Tre Jones, and Jahmi'us Ramsey - Ramsey would later be selected by the Kings at pick 43.
In a deep draft where talent was likely to be found well into the 30s and potentially 40s, there were an overwhelming amount of guards and Sacramento was in no position to select another after Tyrese Haliburton fell into their lap earlier that night.
Tyler Bey and Robert Woodard II were in a tier of their own when it came to the remaining players at 35 that I would qualify as wings.
Moving down five spots to 40 and selecting Woodard, while acquiring an additional asset from Memphis, was great business from Monte McNair and the entirety of the new front office.
Woodard stands at 6'8" with an engulfing 7'1" wingspan, while also possessing outlier strength, weighing in at roughly 230lbs in his sophomore season at Mississippi State. He's an absolute unit, who apparently is already the bench press team-leader at 20 years old.
Luke Walton said in the team's testing, rookie Robert Woodard II was tops on the bench press. Might not be time to nickname him Deebo, but that's impressive for a rookie.

— Jason Jones (@mr_jasonjones) December 7, 2020
The intrigue in the Mississippi State product revolves around his defensive versatility if he can properly utilizing his ideal build, a refreshing effort level, high awareness, and surprising lateral quickness.
In his sophomore campaign, Woodard was assigned with defending a wide range of future drafted peers from guards such as the 6'3" Immanuel Quickley or 6'5" Isaiah Joe, to the 6'8" Saddiq Bey. Woodard always seemed more than capable and up to the task.
Joe, who isn't exactly known for an overly explosive first step, struggled to beat Woodard off the dribble. The same could be said for Saddiq Bey, who simultaneously could not simply power through the grown man strength that the 43rd pick possesses.
Sam Vecenie, the NBA draft expert for The Athletic, had high praise for Woodard's lateral speed on the Game Theory Podcast.
"(Robert Woodard's) defensive ability at 6'7" with a 7'2" wingspan is real. That dude can slide his feet like crazy... I would have taken him over Zeke Nnaji for sure." -@Sam_Vecenie

— Brenden Nunes (@BrendenNunesNBA) November 20, 2020
The Columbus, Mississippi native was regularly tasked with containing the opponent's smaller guards. While chasing shooters through screens is an unideal use of his playmaking capabilities and understandably difficult at 6'8" and 230 pounds, it highlights his versatility and willingness.
It's probably unreasonable to expect the incoming rookie to stay in front of starting two-guards in the association, though.
I'd suspect him to defend as a small-forward initially, but don't be surprised to see minutes experimenting with Woodard at the power forward, or maybe even center. That is only within the realm of considerations because of the off-ball prowess and infamous strength that Woodard possesses.
There is never a moment where he is not surveying the floor, with his head is always on a swivel, waiting for the ideal moment to rotate and blow up a play. Everything from oh-so-needed rim protection and hard digs and recovers to drawing charges and basic rotations. He is a defensive playmaker, and Sacramento was in desperate need of one, or more (Haliburton), of those prototypes.
Ironically, this may also be his best offensive skill. Self-evident in the above clips, getting defensive stops - particularly steals - frequently commences fast-break opportunities.
Robert Woodard averaged 1.1 steals and 1.0 blocks per game in his most recent season.
Steals will lead to an increased amount of transition opportunities for De'Aaron Fox, Buddy Hield, and Marvin Bagley to work their magic in the open court.
This is why Kent Bazemore felt close to a savior when he was acquired mid-season and a prominent reason why Robert Woodard's presence could increase the pace.
In 2018-19, when Sacramento finished 5th in pace (103.1), they uncoincidentally were 7th in steals per game (8.3).
In 2019-20, the Kings were noticeably slower and it showed in the team finishing 21st in pace (98.9) and 15th in steals per game (7.7).
And when he has some room to load up, there is no lack of explosion or ferociousness. He'll even mean mug, flex, pump the crowd up, and express his fire, which I'm Sacramento fans will quickly cherish.
In Robert Woodard II's freshman season, he started a single of the 34 games he appeared in with a mediocre average of 17.5 minutes. He was a liability on the offensive end of the floor at times, and that was a clear emphasis throughout that offseason for Woodard.
After shooting 27.3 percent from range on limited attempts (12/44) in year one, Woodard revealed encouraging growth in year two when he shot 42.9 percent on an enlarged, yet still limited sample (30/70). Personally, I buy the shot and see a route to him possessing gravity that will be crucial in presenting the paint for two premier slashers in Fox and Bagley.
Woodard does not possess the handle to break anyone down off the dribble, but one or two dribbles attacking a closeout then pulling up or swinging it to the next man is enough.
It's not a quick release by any means, and there is not much of a sample of movement jumpers (anything is possible), so I wouldn't expect him to be a knockdown threat on offense, but he only needs to not be a negative and earn his money on the defensive end.
I had Robert Woodard II ranked 31st on my final big board. Sam Vecenie ranked Woodard 21st, Kevin O'Conner ranked him 20th.
Clearly, Sacramento is a fan of his potential as well. There are always contract negotiations to be had among second-round selections and Woodard just inked an atypical four-year contract.
It is on the longer side of deals (just by one year, really), showing a commitment and belief in him as a player. He will be making $1.5-million in his rookie season and seemingly be playing with the main club rather than Stockton.
For reference, the 30th pick (Desmond Bane) is guaranteed $1,936,440 in year one.

Woodard, who is a first-round talent in my eyes, getting $1.5-million is a good deal. https://t.co/FavHpkYuuz

— Brenden Nunes (@BrendenNunesNBA) December 1, 2020
I expect incoming rookies to have rough starts this season due to the shortened offseason, but I'd bet on him having a rotation spot by season's end and becoming a fan favorite rather quickly.
If all pans out well, Robert Woodard II may even be the ideal Marvin Bagley III frontcourt partner of the future.