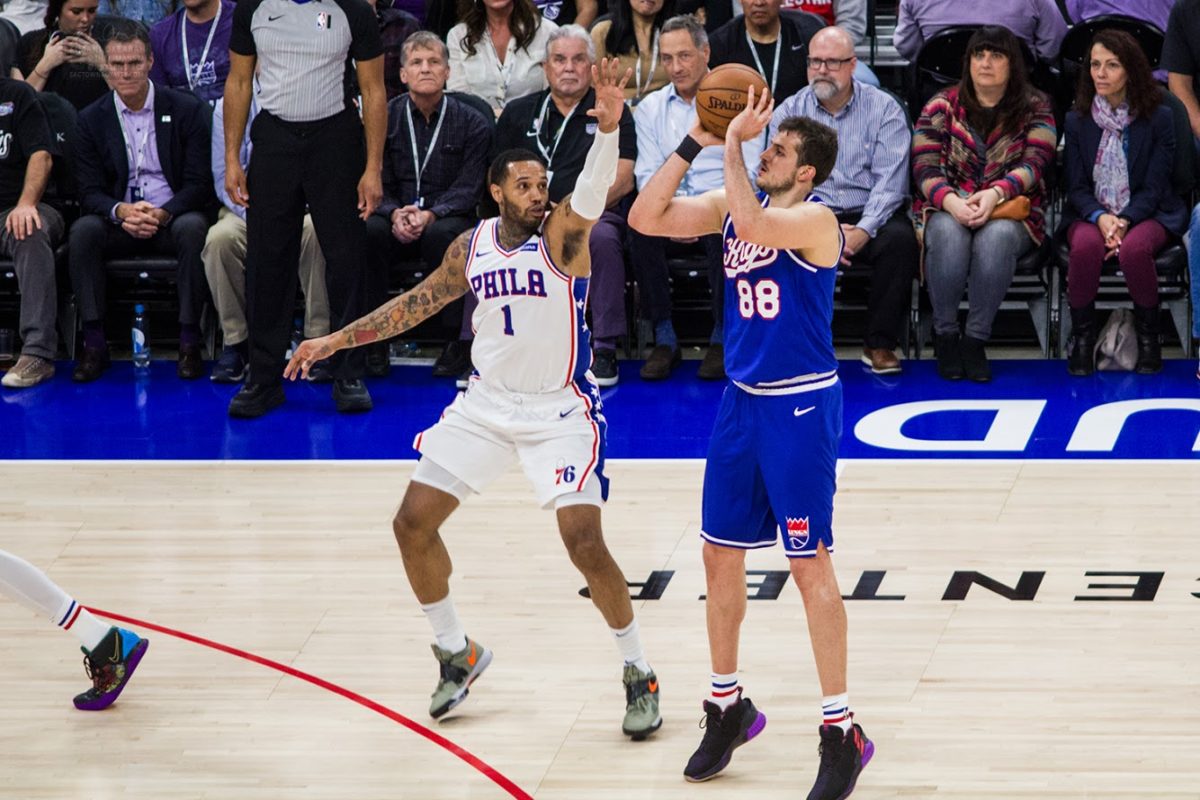 Convincing Nemanja Bjelica to stay in the NBA and not leave for Europe is one of Vlade Divac's best moves as the General Manager of the Sacramento Kings.
Bjelica tore it up in the early months of the 2018-19 season under then head coach Dave Joerger. He drilled buckets from Serbia (he still does), became an underrated rebounder and played a vital role in the success* Sacramento saw (*success in this context meaning not being mediocre for a decent period of time).
The Kings rode Bjelica's scorching hands until his fingers got frostbite. Unfortunately for the Serbian, he plummeted into a slump that took time to escape. He eventually found his rhythm later in the season, but it wasn't near the level he was at to start the year.
In his second season with the Kings, Bjelica improved in numerous aspects of his game and for someone that recently turned 32, that's something you don't see often but it's a positive regardless.
Much of Bjelica's more consistent success comes through proper utilization by Luke Walton. For this piece, let's watch the tape on what factors have led to Bjelica's growth as a 32-year-old power forward in Sacramento.
Bjelica upped his rebounding average to 6.4 a game, a new career-high. Naturally, his defensive rebounding percentage (DRB%) has increased to 19.4, which is also a career-high.
One of the biggest reasons for the increase is due to more small-ball lineups under Walton. Under Joerger, Bjelica played a mere 1% of his minutes at center. With Walton this season, that figure rose to 17%. Other factors like injuries to Marvin Bagley III and Richaun Holmes, Dewayne Dedmon's overall form and limited minutes to Harry Giles also contributed to Bjelica seeing more time at the five but nonetheless, small-ball was in full effect.
When you play small-ball and have guys like Bjelica and Harrison Barnes getting time at center, rebounding becomes a potential issue. Length becomes a disadvantage against the opposition's frontcourt so rebounding essentially transforms into a team-effort, rather than relying on one or two tall guys grabbing missed shots.
On this play, Milwaukee is running a small-ball lineup of their own with the 6'10€ Ersan Ilyasova at center. Bjelica, also 6'10€, does a good job of keeping Ilyasova behind his back when Ilyasova attempts to get a superior rebounding position. Bjelica shields him off and notice how Kent Bazemore and Yogi Ferrell immediately run to the glass when the shot goes up. Rebound to Bjelica.
You're down by 18 points with around 30 seconds to play in the second quarter. Most players in this scenario would just want to hurry it up and go into the locker room, but Bjelica gives it his all on this play despite the scoreline. His effort here gets rewarded as Bjelica is key to the massive comeback that happens in the fourth quarter.
Defending a pick-and-roll between Andrew Wiggins and Karl-Anthony Towns, Bjelica gives Towns a minor shove that disrupts his pivot momentum. Wiggins goes straight for the rim, but Bjelica cuts him off so Wiggins tries to get fancy with a eurostep but misses. Buddy Hield and Barnes don't box out Towns (which falls more on Hield), who runs into the paint with ease. However, Bjelica is the first one off the floor and secures the rebound. Towns and Wiggins try to rip it away, but Bjelica still holds on.
Bjelica dished out a career-high 2.8 assists per game and naturally, his assist percentage of 14.6 is also a personal best. The Serbian isn't always asked to be a passer or any sort of creator under Walton, but Bjelica does a good job finding cutters in the post with lead or bounce passes, which we'll look into more.
In this play, Hield serves as a dummy on the screen, which opens up a lane for Barnes to cut into as Hield bounces back around Richaun Holmes. There's three options for Bjelica in the post here: a lead pass to Barnes for a layup, kick it out to Hield for a three, or pass it crosscourt to Cory Joseph (the riskiest option).
Devonte' Graham and Miles Bridges miscommunicate on who they're guarding, opening up the first option on the table and likely the one Walton was aiming for. Barnes slices through the middle of the defense and Bjelica serves the pass on a platter, with Barnes showing the patience to finish it off calmly.
This is one of my personal favorites from Bjelica this season. It starts with a hand-off to Hield who has two options: make the pass to Holmes for a push-shot or play it back to Bjelica. Hield opts for the latter, giving it back to Bjelica who drives down the baseline.
Bjelica draws in Willie Cauley-Stein and proceeds to lob it up to Holmes for a thunderous alley-oop. I've ran this clip back at least 20 times and what amazes me is that not once does Bjelica look at Holmes prior to the pass. Bjelica recognizes that Holmes is open once he draws his man, Cauley-Stein, to the baseline and simply lobs it up. Bjelica finally looks once the ball is out of his hands. Chef's kiss.
Anytime you have the ball and your teammate is attempting a backdoor cut or coming for a dribble hand-off (DHO), you need to know if they're fully committed to that action. Otherwise, it could lead to a preventable turnover if your teammate changes minds mid-action.
This time, Bjelica is anticipating Barnes to come for a DHO. You can tell because the palm with the ball extends further away from the defender to where only Barnes can receive it. However, Barnes dupes Ben McLemore and cuts back inside, so Bjelica splits the defenders with a brilliant bounce pass for an easy bucket.
Remember this play? You saw the same exact play against the Charlotte Hornets earlier. This time, Bjelica in the post bounces it to a cutting Bogi who finishes off the pass. If Semi Ojeleye stayed with Bogi for just a little longer, a pass to Bogi would be off the table. Ojeleye thinks Marcus Smart would switch back onto Bogi but there's miscommunication there again, leading to an easy score for the Kings and an easy pass for Bjelica.
The last area of film we'll look at is Bjelica's shooting from beyond the arc. He averaged 11.9 points a game this season, marking yet another career-high. His field goal percentage came out at 47.5 (4.5 FGM/9.4 FGA), which is just shy of his 47.9% (3.7 FGM/7.7 FGA) rate from last season. From beyond the arc, Bjelica shot 42.4% on 4.6 attempts which is a career-high as well.
If you could describe Bjelica's long range shooting in one word, what would it be? I'd say fearless. Watching his attempts, Bjelica is not afraid to let it fly from anywhere on the court and that's what made him so dangerous anytime he stepped on the court. Opposing defenses couldn't afford to give him any space because if they did, they'd regret it.
Dedmon was supposed to be the pick-and-pop threat for the Kings entering the season, but that turned out in disappointment. Fortunately for Walton, he could turn to his Serbian sniper who upgraded the damage he dealt with his shots.
In this play, De'Aaron Fox has no choice but to pop it back out to Bjelica after the Suns read the play. Bjelica is backed up along the arc, but it doesn't matter to him. Devin Booker doesn't contest it well enough and Bjelica buries the shot during a key stretch in the game.
In shots from the left corner, Bjelica converted on 52% of them (13/25). That comes off as a relatively small sample size, especially considering Bjelica's struggles from the corner last season, but you still have to get him the ball when he's that wide open from deep.
Joseph fakes a look one way, then lobs a skip pass to Bjelica in the corner who has all the time he needs to hit the shot. Bjelica shot 9/27 from the left corner in the 2018-19 season, but that area of his game definitely improved this year.
The gravity that Fox creates with his electrifying speed dominates this play. On this pick-and-pop, both CJ McCollum and Mario Hezonja immediately get sucked into Fox's drive after Bjelica's screen. Fox realizes that with Hezonja not tracking back with his man, Bjelica is wide open.
Fox then swivels back and makes the pass to Bjelica who drains the three from 31 feet like nothing. I'm expecting the Kings to run more pick-and-pops for Bjelica in Orlando because his floor spacing ability is a trait that none of the other bigs on the roster have as well as using him as the trailer when they run down the floor.
Bjelica took advantage of playing in 28.5 minutes a game, averaging new bests in multiple categories and for someone playing hefty minutes, that's exactly what you want to see. Bjelica's contributions tend to go a little under-the-radar and with his three-year contract expiring at the end of next season, the Kings might have to look for a replacement if they are unable to retain him. It's not clear if Bjelica will sustain this level of play next season, but he's been worth every penny so far. He's like Holmes in that regard - he knows his role, sticks to it and does a great job in it.