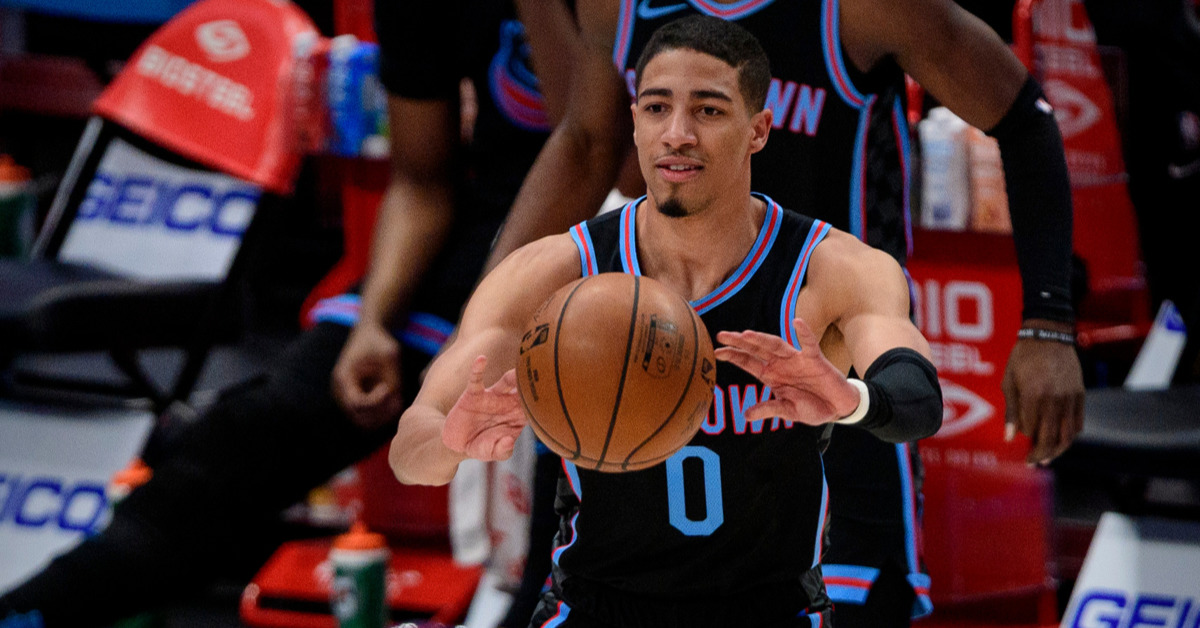 Tyrese Haliburton is averaging 18.5 points, 9 assists, 3 rebounds and 1.7 steals since he was inserted into the starting point guard position for De'Aaron Fox, who is out due to Health and Safety protocols. The rookie continues to show that he not only belongs in the NBA, but will be one of the league's premier players for years to come.
Let's take a few moments to appreciate one of the best aspects of his game over this last four-game stretch: his passing. (It has been one of the most enjoyable aspects of this season, not just in the last four games, but it has been on even more of a display with Fox out.) It's no secret that Haliburton can dish out dimes, but it's the various ways he can do it that is impressive. Now that teams have begun to respect his three point shot, his floater shot, and his pick-and-roll game with Richaun Holmes he is able to manipulate defenders a lot. Additionally, the touch he puts on passes and the angles he uses is just elite stuff.
Let's check it out.
Tricky Tyrese
Here, the Lakers have to fully commit to Haliburton and Holmes on the pick and roll because it is one of the Kings go-to plays for offense. Meanwhile, Mo Harkless cuts to the basket and the Lakers lose him. It results in a beautiful no-look pass from Tyrese for a basket.
Here, Tyrese uses his ability to knock down threes to step back and make it appear he's going to launch a shot. Instead, he dribbles out and around the defender once he commits. Then comes a pass out for an open three across court. Tyrese is already heading back down to the other end of the floor before the shot is up.
This one is just too pretty. He uses the pump fake on the three, gets the defender in the air and dribbles around him. As he does this, Holmes angles toward the basket to eat. Tyrese delivers another no-look pass.
Tyrese is so good in the pick and roll even without Holmes on the floor that teams always have to commit to defending it. On this play, the threat of it draws three defenders. Tyrese leans around to peak into the lane and threads a pass into Marvin Bagley where only he can catch it like a quarterback should do for a receiver.
The three-point threat again forces Anthony Davis to commit and Tyrese quickly zooms past him, for another great connection with Holmes in close game with the Lakers.
Lead passes
Just had to take a moment to appreciate the arc and touch on these alley-oops. His teammates are able to finish the dunks with ease.
Here is some great fast break basketball. Tyrese knows where he is going before he gets the ball, takes the one dribble that's necessary to give Holmes time and dumps it off to him for the dunk.
Again, Tyrese already knows where he's going with the ball before it lands in his hands €" you can see the anticipation. Once it gets there he just simply taps over for the corner three.
The defense is not set and Tyrese knows it here. Moe Harkless is positioned to get the angle to the basket and Tyrese throws a bullet pass to ensure the angle is still there for Harkless.
Another quarterback-receiver example. Tyrese launches a soft, arcing pass over defenders to the spot where Buddy Hield needs to catch it (where only he can) and launch from that spot.
There are just so many levels to the rookie's passing and it is impressive to see how he already knows how to manipulate NBA defenders the way he does. Here's to many, many more years of this.