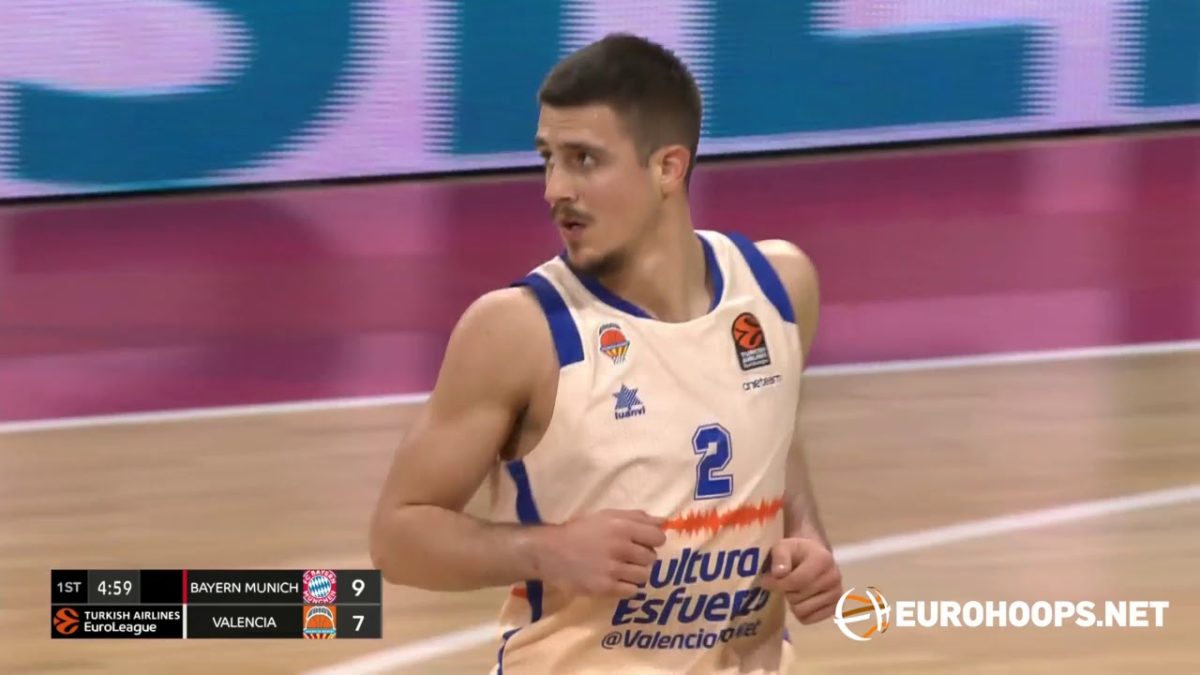 When the Sacramento Kings selected Vanja Marinkovic with the final pick of the 2019 NBA Draft, the air seemed a bit cloudy for the European prospect.
Little was known about the 6'6" guard who had been playing in Europe since he first cracked Partizan's rotation in the 2014-15 season.
Partizan utilized Marinkovic in the ABA League, EuroCup and KLS (Basketball League of Serbia) play. In that 2014-15 season, Marinkovic featured in 58 games across all competitions, averaging 5.02 points, 1.5 rebounds and 0.76 assists while shooting 37.9% from the field and 33.1% from three. Marinkovic's year-to-year production steadily increased, not by a large margin, but he showed growth and development on both ends of the floor, especially as a shooter.
In the 2017-18 season, Marinkovic 44 total games including three games in the Serbian Cup. This year saw the guard average a career high in points with 12, 2.7 rebounds, 1.5 assists (career-high) with shooting percentages of 46.2 (career-high) and 36.8 from three. His long ball percentage dropped from 41.5% the previous season, but he took 5.2 attempts a game during this season.
Now entering the season after which he would be drafted by the Kings, Marinkovic failed to capitalize on those promising numbers. He featured in 60 games in the 2018-19 calendar year and averaged 11.7 points, 2.4 rebounds, 1.8 assists (career-high) with his field goal percentage dropping to 42.9 and the long ball clip declining to 35.0.
After the Kings used the last pick of the draft on Marinkovic, he ended up agreeing to a contract with Valencia Basket of Spain, forgoing to join the Kings for the 2019-20 season.
However, it's gone completely south for the now 23-year-old guard. He did join a league with more competition, but he came off the bench and failed to generate any momentum that would point to signs of hope. He played in 51 games this past season, with the majority coming from the Euroleague and ACB play.
Overall, Marinkovic's production dipped to 6.3 points, 0.94 rebounds and 0.41 assists. The shooting numbers bounced up a bit, going to 44% from the field and 35.6% from three. He took much fewer attempts than previous seasons and playing time does factor into that. He went from a player playing in the upper 20s in terms of minutes to just 14.9 a game with his new team. Taking a big step back like that after being drafted by an NBA team is pretty concerning to say the least.
It's not often you see second-round picks panning out in a team's rotation, let alone with the 60th pick, but it's not looking great for Marinkovic if he hopes to make it in the NBA. For a guard his size, he hasn't shown much rebounding abilities or any court vision that could elevate his game. The shooting numbers could be something to work with but he's already 23 coming off a down year in Europe.
The verdict may be out a little while longer, but it's closing pretty fast. As of now, it looks like Marinkovic was a miss as a draft pick.