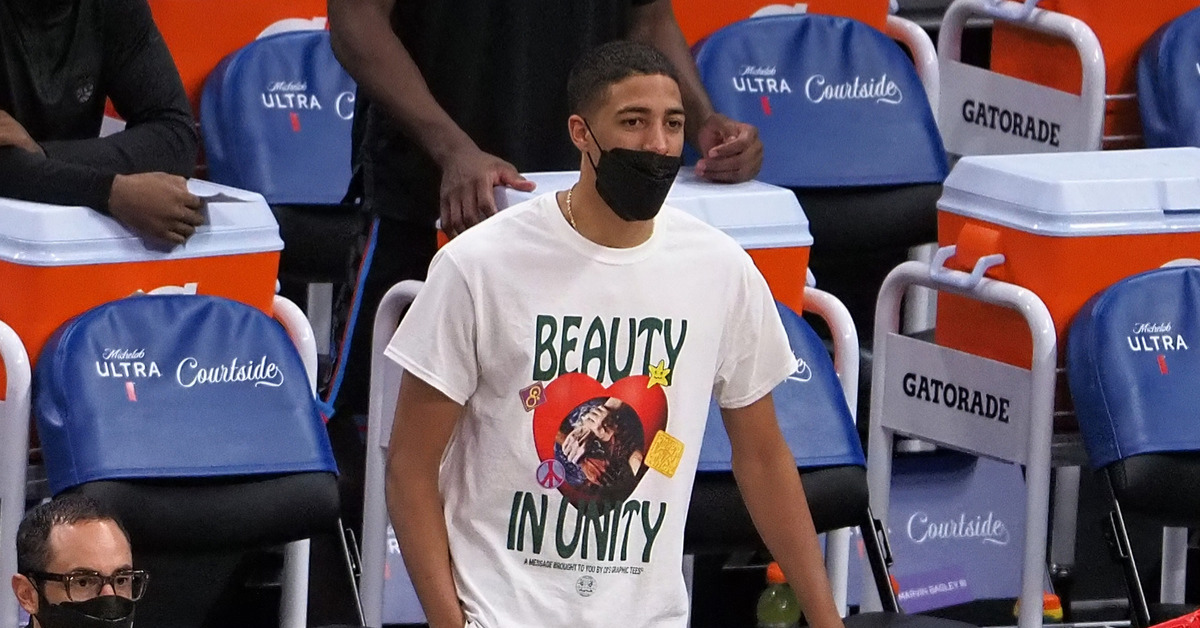 When Tyrese Haliburton went down with a left knee injury in the third quarter of the May 2 game against the Dallas Mavericks, he admits he was €œvery, very scared.€ The talented rookie said his mind went to the worst-case scenario. Many Kings fans were right there with him. Then, the Kings trainer felt his knee and pressed down on it and Haliburton noticed it wasn't hurting terribly, but hurt. He decided to walk off the court.
Haliburton wanted to finish the game but knew the team wouldn't let him. (And hey, they don't even need him to beat the Dallas Mavericks!) After an MRI and specialists confirmed it wasn't going to be an injury he had to worry about he got a sense of relief but was still frustrated he wasn't going to be able to finish the season. He was diagnosed with a hyperextension of the left knee. No surgery was required.
On Monday, Haliburton provided an update on his health and confirmed he is doing well.
€œI feel good. Obviously, it was very scary. I think a lot of people were kind of holding their breath, me as well. But we feel like we dodged a bullet,€ he said €œI feel fine. Obviously, there is more treatment and stuff involved, but I'm not going to miss any time in the summer. I'm feeling good.€
Haliburton said he does not know if he is going to play in the NBA Summer League because he doesn't think that decision has been made yet.
This summer, Haliburton plans to work on getting stronger and coming into his €œman body.€ (So, everyone make sure to be on muscle watch!) Additionally, he wants to learn how to fine tune some of the tricks of the NBA he has picked up on.
€œNow that I've played in the NBA, I know exactly what to work on. I know what I can get better at. I know kind of tricks of the NBA to a sense. Just learning how to work on those and fine tune things like that you might not really think of if you are just training and haven't played an NBA game yet,€ he said. €œThere's an art to the game of basketball in the NBA that's not really used anywhere else.€
He also wants to continue to grow relationships with his teammates.
€œYesterday people were saying, €˜Alright, I'll see you later.' I'm like, €˜Yo, expect a phone call from me every week.' I don't know if it will be every week, but just trying to grow relationships with guys, be closer so going into next year I have even better relationships with everybody,€ he said.
Everyone knows by now that this kid is wise beyond his years and that sort of leadership is yet another example. A few other comments stood out to me in that regard also:
€œI hate to say we're a young team, but like we're not that young. We're just kind of inexperienced.€

€œMy individual goal is to get this team to the playoffs. So, I don't care what my year looks like in terms of statistics or anything like that, I'll know I had a successful year if we got to the playoffs.€
Here's to a continued successful recovery for Tyrese. There's a very bright future ahead for him.