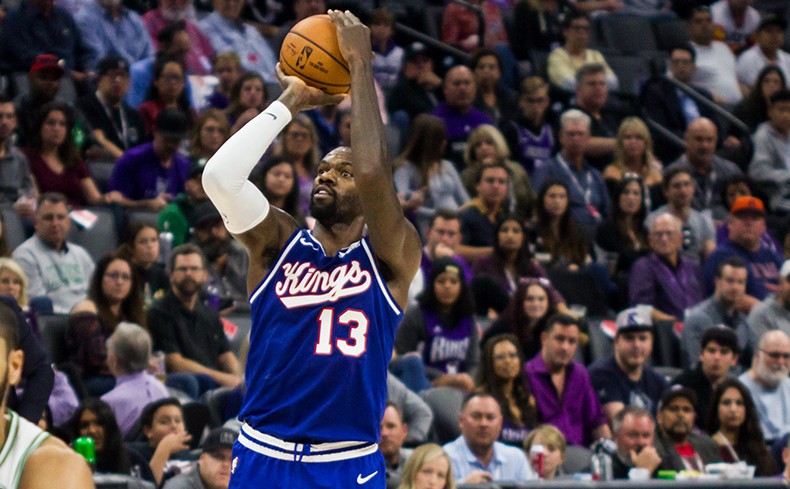 As Oscar Wilde once said, €œExperience is simply the name we give our mistakes€, and covering the Sacramento Kings certainly allows one to gain a lifetime's worth of experience in just a short amount of time. Between the draft, free agency, player rotations, trade proposals, and a host of other decisions made by the organization, anyone from a casual fan to an embedded media member is bound to make a few bad calls, and the staff here at The Kings Herald is here to keep ourselves accountable. We'll be detailing two major flubs that we made over the last year, as well as talking through one thing we got right. Let's get to it!
Wrong: Dewayne Dedmon's impact

Hooooo boy.
Dewayne Dedmon.
What. A. Disaster.
After the conclusion of the 2018-2019 season, it was obvious that the Kings needed to find a starting caliber center to pair with their rookie sensation, Marvin Bagley, so I took the time and put in the effort to find the perfect front court partner to shore up Bagley's deficiencies; namely, outside shooting, rebounding, and rim protection. After writing up thousands of words, watching hours of tape, and creating dozens of charts and graphs, I landed on two names: Nikola Vucevic, an extremely expensive and high-usage option, and Dewayne Dedmon, a discount version of the archetype that the Kings sought. Like a Maloof brother at a get-rich-quick seminar in a shady Las Vegas hotel, I bought in hook, line, and sinker.
The best way I can define Dedmon vs. Vucevic vs. other players:

Vucevic is a high-dollar, high-talent, high-usage option.

Dedmon is a low-dollar, medium talent, perfect fit option

€" SactownBabyGiraffe (@TimMaxwell22) June 13, 2019
By far, the most appealing aspect of Dewayne Dedmon's game was his ability to space the offense from the three-point line, a talent that would open up the floor for De'Aaron Fox's drives and Marvin Bagley's mid-post isolation game. His accuracy from deep felt completely sustainable, as he had knocked down 37.2% of his 358 attempts over the past two seasons, and while his rim protection and rebounding weren't exactly elite, they were certainly more than acceptable. Dedmon was my perfect, affordable solution at center, and boy did I let the world know through social media and through multiple articles. And boy did I look foolish a quarter of the way into the 2020 campaign. After four games of clanked three-point attempts, leading the league in turnovers per minute, and inexplicable travels, lost balls, and offensive fouls, Dedmon was pulled from the starting lineup. Guess who wrote an article proposing that Richaun Holmes take his place in the rotation just before it actually happened? That's right, this foolish giraffe right here.
Vlade Divac's most expensive free agent from the summer of 2019 continued to see his court time and shooting percentages plummet over the remainder of his time in a Kings uniform, playing more than 20 minutes just twice over the next 35 games, while knocking down a pitiful 19.7% of his three-point attempts. Dedmon only rejoined the regular rotation when Marvin Bagley and Richaun Holmes missed significant time due to injuries, and despite a couple of halfway decent performances, he never impacted the team in a truly positive way. On February 6th, the Kings punted on Dedmon's contract, as well as my hopes of redeeming myself in my vehement support of his signing, in exchange for Jabari Parker and Alex Len from the Atlanta Hawks. The funk in his game made the trip from coast to coast, as Dewayne sunk just 22% of his attempts from beyond the arc and 39% of his shots from the field in 10 games with the Atlanta Hawks.
I loudly and aggressively spouted Dewayne Dedmon's praise for a long, long time in the summer months last year, and I deserved every bit of mockery from every place I received it. It's safe to say that the Dedmon family will be left off of the Maxwell Christmas card list this coming holiday season.
Wrong: Kent Bazemore's impact

When the Kings swapped Wenyen Gabriel, Caleb Swanigan, and Trevor Ariza for Kent Bazemore, Anthony Tolliver, and a pair of second round picks, I really didn't care all that much. Unlike some other staff members here at The Kings Herald, I didn't much believe in Gabriel's long-term projection as a rotational player in the NBA, and while steering Luke Walton away from overplaying Trevor Ariza was a nice side benefit, I may have been most excited about the second rounders, despite how redundant they felt. Kent Bazemore seemed to be nothing more than a washed up, smaller veteran who couldn't shoot as well as Trevor Ariza.
Don't yell at me, and I certainly could be wrong, but I think Kent Bazemore may be a minor downgrade from Trevor Ariza on the floor.

€" SactownBabyGiraffe (@TimMaxwell22) January 21, 2020
I really should tweet less. (Ed. Note: This is not the €œright€ indicated in the title, but it should be)
Instead of being a minor downgrade from Trevor Ariza, Kent Bazemore brought a real sense of defensive intensity to a guard unit that desperately needed a push, rather than the empty, reputational gravitas of his predecessor, and the Kings saw a boost every time their newest member hit the floor. In an admittedly small sample size of 21 games, Sacramento saw their defensive rating drop from 115.1 when Bazemore was on the bench, a worse mark than the 30th ranked Washington Wizards, to 106.5 when he walked onto the hardwood, equal to the 5th ranked Boston Celtics.
Conversely, the offensive rating of the team saw a massive dip when Bazemore was in the game, but on a team whose core players are often far more focused on scoring and shooting rather than stopping opponents, Bazemore's energy and tenacity was often a spark in his quarter season with the team. If the Kings can bring him back at a reasonable price next year, they would shore up one key area of deficiency on the roster.
Kent Bazemore, welcome to the Maxwell family Christmas card list.
Right: Harry Giles needing more time

Harry Giles is a hell of a lot of fun, even when he's calling folks out in postgame sessions. He's wildly loyal to the Sacramento fan base, has worked incredibly hard to get healthy and get on the court, and his Chris Webber-esque passing skills are a sight to behold in both the half-court and transition. That combination of a hundred watt smile, friendliness with a city that values loyalty above almost anything else, and a unique skill set got some folks very excited in the offseason. There were projections of a starting role, debates between the value of Giles and Bagley, and many other aggressive takes being thrown out wanton throughout the doldrums of the NBA offseason. And while the front office was certainly foolish to decline Harry's rookie option heading into the regular season campaign, he didn't exactly redeem himself with consistent play on the floor this year.
Perhaps the most disappointing aspect of Giles' performance was his regression on the defensive end of the floor. Part of his struggles may be due to the fact that Harry has the build of a power forward rather than that of a hulking center, but he was truly ineffective regardless of positioning or opponent. While his fouling issues have been well documented by many people, it's important to note how severe they were in his second season in which he actually played. Of the 322 players to log at least 550 minutes this year, Harry's 6.2 fouls per-36 minutes ranked 321st, trailing only Moritz Wagner. Some encouragement can be taken from Harry's progression throughout the year, as he averaged 7.4 fouls per-36 minutes from October through January, about half of his season played, with that number dropping to 5.3 per-36 minutes for his final 16 games, but that reduction in fouls perfectly coincided with a severe reduction in his effectiveness as a rim protector as well.
Through the end of January, Giles posted a defensive field goal percentage differential (the percentage his opponents increased or decreased their average FG% when defended by Harry) of -1.1% within six feet of the rim, not exactly Rudy Gobert numbers, but not terrible for a slightly undersized big man playing in his second season. At worst, it was manageable with the right teammates surrounding Harry on the floor. Unfortunately, the latter part of the season saw a massive backslide in that same category. Over the final two months of the year, Giles opponents increased their accuracy at the rim by 18.7%. That's not a typo. When defended by Harry, players shot 80% at the rim over the last 16 games of the year, a mark worse than Buddy Hield, Nemanja Bjelica, or quite literally any other player in the entire NBA: a catastrophic lapse for a team that already struggled to guard the interior. Simply put, whatever magic Harry worked on the offensive end of the floor was more than offset by his inability to protect the rim without fouling.
Harry Giles may not have been ready for huge minutes this season, but that doesn't justify Vlade Divac's decision to give up control over a young player, nor does it mean that Harry can't or won't improve. Most twenty-two year olds with only 1,400 career minutes get a whole lot better over time, and there's no reason to believe that Harry won't put in the work over the next several years to evolve into a reliable contributor on both ends of the floor. If the Kings get lucky and keep their young project in the fold this summer, they should accept the fact that Giles may need another season or two of seasoning before he's ready for big-time minutes.
Here's to hoping that someday I'll be added to the Giles family Christmas card list.