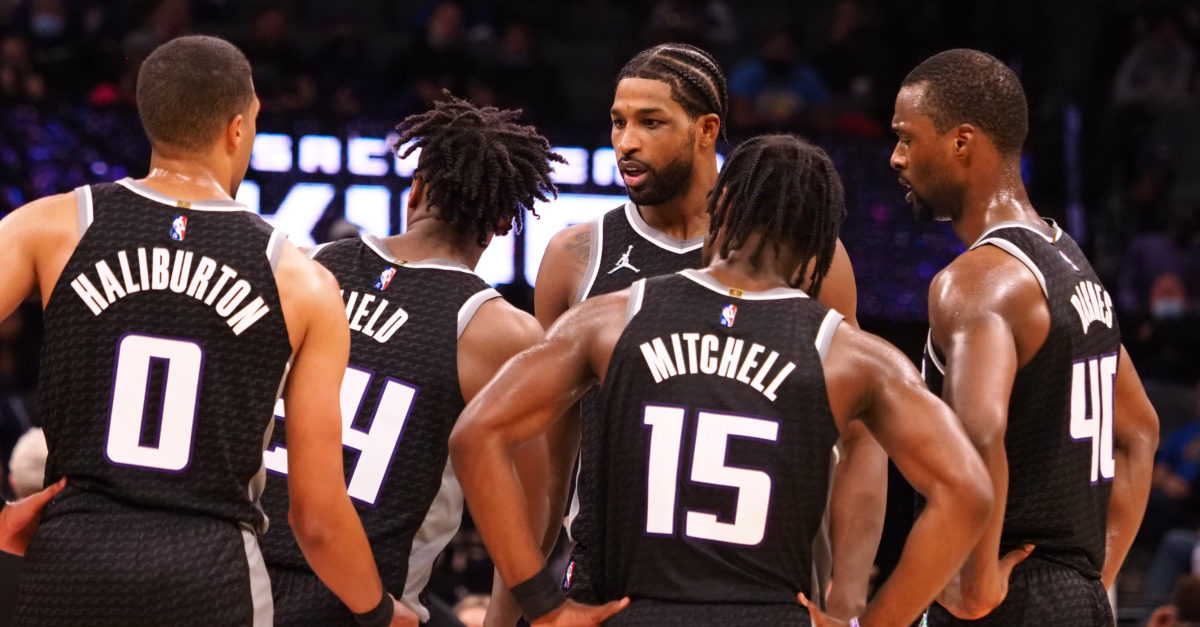 Following the Kings third loss of its four-game road trip, Tristan Thompson delivered some of the most forthright comments in his postgame press conference that we have ever seen in Sacramento. The 10-year veteran sounded off on a variety of things that need to be fixed.
Thompson, who finished with 8 points and 9 rebounds in 17 minutes of action in the loss to the Minnesota Timberwolves, said his frustration is from a place of tough love because he cares, wants to win, knows what this team is capable of and cares about his teammates.
"If I thought this team wasn't shit or had no potential then I probably wouldn't feel the way I feel," he said. "What guys have got to understand is that those little things over the course of 48 minutes, the my bads, after the my bads after the my bads is what's going to cost you the game in the fourth quarter and the reason why we got a loss."
Thompson highlighted a number of things the team needs to do, including:
When shots aren't falling picking it up on defense.
Saying, "the one area where you can be selfish and no one can get mad at you is rebounding." He said all five guys on the floor need to rebound and have an understanding of what kind of shots result in where the ball might bounce off the rim – particularly how missed threes will come back to around the free throw area.
Knowing how to break zone defense: "When teams go zone, just give it a second. When you get the ball, just take your time, survey, throw a pass fake a shot fake, and see how they react." He said the middle of the floor was wide open against the Timberwolves.
"All that stuff is like, you can fix that stuff. It's not a talent, or you don't have the right personnel, it's just a want and make it a priority," he said.
Thompson said the Kings should have went 4-0 on this road trip, 3-1 at the best, because 3 of the 4 of the teams they played don't really want to win because the franchises want to get a high pick in the draft. Yet, he's going to keep doing what he can to help and noted that no one is coming to save them, specifically any players from the Kings glory years.
"I'm going to do everything I can to make sure that we keep pushing, man. No one is going to feel sorry for you. This is the NBA, no one is going to feel sorry for you. C Webb and Bibby aren't walking through that door, so you've got to keep pushing each and every day. Keep getting better in practice, keep watching the film, learn from the mistakes. If we all can just get 1 percent better each and every day, then we'll get our fair shares of wins."
This is all a matter of basketball fundamentals, effort and things we have been hearing for years in Sacramento. Thompson's intensity fully came out when he was asked about where the vocal leadership is coming from when opponents go on runs and if it's on the coaching staff or the players:
"No man in this world should rely on another man to inspire them. ... You can put that in all capitals. Me personally, no one should ever need a coach to inspire you. If you don't get inspired in a game, then you shouldn't be on the court. Losing teams, losing players, you need to get inspiration from your coach, and I'm not with that shit. My teammates better not be; my teammates aren't with it because I know guys want to win, they want to win badly. So, it's not about coach Walton inspiring you, this is not no freaking glory road shit; no, you've got to be ready to play. Your number is called, you're in the damn game, I don't need no fucking coach to inspire me. Never that, never have, never will. The day I need a coach to inspire me is the day I'm fucking retiring. I'm going to play with my kids in the park. I speak for my teammates with that quote, so we don't need no coach to inspire us."
He then elaborated on the troubles with defense that still linger, and pivoted to an interesting comment about not having a go-to guy…
"I know [Karl-Anthony] Towns is a good player, but we had a game plan for him and, yes you want to force him left, but if he gets right you're teammates got to have your back. You've got to help your teammates. The same way where if I get beat and I want my teammate to be there, I've got to be there for him. That's part of being on a string and that's how you build a defensive mentality. And the league is fucking hard. It's hard to win. We don't have the luxury of having that go-to guy like a Lebron [James], a Kawhi [Leonard], or a PG [Paul George], or a Jayson Tatum, or Luka [Doncic]. We've got to win collectively. So those little things like with Towns, or even with Anthony Edwards, we've got to shrink and show bodies and make them second guess the moves they're about to make."
All of this was followed up by a conversation with De'Aaron Fox who commented about how the team shouldn't get "bored" with playing correctly.
"We talk about doing the right thing, but we just have to be able to do it. We talked about not getting bored with doing the right thing and that's what we need to do," he said.
He also was asked about his leadership style.
"Just trying to get guys in their spots, talk to guys. Obviously, I'm not a big yeller or anything like that. I can get intense, but I don't get intense a lot, but at this level we just have to be able to do our job," he said.
Thompson is another among a long line of veteran players who have come through town and tried to show this team what winning takes. It hasn't worked up until now and following the odds, it likely won't moving forward, but it is good to at least hear some passion around what is wrong and what needs to happen to fix it. Here's to hoping Thompson's message to his teammates resonates.
The Kings are back home Friday night against the 7-8 Toronto Raptors.