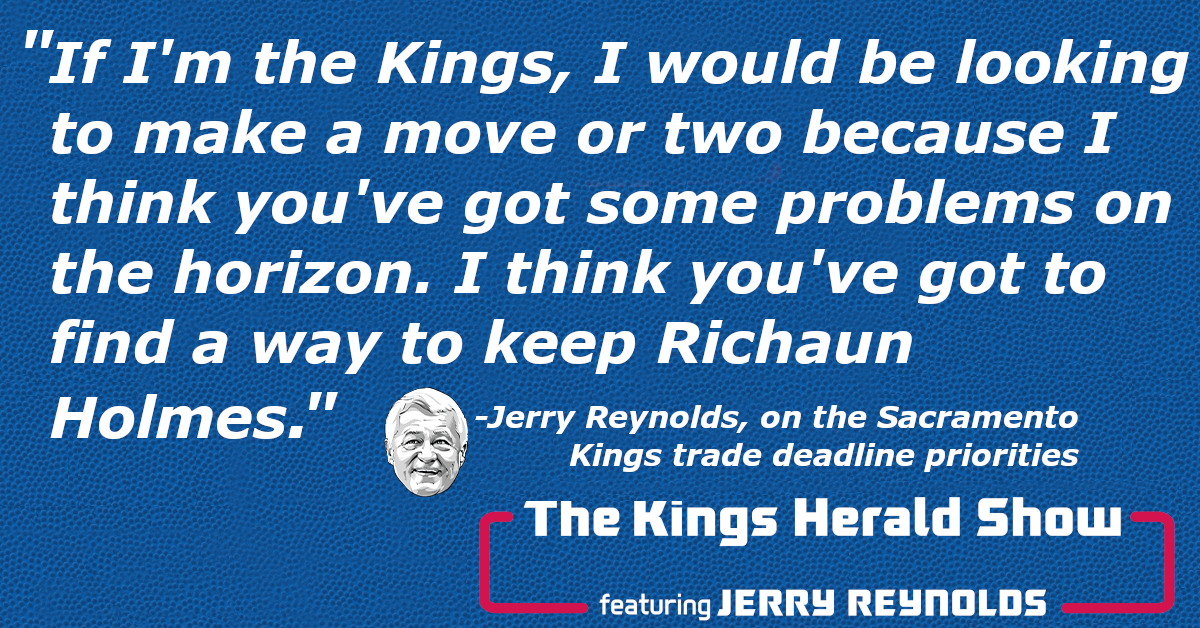 The Kings Herald Show is back with another episode, and the Sacramento Kings gave us plenty to talk about this week.
Jerry Reynolds, Will Griffith, and Tony Xypteras break down how the Kings have performed under Luke Walton's new starting lineup of De'Aaron Fox, Tyrese Haliburton, Buddy Hield, Harrison Barnes, and Richaun Holmes, in addition to previewing what the Sacramento Kings should and shouldn't do as the March 25 NBA trade deadline approaches.
TIMESTAMPS:
(2:05) How have the Kings played since the All-Star break?
(3:30) Breaking down Luke Walton's new starting lineup.
(5:05) Are the Kings improving on defense?
(10:12) Will the Kings make a significant trade by the deadline?
(13:00) Will the Celtics trade for Harrison Barnes?
(24:00) What teams could make a competitive offer for Buddy Hield or Harrison Barnes?
(29:00) Do the Kings need to make a trade in order to re-sign Richaun Holmes in the offseason?
(33:33) Is Vivek Ranadive still involved in basketball decisions?
(39:30) Tank Till You Stank.
(44:40) Jerry Reynolds, on his experiences running and working in an NBA front office.
(109:30) Trade Deadline Predictions.
You can find The Kings Herald Show wherever you listen to podcasts, but if we're missing a platform of your choosing, leave us a note in the comments and we'll get to work. If you can subscribe, rate, and review the podcast on any and all platforms, that would be greatly appreciated, too. It's the easiest way you can support the show!
Apple.
Spotify.
Google.
Stitcher.
In addition to our bi-weekly podcast with Jerry Reynolds, we also record a Patreon exclusive Q+A once a month where Patrons at any level can Ask Jerry Anything. The Jerry Reynolds Q+A for March was posted last week here.
You can submit questions for Jerry on Patreon, or post your questions in the comments right below this post! Or you can just yell questions to Tony or Will on twitter.
And finally, you can sign up for our Patreon here.
Thanks for listening.