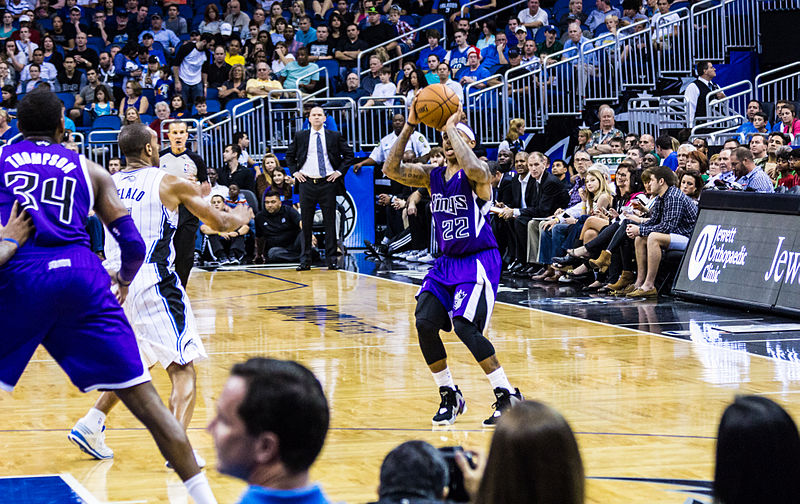 Today we continue our list of the Top 50 Sacramento Kings of All-Time. To help calculate these rankings, I am using the very official and very mathematical "KANGZ (Kinda Accurate Net GainZ) score) which factors in a players tenure, role, intangibles and individual and team success. A perfect KANGZ score is a 25. This system is obviously perfect because I used math and an acronym which makes these rankings 100% official and legitimate. Stop asking questions.
On to the list!
40. Olden Polynice
KANGZ score: 13
345 GP, 10.8 PPG, .495 FG%, 8.8 RPG, 1.2 APG, 0.6 STL, 0.8 BLK
3rd All-Time in Offensive Rebounds (1,130)
8th All-Time in Defensive Rebounds (1,923)
6th All-Time in Total Rebounds (3,053)
If I had to hazard a guess, Polynice is probably the least liked player among the Kings fanbase in this ranking. That's what happens when you flip off the crowd in Sacramento, something Polynice did in 1999 when he was with Seattle. Still, Polynice was the starting center for the Kings during some of their only good years in the mid-90s, including the year they made the playoffs in 1996. Polynice also ranks among the Sacramento-era leaders in Total Rebounds.
39. John Salmons
KANGZ Score: 13.1
353 GP, 10.7 PPG, .445 FG%, .363 3P%, 3.5 RPG, 2.9 APG, 0.9 STL, 0.3 BLK
Through no fault of his own, John Salmons was part of some of the most miserable Kings teams of the last 20 years. During his first stint, he was an up and coming wing, but the team was in full rebuild mode and needed to send him to Chicago as a sweetener to get out of Brad Miller's contract. His second stint coincided with one of the worst trades in Kings history as the Kings traded down in the draft and sent Beno Udrih to Milwaukee in the hopes that Salmons could fill the void at Small Forward instead of just drafting a Small Forward like say, Kawhi Leonard. Let's just say that might not have been the best idea and leave it at that.
38. Jon Barry
KANGZ Score: 13.1
167 GP, 6.1 PPG, .437 FG%, .373 3P%, 2.1 RPG, 2.3 APG, 0.9 STL, 0.1 BLK
2nd All-Time in FT% (.886)

Barry was a fan favorite in his few years in Sacramento, providing spark off the bench as part of the original "bench mob". The Kings made the playoffs in each of Barry's three seasons with the Kings but they opted to go younger when they traded him and a pick to Detroit for Mateen Cleaves. Younger isn't always better though. Cleaves only played 89 career games over five seasons after the trade while Barry played 308 in meaningful roles for playoff teams.
37. Beno Udrih
KANGZ Score: 13.2
296 GP, 12.6 PPG, .481 FG%, .361 3P%, 3.1 RPG, 4.7 APG, 1.1 STL, 0.1 BLK

Beno Udrih had big shoes to fill when he came to Sacramento. The Kings had just traded Mike Bibby the previous year and Udrih was to take his place. Beno obviously never lived up to that standard but he still was a solid player for a Kings team rebuilding on the fly. He earned several nicknames from the legendary Jerry Reynolds, including "Beno Draino" and the "Tasmanian Slovenian". Perhaps his best highlight as a Sacramento King was during his first preseason with the team when he broke Kobe Bryant's ankles, showcasing both his crafty spin move and ability to knock down midrange jumpers. In his four seasons in Sacramento, Beno shot a ridiculous 52.1% from 10-16 feet per basketball-reference.com.
36. Walt Williams
KANGZ Score: 13.3
238 GP, 14.9 PPG, .430 FG%, .330 3P%, 4.4 RPG, 3.3 APG, 1.2 STL, 0.7 BLK
"The Wizard" as he was known, entered the league about 20 years too early. Williams was a ballhandling wing that could shoot from outside and take you inside. In today's NBA, that skillset would have made him invaluable. As a rookie, Williams had a 40 point game in 30 minutes coming off the bench in a 56 point blowout win against the Philadelphia 76ers. Only Buddy Hield and Kevin Martin have scored more points for the Kings as reserves. Williams never became a star, but for a brief moment, Kings fans glimpsed the future of a league that valued versatility over size and power.
35. Duane Causwell
KANGZ Score: 13.5
429 GP, 5.5 PPG, .516 FG%, 4.7 RPG, 0.5 APG, 0.5 STL, 1.6 BLK
1st All-Time in Blocks (695)
8th All-Time in FG% (.516)
10th All-Time in Games Played (429)
Ah Duane Causwell, the Jason Thompson of the 1990s. Causwell, despite not being a particularly good player, played with Sacramento for 7 seasons, spending various time as a starter or reserve. The one thing Causwell was good at was blocking shots. He remains to this day the Sacramento-era blocks leader and 2nd place isn't even close. Causwell also got to be part of the Kings first playoff series in 10 years when they made it in 1996.
34. Michael Smith
KANGZ Score: 13.7
246 GP, 6.2 PPG, .548 FG%, 7.1 RPG, 1.6 APG, 0.8 STL, 0.7 BLK
2nd All-Time in FG% (.548)
Over the years, the Kings have always seemingly had a hustle and energy big man off the bench, whether it was Scot Pollard, Lawrence Funderburke or Quincy Acy. "The Animal" was perhaps the start of this trend. The Kings drafted Smith in 1994 with the 35th pick and he immediately provided an impact off the bench.
33. Harrison Barnes
KANGZ Score: 13.8
92 GP, 14.6 PPG, .457 FG%, .391 3P%, 5.0 RPG, 2.2 APG, 0.6 STL, 0.1 BLK
The jury is still out on Barnes. He joined the Kings late last season in a trade that sent out Justin Jackson and the corpse of Zach Randolph. In terms of player value, the Kings came out way ahead on that trade and Barnes played well enough to earn himself a nice contract extension. Barnes struggled at times this season in Luke Walton's new offense, but at other times looked like the team's best player. He's skilled in the post and from outside, and is a better defender than he's given credit for. Given Barnes' contract, he's set to be a King for a while barring a trade, so we'll see how this ranking looks in a few years time.
32. Antoine Carr
KANGZ Score: 14
110 GP, 19.7 PPG, .503 FG%, 5.4 RPG, 2.3 APG, 0.5 STL, 1.2 BLK
Carr's been getting a little bit of media attention lately simply because of 'The Last Dance', as Utah's duels with Jordan's Bulls have become a hot topic once more. For most of his career, Carr was a solid roleplayer, but for a brief moment over 110 games in Sacramento, Carr was a star, a big fish in a little pond. The Kings weren't any good, but Carr led the team in scoring during the 1990-91 season. Of course, the Kings being the Kings, they blew it all up without a second thought and sent Carr to San Antonio for Dwayne Schintzius, who is best known for his epic mullet.
31. Isaiah Thomas
KANGZ Score: 14.2
216 GP, .447 FG%, .360 3P%, 2.5 RPG, 4.8 APG, 1.0 STL, 0.1 BLK
The only reason Isaiah Thomas isn't much higher on this list is because of Pete D'Alessandro. Thomas was drafted as a seeming afterthought by the Kings with the last pick of the 2011 draft. All the hype around the teams was around their 1st round selection, Jimmer Fredette. It didn't take long for fans or the team to figure out that Thomas was simply better, and not only was he better, he was potentially a star himself. Few players in Kings history were capable of going on hot streaks like Isaiah. By his third season in Sacramento, Thomas was scoring 20.3 points a game and even better, was set to be a restricted free agent. Pete D'Alessandro decided that he wanted a more "traditional" point guard and signed-and-traded Thomas to Phoenix and instead signed Darren Collison. Thomas would go on to become a two-time All-Star in Boston and even a legitimate MVP candidate in 2017. I'm still salty about this.
Tomorrow: 30-21