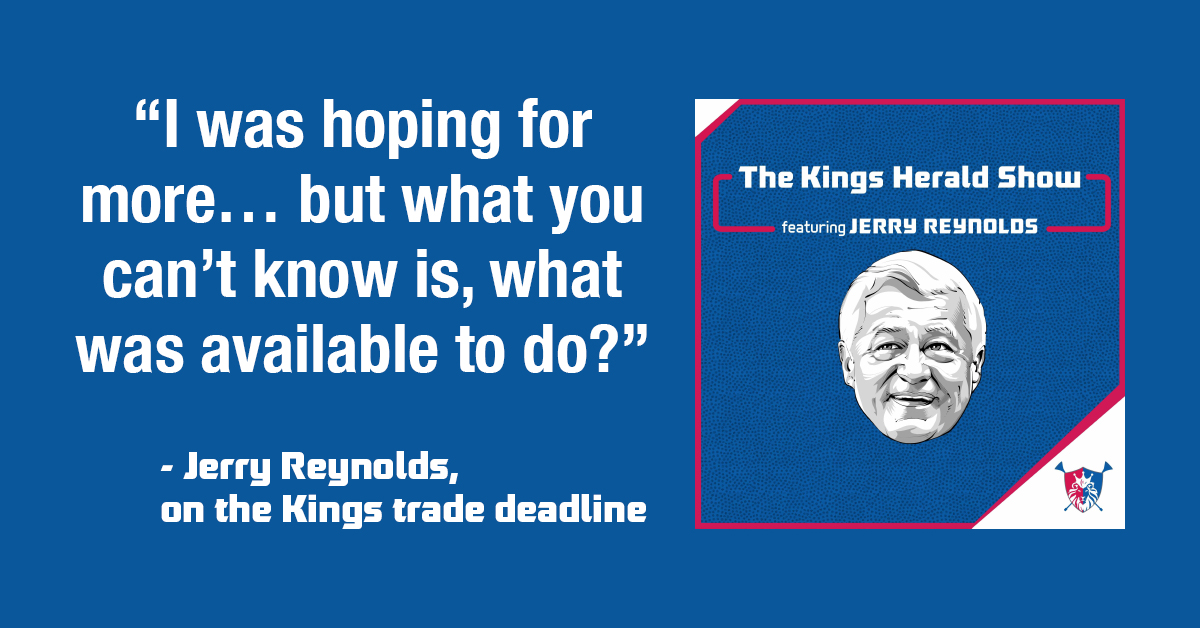 The Kings Herald Show is back with a breakdown of Monte McNair's first trade deadline as general manager of the Sacramento Kings, along with a lengthy discussion on the very important play-in game, streaky basketball, De'Aaron Fox, Marvin Bagley, and much more.
You can listen to Jerry Reynolds, Will Griffith, and Tony Xypteras on The Kings Herald Show, right here:
Timestamps:
(1:30) Trade deadline analysis
(6:40) What happened with DaQuan Jeffries?
(9:10) Can Damian Jones help the frontcourt?
(12:45) Where are the Kings headed, both short and long term?
(18:15) Is De'Aaron Fox the key to the Kings' success?
(27:50) Why are the Kings so inconsistent?
(32:00) Why are the Kings still so bad on defense?
(36:20) Is it weird that Marvin Bagley isn't currently with the team?
(41:00) If Marvin Bagley returns this season, what will his role be?
(43:00) How can the Kings re-sign Richaun Holmes in the offseason?
(101:20) Patreon Question of the Week
You can also find The Kings Herald Show wherever you listen to podcasts, but if we're missing a platform of your choosing, leave us a note in the comments and we'll get to work. If you can subscribe, rate, and review the podcast on any and all platforms, that would be greatly appreciated, too. It's the easiest way you can support the show!
Apple.
Spotify.
Google.
Stitcher.
In addition to our bi-weekly podcast with Jerry Reynolds, we also record a Patreon exclusive Q+A once a month where Patrons at any level can Ask Jerry Anything. The Jerry Reynolds Q+A for March was posted last month, here.
You can submit questions for Jerry on Patreon, or post your questions in the comments right below this post! Or you can just yell questions to Tony or Will on twitter.
And finally, you can sign up for our Patreon here.
Thanks for listening.