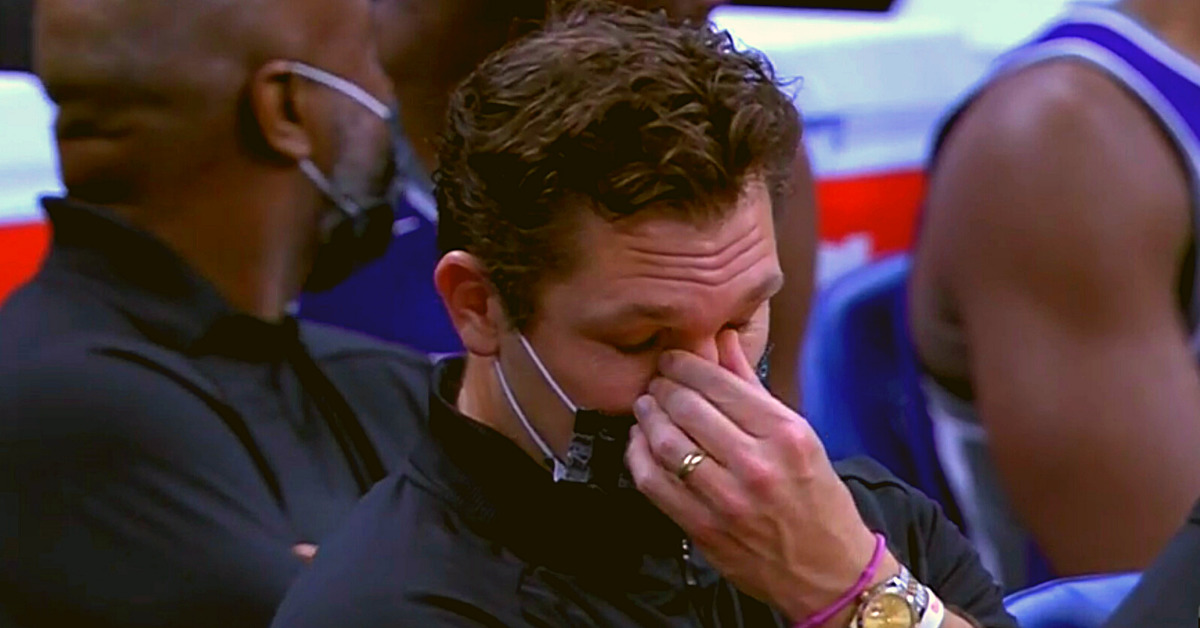 As the Sacramento Kings dropped their fourth game in a row on Monday evening, a familiar debate euprted throughout the fan base with the same old tried and true questions being asked. Should the Kings sell off the veterans for draft assets and young players? Is it appropriate to enter a mini-rebuild with the way De'Aaron Fox is playing? Would it be wise to push for the playoffs or the play-in tournament to get these kids some postseason experience, break the streak, and hopefully one day become an attractive destination for free agents?
Those questions, while highly relevant and interesting to discuss, tend to fade away when considering Sacramento's plan heading into the season. They were designed to lose - and to lose a lot. That assertion may seem incredibly bold with the Kings having recently come off of a stretch in which they won seven of eight games, and those who vehemently oppose such a strategy may scoff at the idea that Monte McNair would purposefully create a bad team, but the evidence is glaring when studying both the moves that were made this offseason, and those that weren't.
Typically, if an organization really wants to win, they retain all of their best players whenever possible, especially ones who can effectively play multiple positions. The Kings failed to do so with Bogdan Bogdanovic in November. Their aborted trade with the Milwaukee Bucks would have brought back a nice third-year player in Donte DiVincenzo, but that by no means was a win-now transaction, nor was the rumored non-trade with the Atlanta Hawks for a future first round pick. Once the Bucks deal was blown up, Monte McNair allowed Bogdanovic to walk with zero compensation, rather than simply paying a key contributor a slightly inflated $18 million per year. In the post-trade press conference, McNair cited future flexibility as the primary reason for letting Bogi go, not exactly the priority for most wannabe playoff contenders.
Of course, Bogdanovic's departure in and of itself isn't enough to prove McNair's mini-tank. Management had no connection with Bogdanovic, and with Tyrese Haliburton's recent addition, it's certainly not unheard of for new General Managers to unload previous players to open up room for their guys. However, the Bogdanovic decision was just the first of many lose-now moves by Sacramento's new front office over the last few months.
Heading into the 2020 offseason, the Kings were short on cap space after Vlade Divac's half-decade of generous donations to over-the-hill veterans, but they still had two spending tools at their disposal, the standard non-taxpayer mid-level exception, worth about $9.8 million, and the bi-annual exception, which came in at around $4 million. The BAE is only available in years in which a particular team didn't utilize it in the year prior, hence bi-annual, but the MLE renews every season in which the team is eligible. Organizations have the option to drop all of that cash on one player, with a contract of up to three years with 5% annual, non-compounding raises, or the MLE can be split among multiple signees with those same contractual restrictions in place. In November, players such as Serge Ibaka, Montrezl Harrell, Derrick Favors, Jae Crowder, and Tristan Thompson were all acquired through the MLE.
Unlike just about every other team in the league, the Kings did absolutely nothing, other than offer slightly larger deals to their second round selections. Monte McNair left almost $10 million in free spending money on the table, and that exception has no other short-term or long-term value either. It can't be used in a trade. It can't be used to take on salary. It can't be carried over into next season. It's just gone. Contenders don't allow that sort of opportunity to pass them by.
Instead of using the MLE to sign a quality contributor or two, the Kings chose to shop the bargain bin of unwanted players and wound up with Hassan Whiteside and Glenn Robinson III on one-year minimum deals, not exactly world-breakers in the NBA. Whiteside, despite starting the majority of the games for the playoff-bound Portland Trail Blazers last year, took the largest salary decrease in the league and signed five days after the offseason began. Robinson was an even more delayed acquisition, as he wasn't inked to a deal until November 29th, more than a week after the market opened. With their only other relevant free agent situation being the failed Bogdanovic trade and his subsequent exit, the Kings were clearly in no rush to add quality players or to do so quickly.
Monte McNair had no plans to win this season, an understandable stance considering Sacramento's cap situation and present talent level. The only things keeping the Kings afloat thus far have been De'Aaron Fox's All-Star level of play, Tyrese Haliburton's Rookie of the Year type contributions, Richaun Holmes' career year, and Harrison Barnes' hot start, but the latter two factors have already begun to fade, and no one else on the roster is good enough to step up and perform at those same early-season levels. The Kings simply aren't very good, but perhaps some comfort and some answers can be found in the fact that being bad was always the plan.