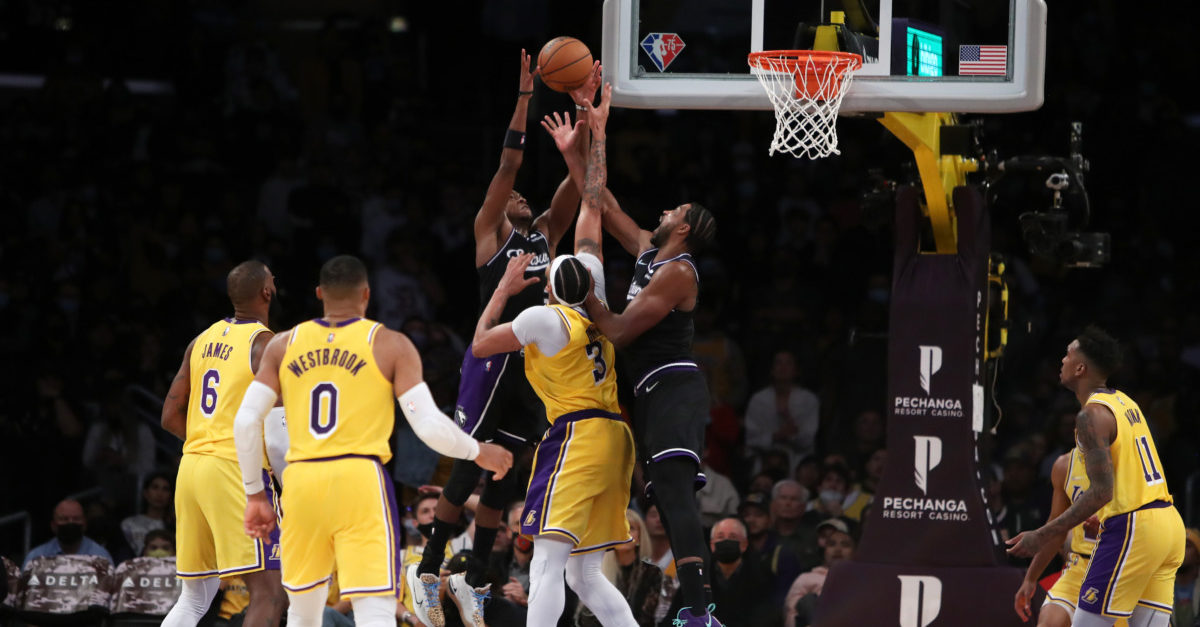 Alvin Gentry has now been the interim head coach of the Sacramento Kings for four games. They have gone 2-2 in that timeframe. Though it is a small sample size, there are a few trends that are showing how the team is performing slightly differently than it did under Luke Walton, and also how things are still similar.
Let's start with a few things that are different.
Offensive Rebounds
Leading up to Walton being let go, he talked a lot about rebounds and second chance points, it was part of the reason he began testing Chimezie Metu as a starter and playing Marvin Bagley more. The results were subpar, and the team didn't see much of a change in this category. They won offensive rebounds in 1 of Walton's last 5 games as the coach. Through his four games, Gentry's Kings have only lost in the offensive rebounding category once – the most recent loss to the Memphis Grizzlies, and that was only by two – 14-12. They tied the Philadelphia 76ers 11-11, a game in which Andre Drummond went bonkers with 23 total rebounds (7 of those offensive), and won the battle in the two other games. Multiple guys outside of the bigs are collecting offensive boards also. Tyrese Haliburton has at least one offensive rebound in each game and in the triple overtime game against the Lakers, 10 of the 11 guys who played had at least 1. As a team, the Kings won that battle 16-9.
The Kings had won the offensive rebound battle only five times total this season under Walton. The Kings are averaging 13.2 offensive rebounds over the last four games, which would be good for third best in the league if that was their average for the season.
Free Throw Attempts
The Kings have had the most successful stretch of four games this season in terms of the number of free throws attempted. Over the last four, the Kings have averaged 32 free throw attempts per game. In fact, Gentry's first game as head coach was the first time since opening night in which the Kings attempted 29 free throws or more. In his next three games, the Kings attempted 34, 29 and 37 free throw attempts.
This would seem to be proof that the Kings are playing a more aggressive brand of basketball with more pace. Here is the problem: They are averaging a horrific 68% from the free throw line in those four games, well below their already bottom-10, 74% for the season. This falls in line with their general inability to shoot very well.
Pace
Speaking of aggressive basketball, let's talk about pace. Gentry is putting extra emphasis on this, which is something general manager Monte McNair brought up during his press conference following the firing of Walton.
What perplexed many in Walton's first seasons of his tenure is how little the team played offense to utilize the speed of De'Aaron Fox. With the ball moving a little quicker now, Fox is getting more space to operate, which is allowing him to look a little more like the guy we all saw last season. The Kings had been playing at a decent pace already this season though. It has got a little better under Gentry, however. On Nov. 21, the day Walton was let go, the Kings were 8th in possessions per game at 103.6. By Nov. 30, they had climbed to 4th at 104.8 possessions per game.
It makes sense for a team that hasn't made the playoffs in so many years to play a style of game that benefits its best player, but there a lot of issues with the roster's capabilities discussed below that make playing with increased pace possibly just a Band-Aid on basketball IQ wounds.
Things That Are The Same
You can't shoot 34% from the field and 21% from three against the worst defensive in the league in the Grizzlies and say the increased pace is working. Gentry is still wanting the players to make quick decisions (within .5 seconds deciding whether to shoot or pass), something Walton always preached. The problem is the team isn't that good at improvising when plays break down, as Harrison Barnes mentioned earlier this season. Following the 94-91 loss to the Indiana Pacers 94-91 on Nov. 7, Harrison Barnes talked about how when opponents cut off their plays the Kings don't tend to have the ability to improvise.
"Yes, we can call play calls and things like that, but against good teams, against playoff teams, you have to move the ball side to side, you have to just play out of random ball movement. It can't be scripted, and that's how we get our easy shots. So, I think for us, that's our next progression is when we're playing these teams like this who if we simply just call our plays and can do a good job of stopping those, what's the next step?"
The Kings go through shooting slumps quite a bit and when opponents shut down their plays and shots aren't falling isolation ball returns. And we all know what happens to the defense – it falls into the Sacramento River and flows into the Delta, like it did against Memphis. On top of that, the Kings keep shooting threes and are not very effective at it, but Gentry said they almost have to make shots to help get set on defense.
"When you're not making shots and teams are running out off misses, it takes you longer to set your defense and it takes you longer to get matched up in transition and things like that, so you almost have to make shots to get your defense set sometimes," Gentry said after the loss to the Grizzlies. "It shouldn't be a factor at all as far playing defense, but it is a factor in that you give them many more opportunities to run."
This is true, but the team also has to get better in transition defense. And as has been the case for a long time now, regardless of the reasoning, the Kings are still letting their offense dictate their defense. So, the defensive problems (giving up 72 points in the paint to the Grizzlies), lapses in executions, mysteriously missing energy, and not being able to knock down shots is still hanging over the Kings.
The Kings are 2-2 under Gentry, so that is something, and like I mentioned, this is a small sample size with some injuries in play. Gentry has been using more guys off the bench, which is likely because of injuries, but he also has made it clear he will put guys on the bench who aren't playing how he wants them to. Ultimately, there's not enough to say this team is on the right track now, and there isn't enough to say they can't get a little better. We'll see where things are at a few weeks from now.