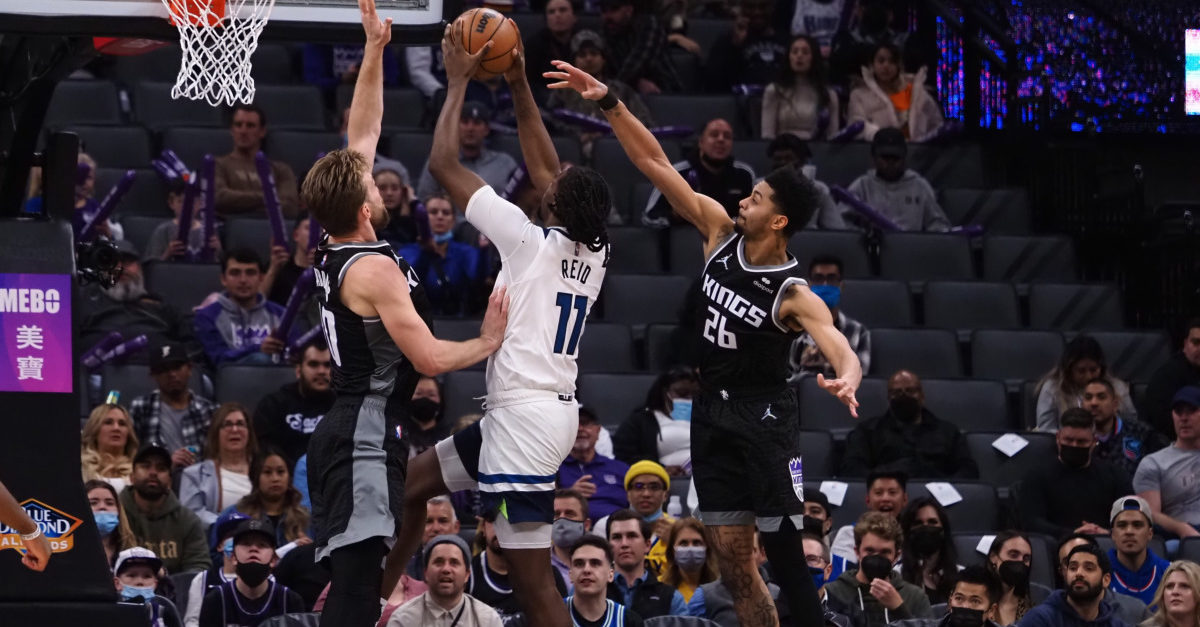 Monte McNair, General Manager of the Sacramento Kings, and the rest of Sacramento's front office surprised the entire NBA world this deadline. Nobody expected them to move on from second-year guard Tyrese Haliburton and nobody expected a team to acquire Domantas Sabonis without giving up even a single draft pick.
To recap what has been a wild last couple of days: Haliburton, Buddy Hield, Tristan Thompson, and Marvin Bagley have all found different homes. Taking their place will be Sabonis, Justin Holiday, Jeremy Lamb, Donte DiVincenzo, Trey Lyles, and Josh Jackson.
Only four players have logged more than 1500 minutes for the Kings this season, and two of them are now gone. We all know what is being lost, but I wanted to take some time to dive into the players that were just acquired, their potential skillsets, fits, contract situations, rotational questions, and more in this piece. So, let's start with the obvious highlight.
Domantas Sabonis: 25yrs - 2yrs/$37.9M remaining
Sabonis might already be Sacramento's best player. At the very least, the Lithuanian big man is undoubtedly the best teammate De'Aaron Fox has had in his five seasons as a member of the Kings. His talent was on full display in his first home game at Golden 1 Center.
His availability was unclear until roughly seventy minutes prior to tip-off against the Minnesota Timberwolves and the new group had zero practice minutes together headed in. It didn't matter.
Sabonis logged 22 points, 14 rebounds, and five assists while shooting 10/19 from the field in 32 minutes. Kings' fans got a promising glimpse into how he enables his teammates, including co-star De'Aaron Fox.
Here's a fun example that highlights some of the aspects that Sabonis brings. The play starts with a strong, physical screen set for Davion Mitchell that causes Naz Reid to step up. Mitchell quickly hits Sabonis with a pocket pass and let's his new teammate make a play from there.
After the screen, Sabonis quickly starts his roll to the basket and sees Jaylen Nowell rotate in front of the rim meaning Taurean Prince now becomes responsible for both Fox and Harrison Barnes. Sabonis flexes his basketball IQ and manipulates Prince by jumping and locking eyes with Fox while firing a Haliburton-esque no-look dime to Barnes who is wide-open.
Sacramento's recently acquired 25-year-old big man brings a new sense of physicality, rebounding, versatility, and the ability to create shots for himself and others to the Kings. Defensively, he can struggle at times, but he's far from a significant negative on that end at the moment – which will be something to keep an eye on moving forward. But, there will be plenty of coverage on Sabonis from myself and everyone else at the Kings Herald as the year progresses, so I'll just say one more thing before moving on to the next guy.
He doesn't turn 26 until May and is making less money than Buddy Hield over these next two seasons. "I feel like this is a fresh start for me," Sabonis said after his debut on Wednesday. "I'm just trying to find a home where I'm loved. I wanna come out and compete every day and I feel like I found it here. I love it here and I just wanna keep playing and getting wins."
Justin Holiday: 32yrs - 1yr/$6.29M remaining
It's easy to overlook the addition of Justin Holiday when he's coming into town alongside Sabonis, but the Kings desperately needed to surround their new duo with as many 3&D players they can – and Holiday fits that mold well.
Considering his age, Holiday isn't someone who should be viewed as a long-term contributor for the Kings but there's a good reason he started in his first game. With Haliburton and Hield now gone, the Kings lost two elite floor spacers and that hole can't be left unfilled. While Holiday isn't elite in that aspect, he's surely going to be respected by defenses.
Last season, Holiday shot 37.8 percent from three on 6.9 attempts per game. There's an existing synergy between him and Sabonis – 24% of Sabonis's 231 assists with Indiana this season were him connecting with Justin Holiday. No teammate was on the receiving end of Sabonis assists more often.
Holiday also is just a smart basketball player on both ends, and it'd been painfully obvious that Sacramento needed more players who fit that description. He's not one to dribble the air out of the ball, but instead will make the extra pass in a timely manner.
Defensively, Holiday isn't a disruptor that tallies steals on a nightly basis, but his 6'6 frame and attention to detail on that end make him far from liability either. His defensive impact lies somewhere in the middle, which is a notable upgrade from the shooter that was sent out. And that upgrade should be felt as the year continues.
I think Holiday could find himself in the starting lineup for the rest of this season and potentially even into next year on his solid value contract. He's an underrated acquisition in this deal. Also, he's familiar with Alvin Gentry and Harrison Barnes as they were all members of the 2014-15 Golden State Warriors.
Jeremy Lamb: 29yrs - $10.5M expiring
Jeremy Lamb feels like a bit of a wild card to me in the sense that I'm really not sure what to expect from him. And I really mean on a night-to-night basis over these last 25 games.
Lamb is 6'5", approaching the age of 30, and has often struggled to remain healthy. He played 46 games during his first season with the Pacers in 2019-20 before tearing his ACL and lateral meniscus in February – he got up and made two free throws while injured before leaving that floor. Lamb's recovery pace was impressive enough that he did manage to appear in 36 games for Indiana last season, but his playing time was somewhat sporadic for various reasons.
Defensively, he's not going to be much help to Sacramento. He's better than Buddy on that end, but that's obviously really not saying much. Including Lamb in this deal with Thompson headed outwards felt like a bit of roster balancing for both sides that were involved.
I'd think of Lamb as the Terence Davis replacement for the rest of the season. He's capable of dropping 15+ on any given night and scoring in bunches, but his total efficiency (37.3/33.3/83.8) is often underwhelming, there are moments where he can be a ball-stopper (but, he did have five assists in his Sacramento debut), and his defense is subpar.
I hope that Lamb can prove me wrong here, and sometimes a change of scenery can bring the best out of players. So, who knows what to expect really, but with his contract expiring after this season he isn't a particularly significant addition.
Donte DiVincenzo: 25yrs - $6.6M QO this offseason
Monte finally got (what seems to be) his guy! One of McNair's first decisions as general manager of the Sacramento Kings was what he was going to do with Bogdan Bogdanovic in restricted free agency. A sign-and-trade that would send Bogdanovic to the Milwaukee Bucks in exchange for Donte DiVincenzo and DJ Wilson was leaked early and the league stepped in. Over one year later, he's finally made his way to Sactown.
DiVincenzo, AKA The Big Ragu, recently turned 25 years old and started all 66 games he played last season for the eventual NBA Champions before tearing a ligament in his left ankle during game three of the Bucks first-round playoff matchup. The 6'4.5" versatile wing returned on Christmas of this year and has appeared in 17 games since.
Most people seem to be clowning on Milwaukee for trading DiVincenzo for Serge Ibaka, and while I understand the initial confusion it made more sense as I dove deeper into it. The reality is that Donte DiVincenzo has not been good since returning this season. The Bucks would rather give minutes to Grayson Allen and/or Pat Connaughton and they needed help at the five. That sounded crazy at first to me too, but Donte is averaging 7.2 points, 3.5 rebounds, and 1.7 assists on some horrible shooting numbers (33.1/28.4/85.2) this year.
But, there's a good chance Donte can still be a damn good NBA player who adds significant versatility on both ends of the floor to a Sacramento team that is desperate for smart, quality role players who can impact the game in a variety of ways. His defensive ability will be extremely useful to the Kings right away, but he'll still need to find some consistency with his jump shot (37.9% on 5.2 3PA/G last year) before anyone can claim he deserves to be the starting backcourt partner of the future alongside Fox. But, it's definitely possible that he does become that level of player.
The ceiling is real, and I don't mean to come of as down on Donte DiVincenzo or the trade overall. Getting him for Marvin "Trade Me" Bagley is an undeniable success from Monte McNair and he'll surely be given an opportunity to work his way back into a rhythm in the final 25 games before heading to restricted free agency where his market is uncertain. There's plenty of reason to be excited.
Trey Lyles: 26yrs - 1yr/$2.6M team-option remaining
Sacramento has been searching for their ideal starting four all season long and each player they've rotated through supplies a different skillset than the others. Maurice Harkless is their defender who will have a game here and there where his threes are falling. Chimezie Metu is an impressive athlete for his size who rebounds well and certainly doesn't lack confidence from three. Marvin Bagley was an impressive rebounder with two left hands. Now, Trey Lyles makes his way into the fold in place of Bagley.
Lyles, who stands at 6'9", just recently turned 26 years old and does have some interesting offensive versatility to him. He's the first big on Sacramento's roster who should be able to be respected from three and rebound the ball well. This season with Detroit, Lyles has underperformed from three (30.1% on 2.9 3PA/G) but he's a career 33.6% shooter from beyond the arc on decent volume. There are also moments where Lyles can put the ball on the floor to attack a closeout, but his decision-making can be suspect.
Defensively, Trey Lyles is the type of player that opposing teams actively target and seek out often - but the same could be said for Metu and Bagley. The 12th overall pick in the 2015 NBA Draft has never stuck on a team. But, there have been many stretches where he looks like a valuable offensive cog. The consistency has just never been there to this point. He's a bit of a wild card but does have a friendly $2,625,000 team option for next season if the Kings like what they see over this final stretch.
Josh Jackson: 25yrs - $5M expiring
Josh Jackson was taken one pick before De'Aaron Fox in the 2017 NBA Draft. Since that point, Jackson has been on three different NBA rosters with Phoenix, Memphis, and most recently Detroit before Sacramento.
His athleticism remains, but so do the questions surrounding his decision-making and discipline both on and off the court. It certainly doesn't hurt for the Kings to attempt to work with a 6'8" wing that has a 6'10" wingspan, but having expectations will likely lead to disappointment.
Maybe Jackson, who scored 20+ points on 10 occasions last season (including a 31-point showing), can finally put it together in Sacramento. But, it's unsure how much opportunity he will be given to do so over these final 25 games before he reaches unrestricted free agency.
To be blunt, it's hard to view Jackson as anything more than the necessary salary filler that Detroit needed to move on from to acquire Bagley.
Correction: Lamb and Lyles' ages were listed incorrectly. They have been fixed. Brenden has been flogged for his mistake. Greg receives zero repercussions for missing the errors.