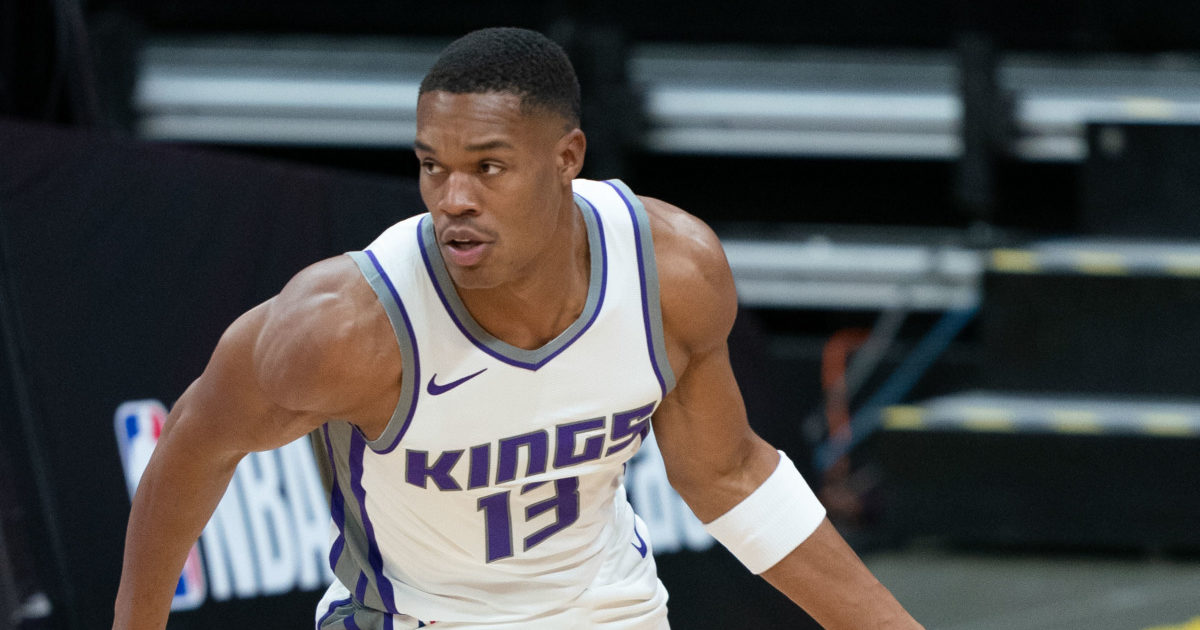 The Kings selected Robert Woodard II from Mississippi State with the 40th pick in the 2021 NBA Draft, after trading back from pick 35. Woodard possesses an ideal NBA frame standing at 6'7€ with a 7'2€ wingspan and outlier strength for a 21-year-old at 235 pounds.
With minimal opportunity on Sacramento's roster to begin the year, the first real occasion to gain a deeper understanding of Woodard's game and how he uses those ideal physical tools came in the G-League Bubble where he was assigned to the Austin Spurs.
Throughout the 12 games that Woodard played, he averaged 16.8 points, 11.0 rebounds, 2.1 assists, 1.4 steals, and 0.6 blocks in 31.2 minutes per night. He was awarded all-NBA G-League third-team honors for his stellar performance on both ends of the floor. Coming out of college, Woodard was touted as one of the only wings of his size with impressive defensive capabilities that could possibly be available in the second round of the draft.
"(Robert Woodard's) defensive ability at 6'7" with a 7'2" wingspan is real. That dude can slide his feet like crazy... I would have taken him over Zeke Nnaji for sure." -@Sam_Vecenie

— Brenden Nunes (@BrendenNunesNBA) November 20, 2020
Considering that the Sacramento Kings were once again one of the worst teams in the league at protecting the rim, this is where I think Woodard could be the most impactful from early on in his career and he certainly displayed that during his time with Austin.
The Spurs had moments of playing Woodard at small forward, power forward, and even center. It was reported earlier in the season that Robert Woodard, as a rookie, was already leading the Sacramento roster in the bench press. That impressive strength paired with stellar lateral quickness is what allowed the aforementioned positional versatility on the defensive end of the floor. For stretches in the bubble, Woodard was even tasked with covering 6'2€ Tyrell Terry along with other guards and held his own.
Another aspect that would likely translate to the league sooner rather than later is Woodard's rebounding ability and desire. Of all players in the G-League, Woodard's 11 rebounds per game were the eight most of any player - which is even more impressive when you consider centers typically dominate this statistical category. Anytime the ball went up, on either end of the floor, Woodard was tracking it with his eyes and doing everything in his power to swim through the opposition to track down the rebound. This mindset led to a handful of explosive putback dunks that will surely cause the Golden 1 Center to erupt when he inevitably throws one down there.
Even outside of offensive rebounds, Woodard was looking to place any and everyone that came between him and the rim on a poster. With his impressive combination of strength, bounce, and touch, Woodard managed to convert 66.7 percent of his attempts in the restricted area this season. For reference, Harrison Barnes executed 67.5 percent on the same shot attempts and Marvin Bagley managed 67.0 percent.
There were flashes of self-creation and five occasions where Woodard surpassed 20 points during his time in the bubble that could hint at a higher upside than expected coming out of Mississippi State, but his three-point shooting needs to be cleaned up for him to find a role in the near future in a low-usage role alongside De'Aaron Fox and/or Tyrese Haliburton. 21.3 percent from downtown is not going to cut it, but the confidence that Woodard displayed (3.9 three-point attempts per game) was promising despite the poor results from range. Furthermore, converting just 68.6 percent of his free throws is cause for some concern but nothing that we have not seen young players make strides in before.
After returning from the bubble, Woodard was given some garbage time minutes here and there before dealing with lower back soreness that kept him sidelined from April 19th until May 15th, which only left two games on the schedule. The final two showings for Sacramento were the only time that the 40th overall pick played more than five minutes for the main roster, and it is hard to pull anything notable from such limited playing time.
The offensive side of the ball still leaves much to be desired for Robert Woodard, specifically his three-point shot, but there is reason to believe that the Mississippi State product could make a positive defensive impact on a team that so desperately needs it as soon as next season.