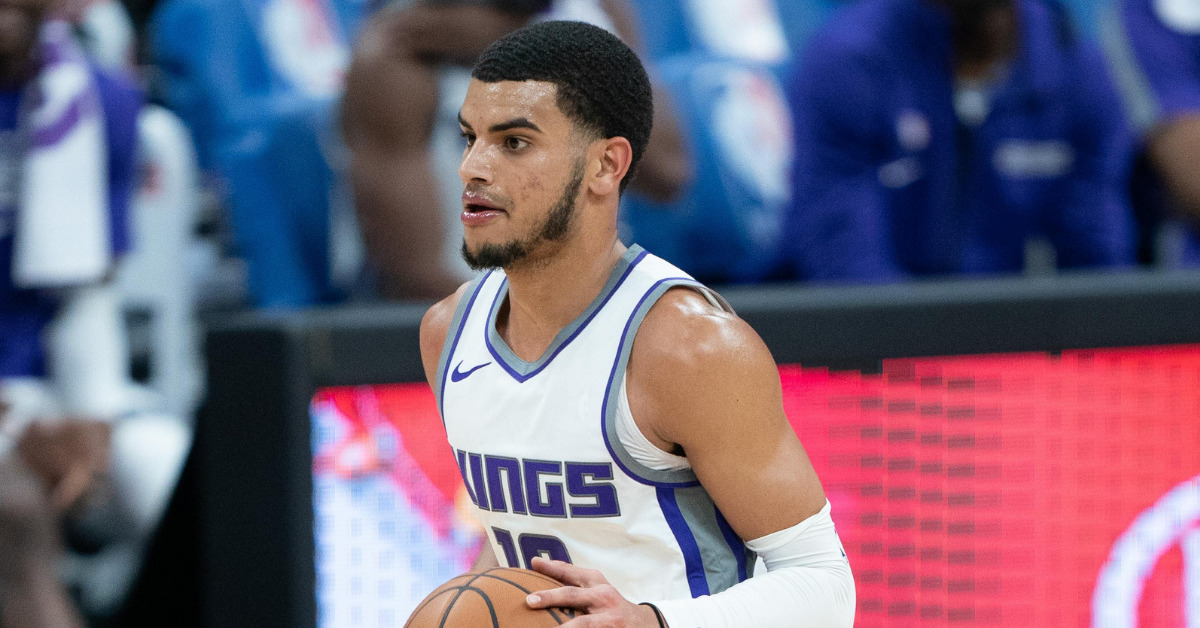 Consistent, legitimate NBA playing time is never guaranteed for a 2nd round pick, and Wyoming forward Justin James can certainly sympathize with that observation. Through two season in Sacramento, James has appeared in just 72 games, averaging 7.5 minutes per game in those appearances, with most of his run coming in inconsequential garbage time.
Despite limited opportunities, James increased his efficiency across the board this season. He bumped his FG% from .417 in his rookie season to .468 in 2020-21, his 3P% increased from .310 on 0.8 attempts to .368 on 1.1 attempts, and consequently his eFG% jumped from .470 to .532. That is some decent offensive efficiency for a theoretical 3-and-D forward with great athleticism, but it's hard to say if those numbers would hold with a bigger role and more playing time.
I wouldn't count on per36 numbers being Justin James' reality if he actually played that much, but let's drop them in here anyway:
Per36, Justin James averaged 16.1 points on .468 shooting from the field, and .368 shooting from 3 on 4.4 3PA with 3.5 rebounds, 2.6 assists, and 0.9 steals per game in 2020-21.
Defensive metrics are hard to parse, particularly when the sample size is as small as it is with a player like James, but according to Cleaning The Glass, the Kings have been a significantly better defensive team when he's on the floor. Opponents score 4.7 less points per 100 possessions when he's out there defending, which puts James in the 86th percentile among NBA forwards. Grains of salt, etc.
The truth is, I probably could have avoided all statistical analysis in a season review article about Justin James, but I wanted to have something behind what I'm about to say: I kinda like Justin James, and I wouldn't mind seeing more.
Justin James is technically under contract with the Kings for next season, but his $1,782,621 minimum salary is not guaranteed, meaning the Kings could dump James this summer without any cap ramifications to worry about. I'd vote for keeping James in Sacramento for another year, but I wouldn't fault Monte McNair for feeling differently.
Justin James had one game this season where he showed you the peak of his powers – a 31-point, career-high explosion against the Memphis Grizzlies, but beyond that there just isn't a ton here to grade or review.
You could argue that at 25 years old next season, McNair should opt for different, younger fringe NBA players to fill out the end of his roster, and let James go, but I'm rooting for JJ. His efficiency improvements this season remain promising, and for whatever this is worth, he is always the first bench player up celebrating and cheering his teammates on when he isn't in the game. I don't have the evidence necessary to prove it with any level of certainty, but I still believe there could be an NBA player here.
James has shown some toughness and skill on defense to go along with encouraging 3-point shooting and crazy athleticism. As the NBA pundits say, he has all the tools, but when you rarely play and don't jump off the screen when you do, everyone knows your NBA career is in jeopardy.
I don't want to get overly-complainy in a blog about Justin James' season, but he is a perfect example of someone I would have liked to see play over a veteran like Moe Harkless who was OK for his role at the end of the season in Sacramento, but provided little long-term value for a team that still lost a ton of games. It was essentially 25 minutes per game of empty calories that could have gone to one of the younger wings like James, Robert Woodard, or DaQuan Jeffries while he was still with the team, but it is what it is.
If James gets another season here, I hope Luke Walton gives him a bigger opportunity at some point, and if he's gone, I'll be rooting for him to figure his career out elsewhere.